Speed up your daily workflow with our new feature, Voicemail Drop! This feature allows you to dial a prospect using Outreach Voice (for more information, please see Outreach Voice) and choose from a list of pre-recorded voicemails to send them. This feature is bundled into your Outreach Voice Advanced package.
Please note that this is configured per user and each user will have their own set of pre-recorded voicemails. If you do not see this option, feel free to reach out to support@outreach.io. 
How to Configure Pre-Recorded Voicemails
To record a voicemail, you can go to your [Settings] and click the [+Add Voicemail] icon underneath the voice section. In the pop up window, click the Microphone icon to start recording, and once finished click the Stop icon and hit Save:


You can listen to the pre-recorded voicemail by clicking the Play icon located to the left of each pre-recorded voicemail.
Don't forget to choose your default voicemail! This will simply display as the first choice and you will be able to choose other voicemails with the dropdown. 

And you're all set! You can add as many pre-recorded voicemails to choose from but you will want to give them descriptive unique names as to quickly select the appropriate messaging for your prospect.  
How to Leave a Pre-Recorded Voicemail 
When dialing a prospect, you will see your in-progress green call banner appear. To the left of the microphone icon will appear a 'voicemail' icon highlighted below:

To choose a pre-recorded voicemail, select the icon highlight above and choose from the drop down list: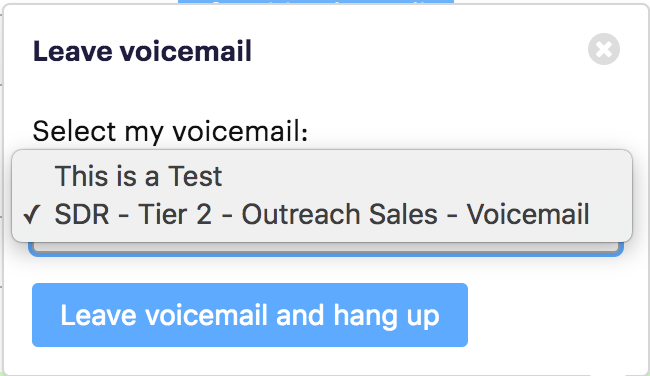 Once you hear your prospect's voicemail tone, you will then be able to select the blue 'leave voicemail and hang up' icon.
Note: Outreach will drop the pre-recorded voicemail as soon as you press the "Leave voicemail and hang up" icon. Therefore to ensure the whole voicemail is dropped into the recipient's voicemail inbox, please be sure wait for the tone indicating the start of the recording.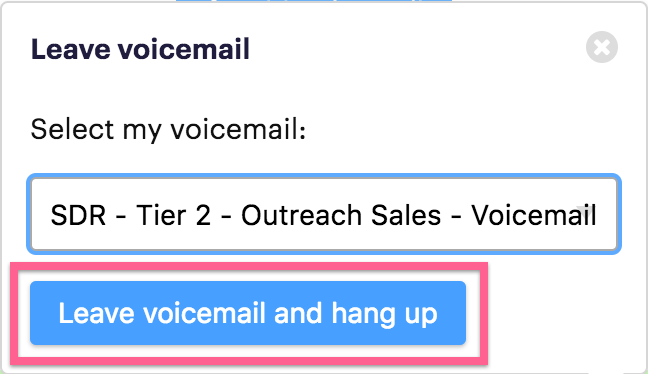 This will terminate the call and you will then be able to log your call per normal!
Best Practices
DO record at least 2-3 voicemails to choose from that will dictate your basic information as well as what your product/service can provide for that persona.
DO listen to your voicemail before saving to ensure that it is clear, concise and engaging. Think, would you return that phone call? 
DO limit your background noise! Depending on your headset and how sensitive your microphone is, the voicemail could detect your coworker's weekend plans or sensitive company information. We recommend somewhere quiet or with controlled noise as to simulate a real working environment. 
DON'T select 'leave voicemail and hang up' icon before the voicemail tone. You want to ensure that there's not a unique extension that you would have needed to dial or a series of buttons to press when leaving the voicemail. If you press the button early, it does not guarantee that the voicemail will be left and/or if the voicemail is whole.
DON'T forget personalizations! You want to ensure that the prospect feels like this is tailored to them and their needs without recording a voicemail for every single prospect. 
For any questions or feedback, please reach out to support@outreach.io