Purpose:
The purpose of this article is to provide information to Outreach users regarding the LinkedIn Sales Navigator Tiles & Task Flow.
Intended Audience:
Minimum Requirements:
To use the LinkedIn Sales Navigator integration in Outreach, you must have either a Sales Navigator Team or Enterprise license.
Those using the Team or Enterprise license will have access to two LinkedIn Sales Navigator tiles (One for Sales Navigator Lead, and one for Sales Navigator Account) within the intelligence tile menu.
To learn more about how the LinkedIn Sales Navigator integration works when completing LinkedIn steps, you can review this article.
You must log into your Sales Navigator account to see any information in these tiles.
Note: Contact your applicable Sales Support Team or Sales Operations for further information.
LinkedIn Sales Navigator Tiles
Lead Tile
The sales navigator lead tile pulls information from the profile of the specific lead you're looking at. The lead tile includes basic information from LinkedIn about the Prospect, including their current position, time in current role, and current location. This is a great way to verify location or verify that nothing major has changed since your last engagement.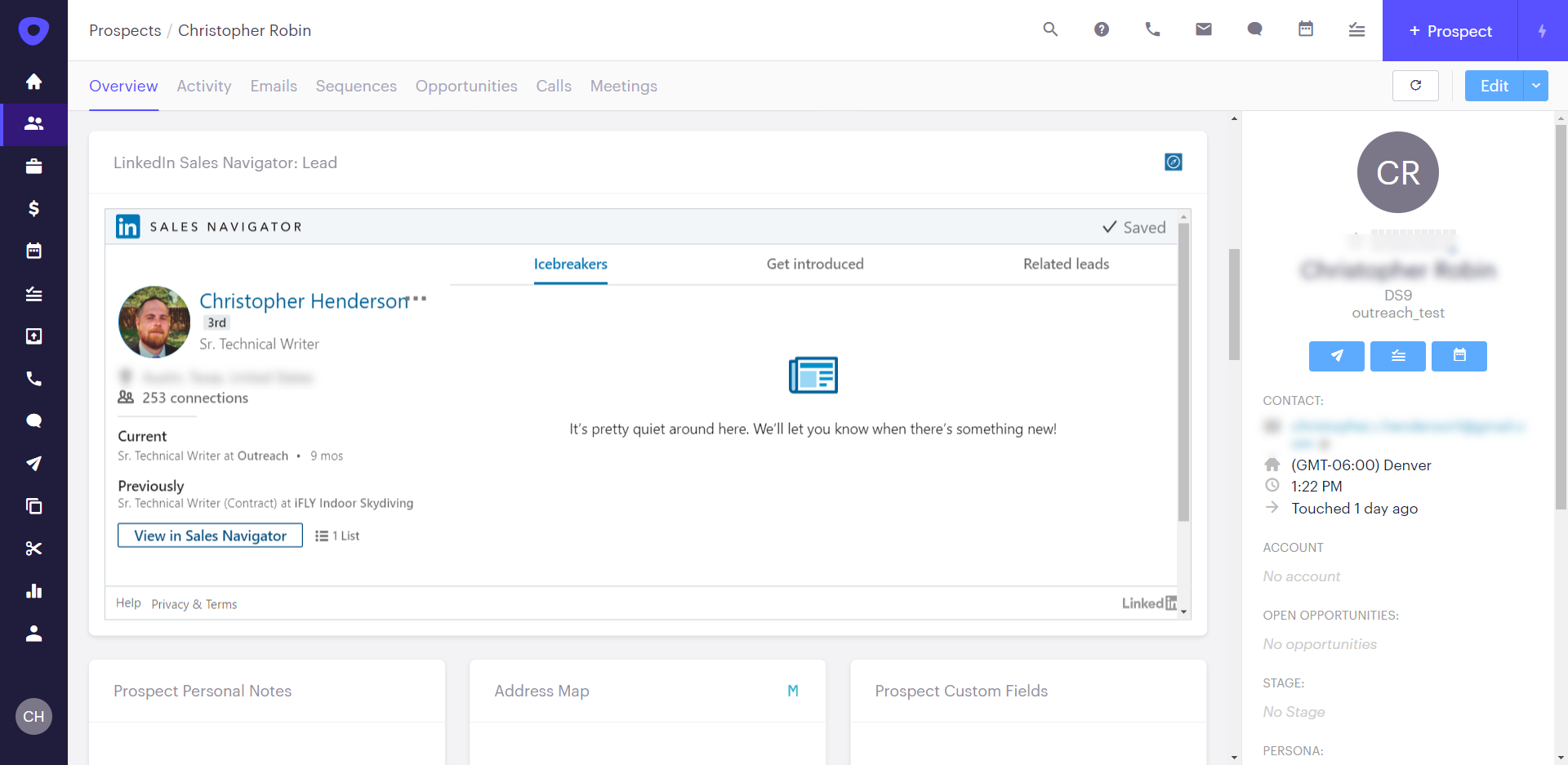 Icebreakers
Icebreakers highlights what LinkedIn determines to be the most important information on the Lead. This includes mutual connections and recent activity like shared posts or published articles. You can use these updates to see how active your Prospect is on LinkedIn and know when is a good time reach out.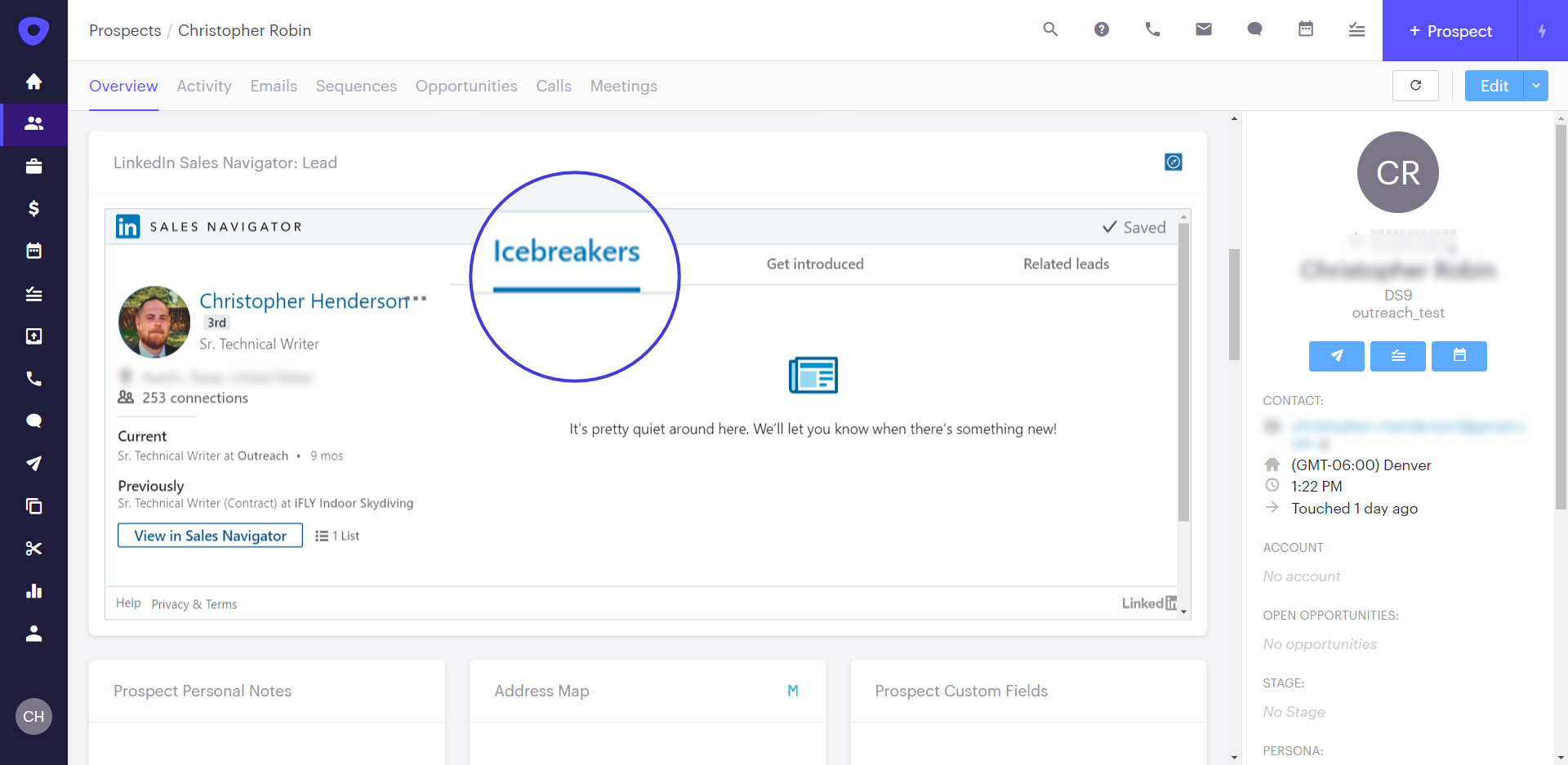 Get Introduced
This tab shows the first three levels of connections in your network that are also connected to this lead. This empowers you to find a common connection or reach out to a colleague to get an introduction.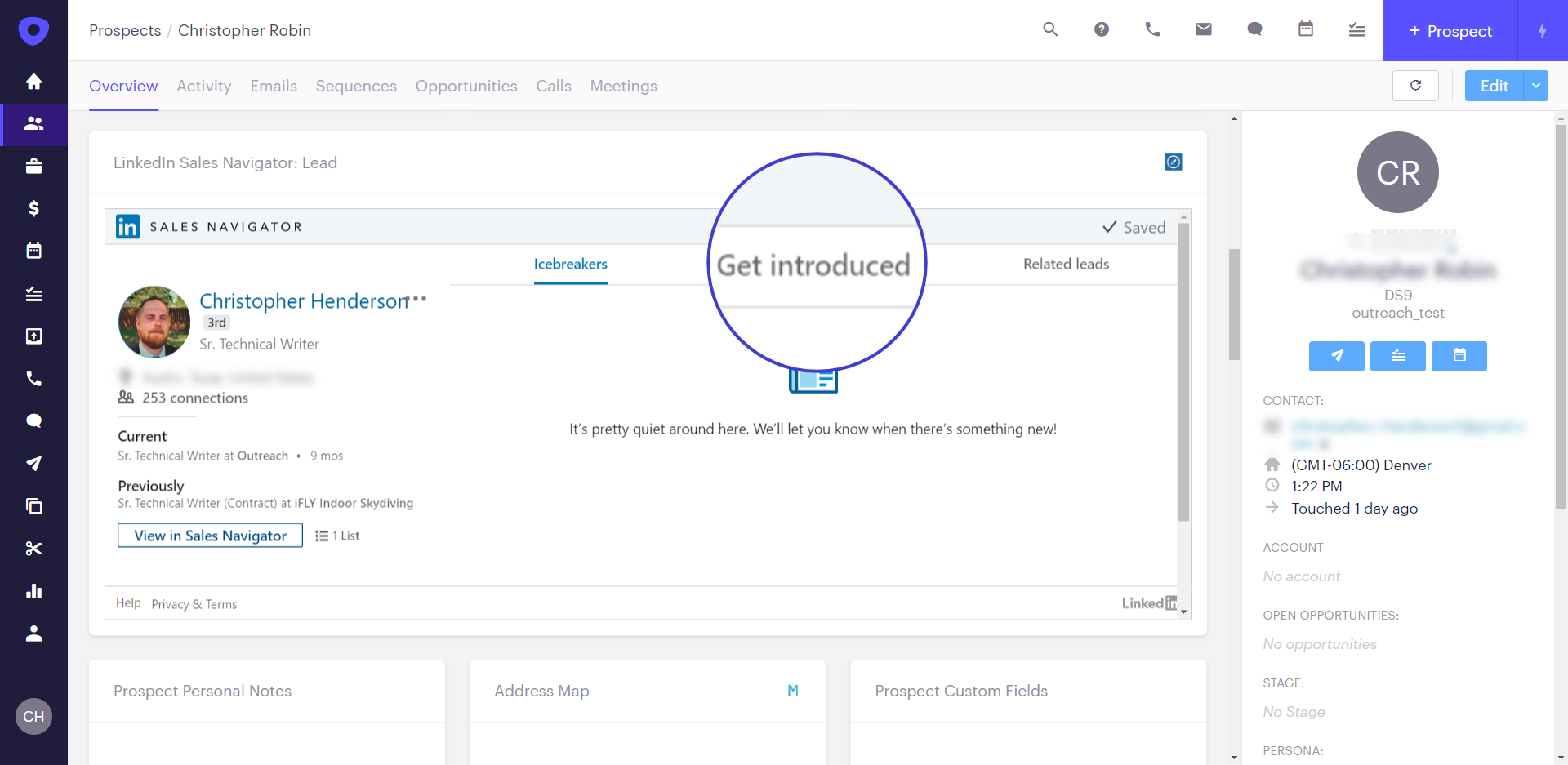 Related Leads
Find individuals similar to the lead you're looking at based on your Sales Navigator preferences. This can be used to expand your potential pool or prospects.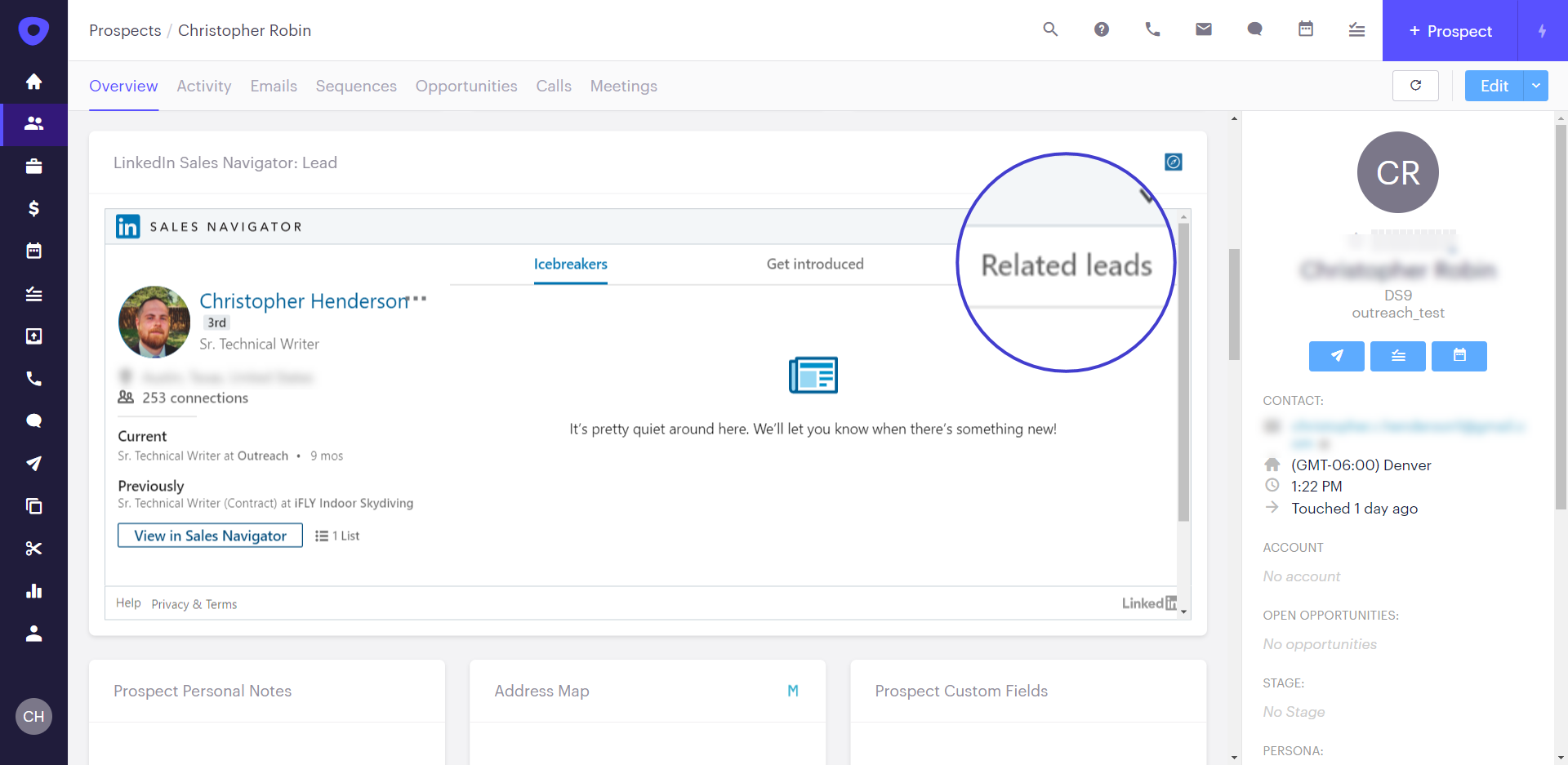 Account Tile
The account tile pulls information from the company page on LinkedIn. This includes industry, number of employees, and the location of the headquarters.
Recommended Leads
This information helps you find new leads from the company you are targeting, which can be added to Outreach straight from the tile. The recommended leads highlight who may be the best lead based on your Sales Navigator preferences.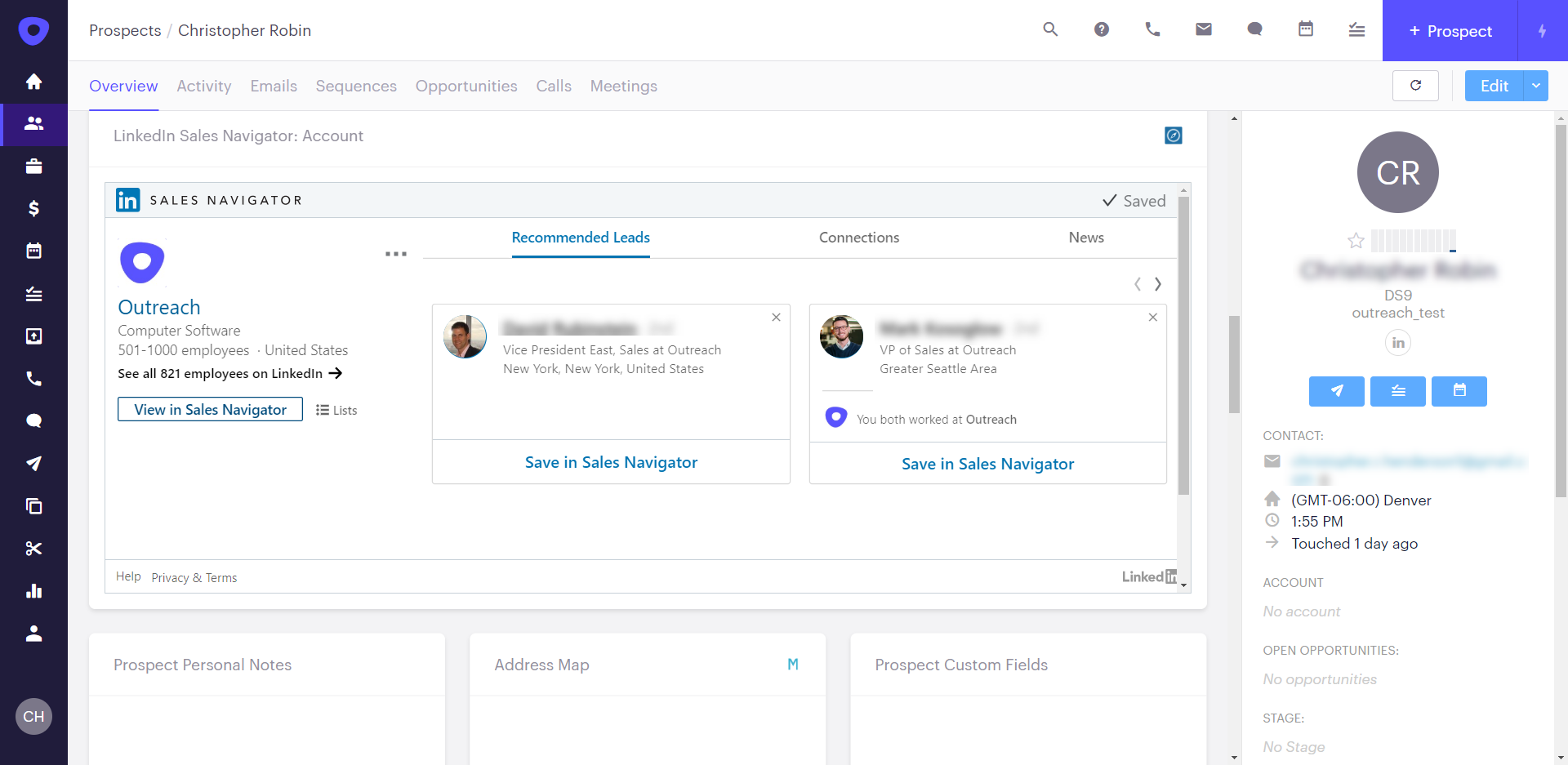 Connections
Connections shows you connections that work at the company, to help you get a foot in the door. It is a great start for any kind of strategic engagement, working multiple Prospects in an account.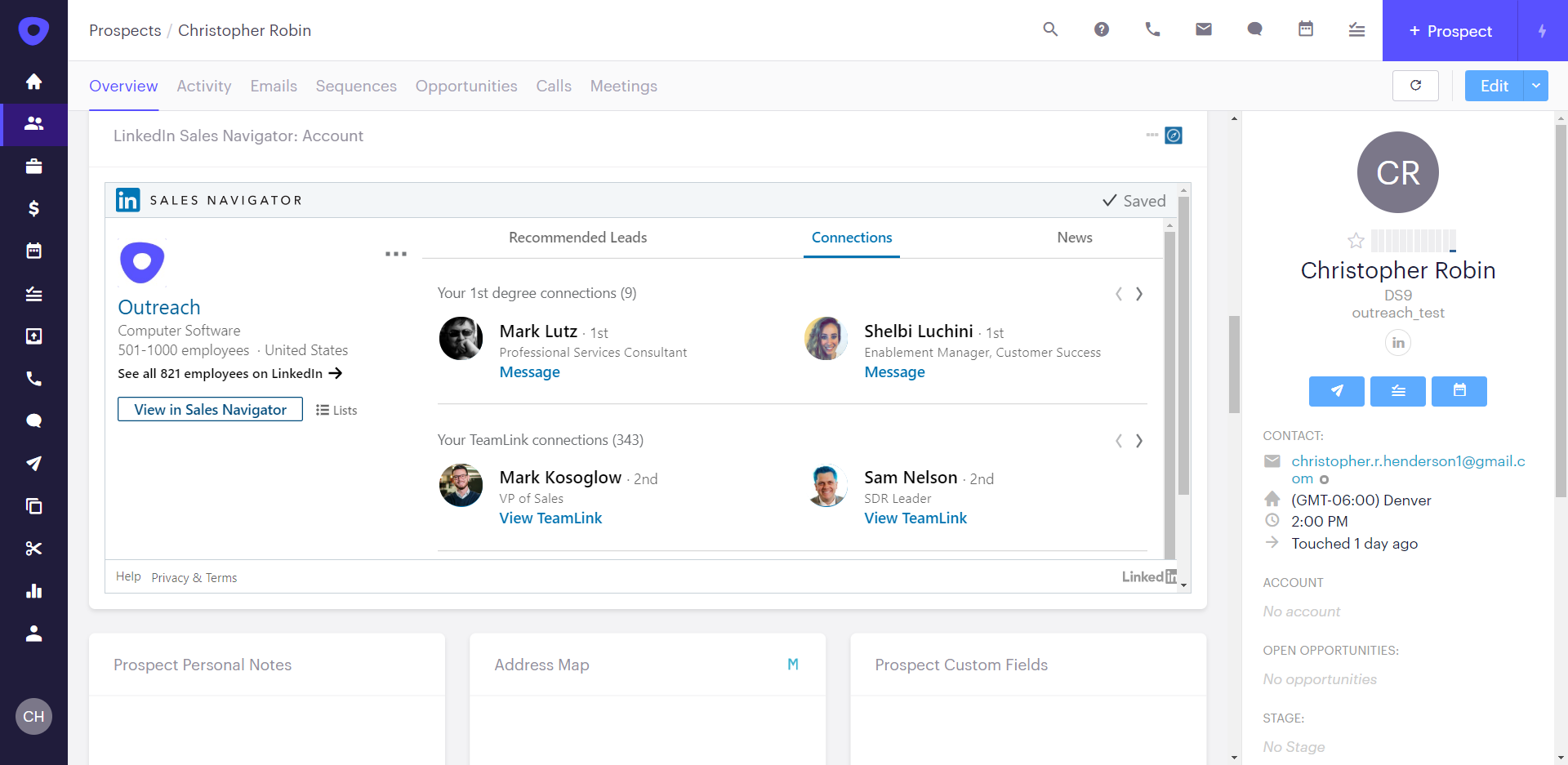 News
News displays recent posts from both the company and employees so you can plan more personalized outreach to your Prospect. These items are clickable, linking you directly to the actual articles so you can learn more.