Symptom
When trying to add a new prospect, the user is seeing this error message "There was an error! Your changes were not saved".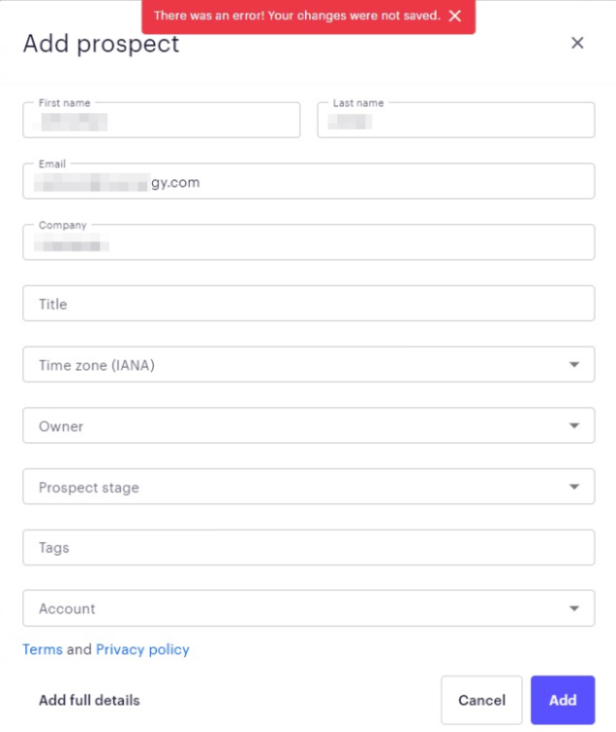 Applies To
Prospect

Profile governance settings

Recycle bin 
Resolution
Check the Recycle bin to see if the prospect was recently deleted in Salesforce but still in the Recycle bin in Outreach. You may do that by applying the filter Recycled in the prospect page.
If the prospect is not in the recycle bin and you still seeing the error, most properly, you don't have permission to see the prospect in Outreach. The Outreach admin sets your profile governance permissions and visibility to all records in Outreach. Reach out to one of your Outreach admins to check if the prospect is already in Outreach, and to change your profile governance to see the prospect. More about profile governance settings can be found in this article Outreach Governance Profile Settings Overview.

Cause
This error happens when the email address of the prospect you are trying to add is already used in Outreach. The first step is to search the email address to see if it's already used by another prospect. 
Another area to watch for is governance settings, the user might not have access to see the prospect in question, so when they search in Outreach for that email address they might not see any results.
Last, the prospects who have been deleted in Salesforce, will be moved to the recycle bin in Outreach, and will not appear in searches until you apply the filter Recycled. More about that in this article Salesforce Record Merge & Delete FAQs.