Upcoming releases
Refreshed Profile and Governance Roles Experience
Summary
Refreshed look for Profile and Governance Roles pages
Release Date
Starting March 8th, 2023
Updates
We are updating the current Profiles and Governance Roles page experiences. This is a UI-only refresh with no change in the underlying behavior of the pages.
Both the pages are updated to:
Experience of both pages is refreshed to follow the latest UX design guidelines

The profiles page will now be modular and have dedicated sections for various record and content types along with all of their governance settings
The roles page will be renamed to 'Governance roles'

Settings > Profile


Settings > Governance Roles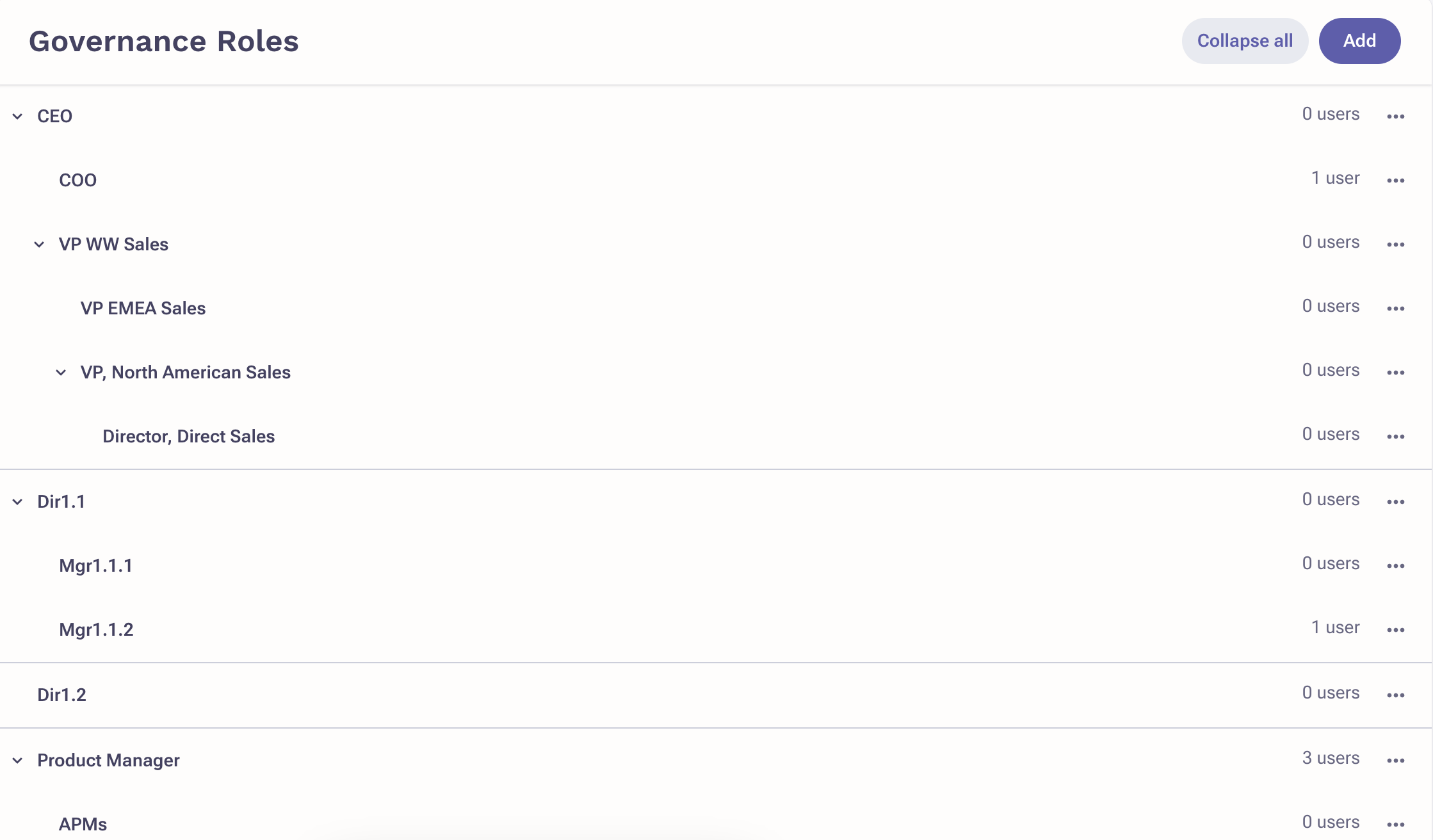 Updated User & Admin Settings
Summary
We have split the existing Settings into separate User and Administration sections in the new client experience.
Release Date
Starting March 6, 2023 [BETA]
Updates
User settings/You settings were moved to the Personal settings section, accessible to all users.
Admin-level settings were moved to the new Administration section.
asas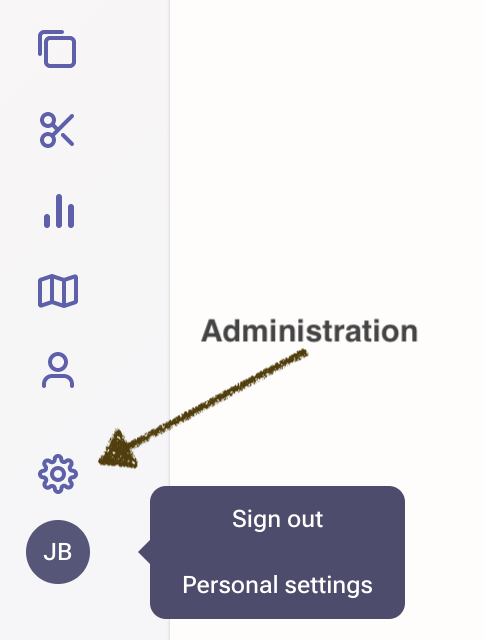 Refreshed User Settings for new client experience
Summary
The refreshed look of User settings in the new client experience
Release Date
Starting March 6, 2023 [BETA]
Updates
We have split the existing Settings into separate User and Administration sections in the new client experience.
We had added a new dashboard page for User settings, with a quick overview of them.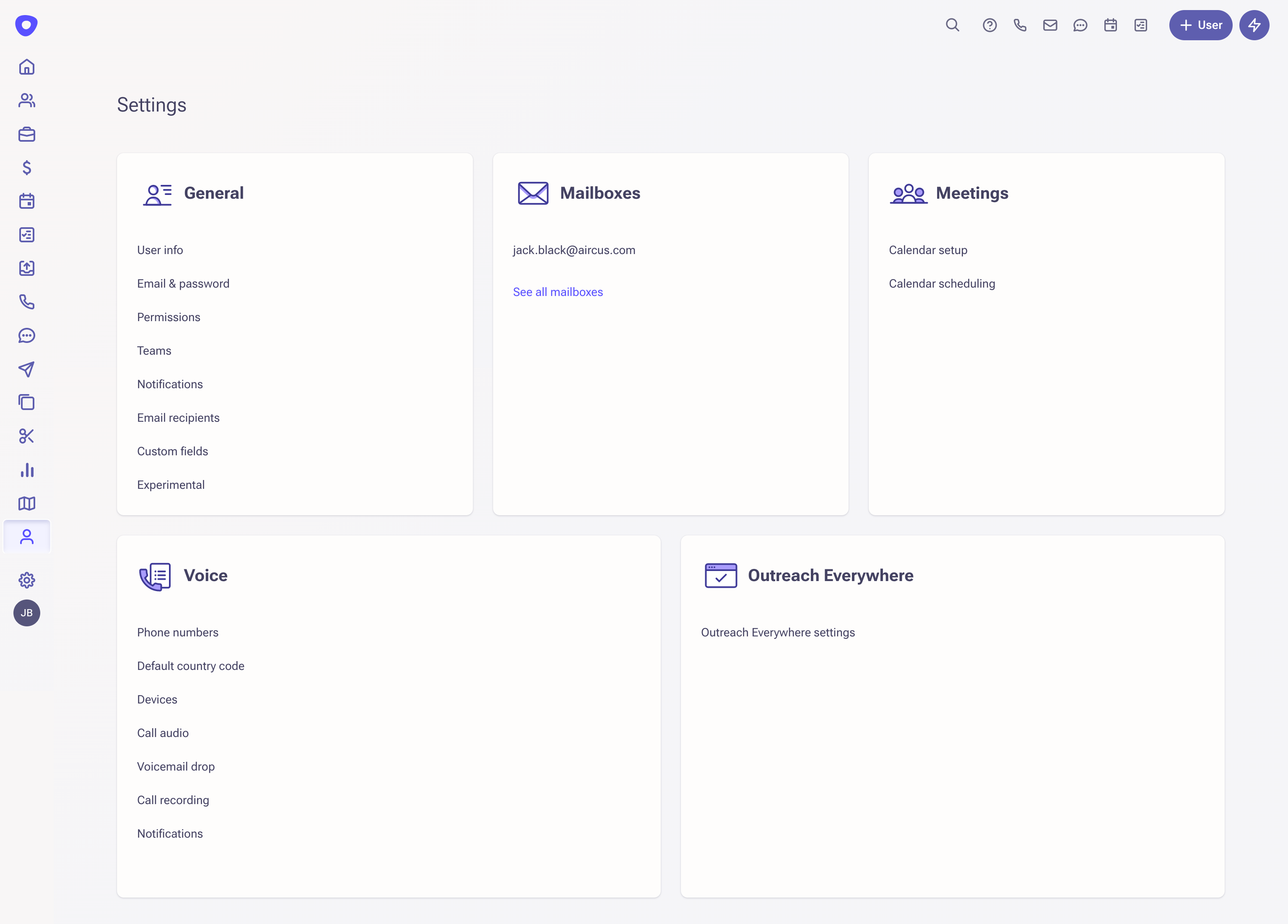 Flexibility for Prospects, Accounts, Opportunities, Voice Calls, Users List View with Column Customization
Summary
Column Customization on Prospect, Account or Opportunity list views allow your admins and reps to dynamically view key information about a record within the table to better aid in their everyday workflows.
Release Date
Starting March 16th, 2023 [BETA]
Updates
List views are becoming more dynamic so that any sales professional can choose what information they would like to see in any particular order to accomplish any workflow at hand. The key capabilities include
Column Selection - Select standard and custom fields to be displayed on the List View table

Column Reordering - Reorder columns in any order

Save as Smart View - Saving column selection and ordering into a Saved View for use later




Increased visibility for Outlook users with Outreach Calendar
Summary

Enhancing group meeting scheduling by enabling all Outlook users to see the same meeting details in Outreach calendar as in their native Outlook calendar.

Release date
April 4, 2023


Details
Group scheduling in Outreach calendar became much simpler for Outlook users. Users can now view the same meeting details in Outreach calendar that they would be able to see when scheduling group meetings in their native Outlook calendar.
Note that this release mainly affects users whose profile setting in Outreach for meetings is configured by admin to be Owned records. Other users with meetings profile setting configured to be All records or Owned and reports' record are not affected by this release (they are already able to see the meeting details of their colleagues). To learn more about how to manage Outreach meetings calendar event visibility, please refer to this article.

Before

After

Please note that this functionality will be automatically enabled for all Outlook users starting April 4, 2023.
New Outlook Font Scheme for Outreach Content
Summary
Admins can now enable the Outlook font scheme, granting users access to the same font sizes available in Microsoft Outlook.
Release Date
Starting March 29th, 2023
Updates
Enabling the Outlook font scheme ensures that users can create visually consistent content in both Outlook and Outreach, which is particularly important for avoiding the perception of automated or impersonal Outreach-generated content.
Admins will have the ability to set a default font for all of their Outlook users, found under the org settings. The font and size will apply to all users but it can still be adjusted by the individual user in the email compose window.
Learn how to configure a default font in your organization in the
support article
.
Activity feed

Automated Email Sentiment Classification to replace Manual Email Sentiment rating
Summary
The automated Email Sentiment Classification feature fully replaces the Manual Email Sentiment rating to eliminate manual actions and increase sellers' efficiency.
Release Date
Starting March 28th, 2023
Updates
After careful consideration and based on user feedback, the Manual Email Sentiments feature is being fully replaced with an Automated
Email Sentiment Classification
feature. Previously, customers with the manual Email Sentiments feature enabled were able to manually rate prospect replies as positive, negative, or neutral.
The reason for this change is that we are offering a more advanced and automated Email Sentiment Classification in Reports. This feature uses cutting-edge AI technology to accurately analyze and categorize email sentiment in real time.
This automated email sentiment analysis provides sellers and managers with a more accurate and efficient way to understand the sentiment of email communications.
If you have any questions or concerns regarding this change, please don't hesitate to reach out to the support team.
Activity feed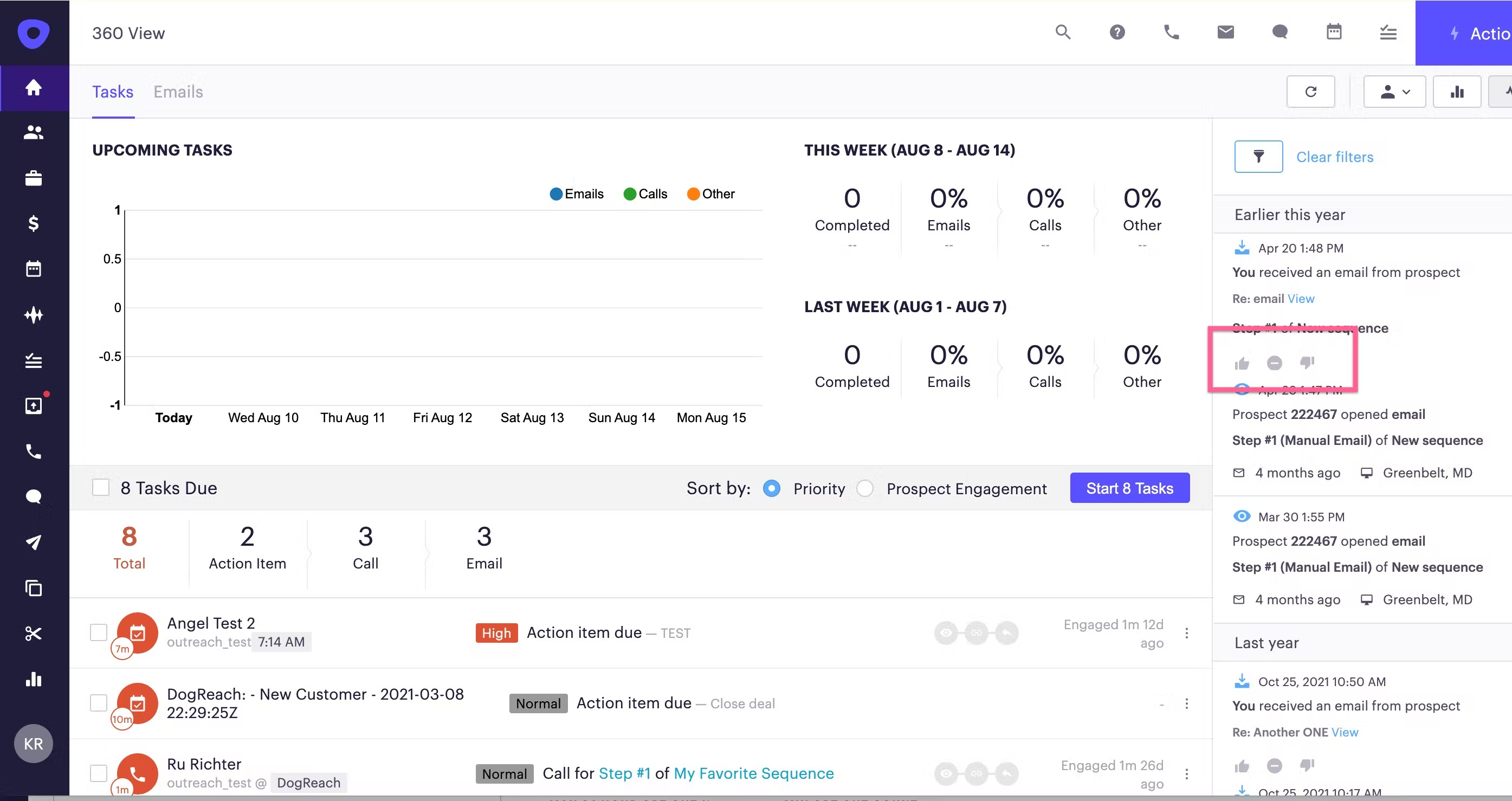 Outbox page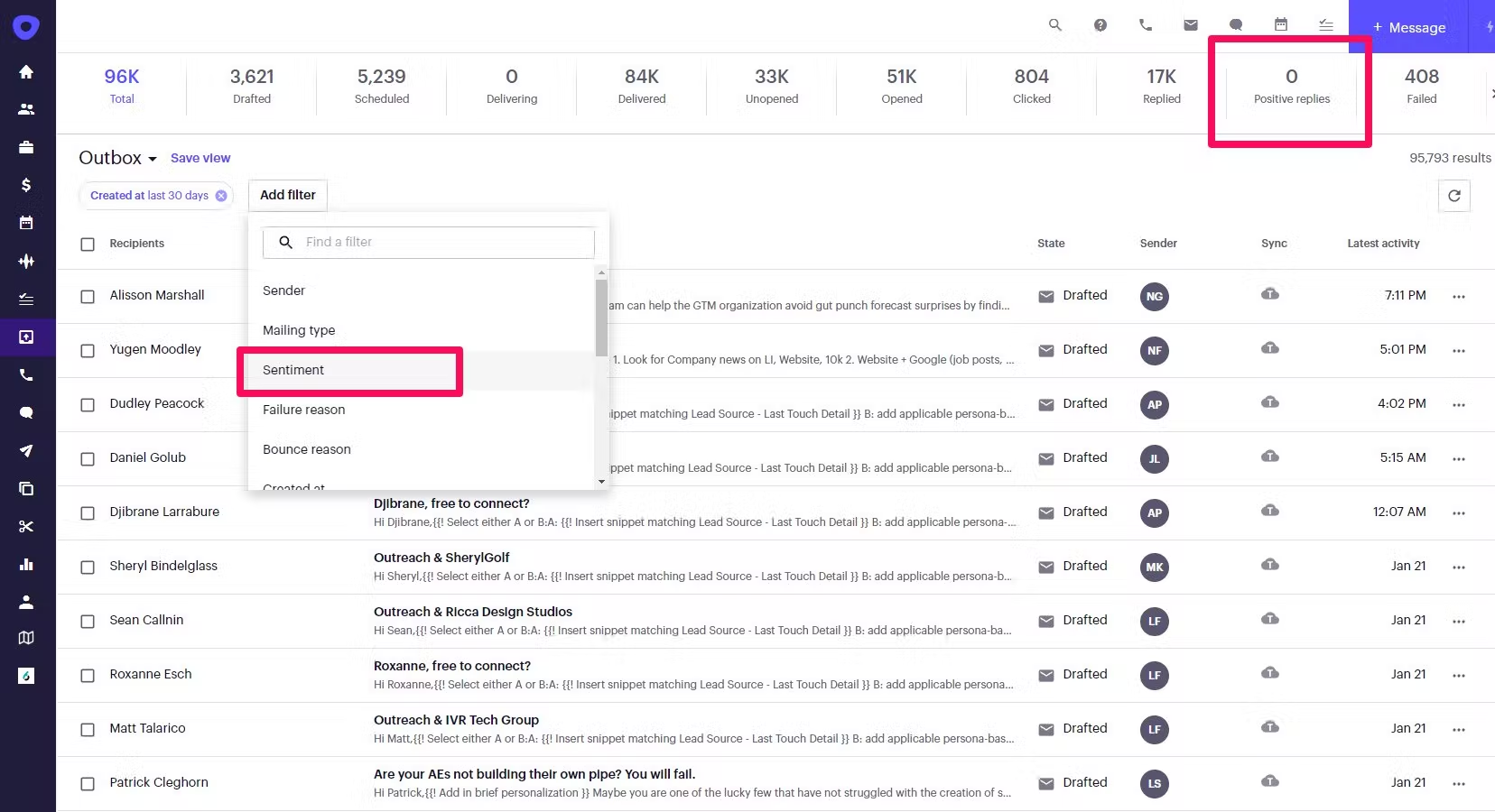 Faster and Easier CRM Sync
Summary
Outreach has improved its CRM Sync experience with a new guided onboarding experience and simplified user experience for managing sync configurations.
Release Date
Available to all customers to try starting February 2023.
All customers moved to the new experience May 22, 2023.
Updates
Improved set-up experience between Salesforce, Salesforce Sandbox, and Microsoft Dynamics CRMs to Outreach
Consistent and easy-to-use experience configuring and manage CRM sync
Starting May 22, 2023 the old CRM Sync experience will be deprecated and moved to the new experience. CRM sync settings for your active plugin are automatically available in the new experience. No action is required.