Applies To
Outreach Everywhere Extension
Gmail
Answer
The Outreach Everywhere extension will display the prospect status and a banner when composing an email as below. You can email prospects who have opted out by emailing through Gmail. Please note that while the email will sync into Outreach, it will not be tracked in Outreach. Your open and click tracking, if enabled, will not be available, and the email will not appear on any reporting.
Sending emails to a blocked prospect
The Outreach Everywhere extension helps you to avoid an unwanted sync of non-prospect emails to Outreach.
Outreach works with the concept of Blocked Prospects. Admins can block contacts by navigating to:
Settings > Org > General > Emailing prospects.
It's possible to block a single prospect or multiple prospects by using rules. (To learn more about prospect creation, see the Admin Settings General Org Overview.)
If a rep is emailing to a blocked prospect with Outreach Everywhere enabled, the communication is not synced to Outreach and features like Prospect creation directly from Gmail, Meetings, Reminders, Open/Link tracking are disabled.
Sending emails to an opted-out prospect
When an opted-out prospect is among email recipients, The Outreach Everywhere, extension surfaces this information as a warning banner.


The prospect status is also highlighted in the contact card by the Orange dot indicator.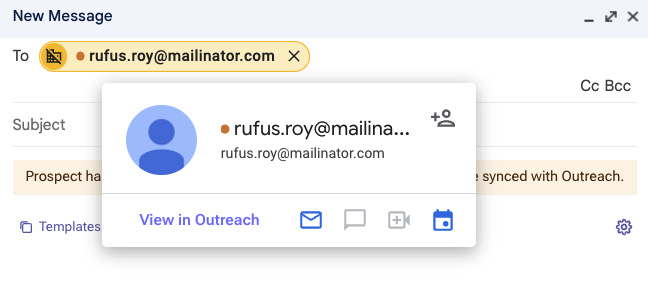 You will not be able to add the prospect to a Sequence if any recipient of the email is an opted-out prospect. All other Outreach Everywhere features are supported. When sending an email to a group of multiple recipients that consists of opted-out and not opted-out prospects, you will not be able to add any of the recipients into sequences. If you want to benefit from this functionality, the opted-out prospect must be removed from the recipient list first.
Please note: Outreach cannot prevent users from sending emails to opted-out prospects in Gmail as we do not have control of the Gmail outbox.