Purpose
The purpose of this article is to provide information to Outreach Users about setting up a new account via the onboarding wizard. The onboarding wizard makes it easy to complete the basic steps of setting up email, calendar, voice and the Outreach Everywhere extension so that users can dive into Outreach and start using the platform more quickly.
Intended Audience
What is the feature?
The onboarding wizard is a series of key setup tasks that live on the 360 View when a new user signs into Outreach for the first time. Users can complete each task, or skip tasks that are not applicable to how the user will interact with Outreach.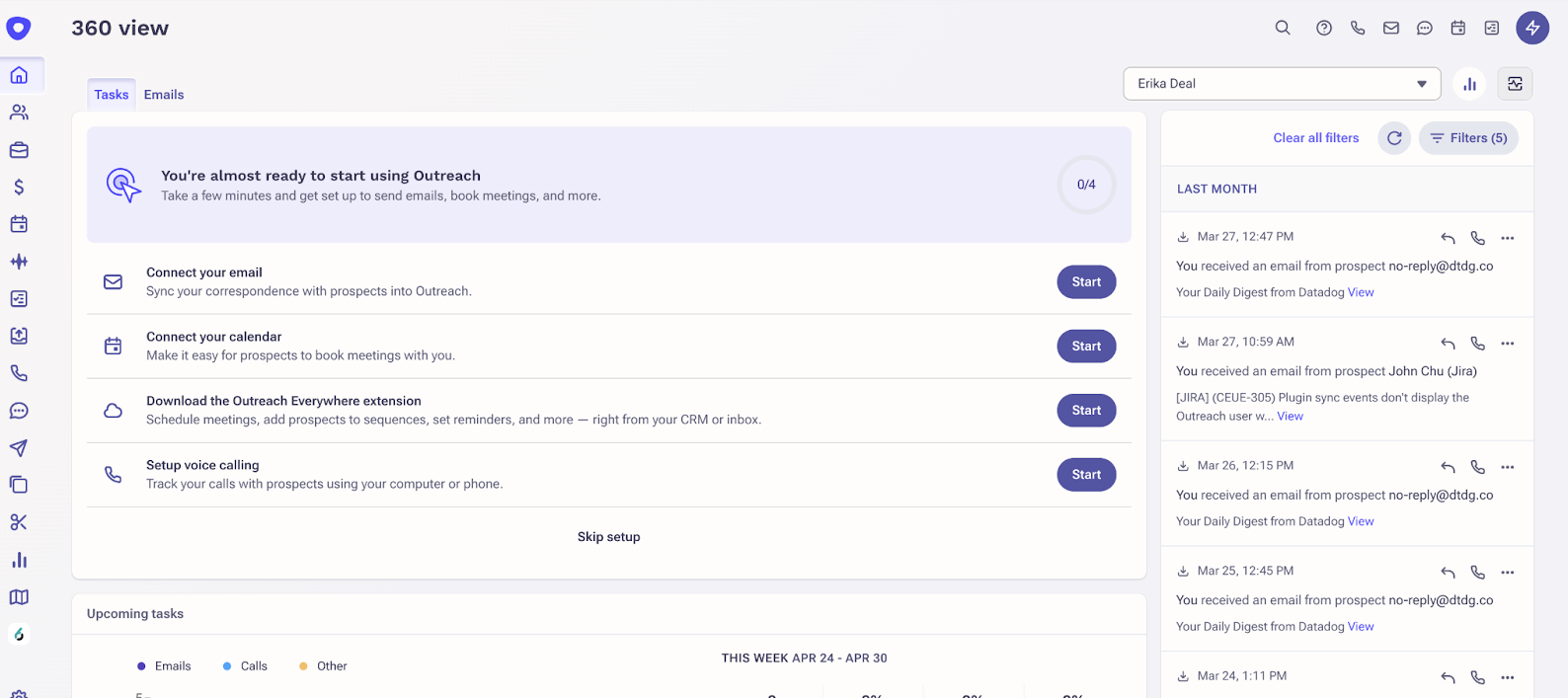 Key functions of the feature:
The onboarding wizard appears on the 360 View when a user logs into a new Outreach account. It includes four tasks with a progress indicator.
Email: Connect a mailbox from one of the three most common providers. This step currently supports Gmail, Office 365, and Microsoft Exchange.
Calendar: Sync a calendar from one of the providers listed above, and set availability for meetings at specific days and times.
Voice: Based on their profile settings, users can set up voice via purchase, import, or using local numbers. This step prompts them to connect and configure their call settings so they can start making calls right away.
Extension: This task prompts the user to download the Outreach Everywhere extension from the Chrome store.
Clicking Skip setup at the bottom of the tile will permanently dismiss all setup tasks.
Email Setup
Connect an account. Currently, the onboarding wizard supports Gmail, Office 365, and Microsoft Exchange accounts. Additional Outreach-supported providers must be configured via personal settings.
Send and sync. Choose whether to let Outreach send emails from the connected mailbox, and whether to sync emails from that mailbox into Outreach. In general, reps should enable both send and sync while admins and managers may want to leave email sync disabled for privacy reasons.
Email signature. Add and format the email signature that users will see when emails from this mailbox are sent via Outreach.
Calendar Setup
Connect a calendar. Choose from Gmail, Office 365 and Microsoft Exchange.
Set availability. Choose the blocks of time that can be booked per day, as well as how the calendar should handle local holidays.
Voice Setup
Add a phone number. Choose from one of the following based on profile permissions granted by an org admin:

Purchase a phone number
Import an existing phone number
Use a number in the prospect's local area

Configure call audio. Pick which devices should send and receive calls.
Extension Setup
This is a one-step task that prompts users to go to the Chrome store.