Applies To
Outreach Admins

Outreach Users
Answer
When a prospect is moved to Recycled, they will no longer appear in any sequences they were previously active in. Additionally, when searching for the prospect directly from the Prospects list, the recycled prospect will not appear in search results unless the Recycled filter is applied.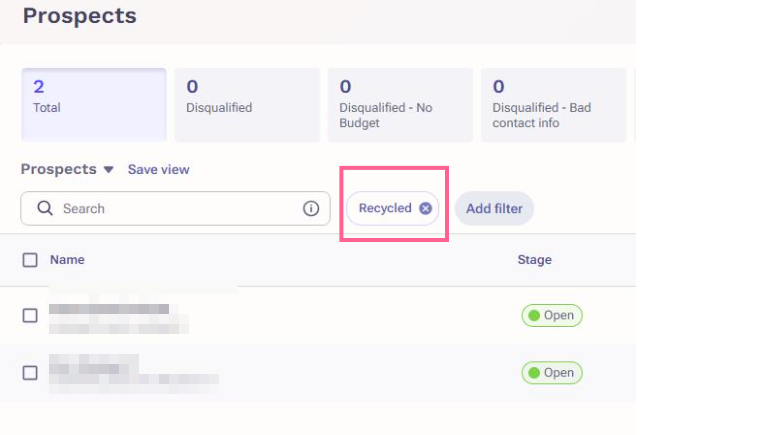 Note: The Recycled status is separate from the Recycled stage in Outreach. You may see a tile at the top of your prospect overview titled "Recycled" if this is a stage name in your system, but this only reflects the stage name and only Active (non-Recycled) prospects will appear when searching for the stage name alone. Be sure to click Add Filter and apply the Recycled filter to view deleted or recycled prospects.


Q: How long are records tagged as recycled kept? 
A: A recycled record in Outreach will be permanently deleted 15 days after it is recycled. There is a size limit of 100,000 for recycled records per object type (e.g., Account, Prospect). When the size limit is reached, Outreach will permanently delete recycled records for that object starting with the oldest recycled records, even if the record has not been recycled for 15 days. 


Q: A record was moved to Recycled as a result of a merge or delete in my CRM! Will this affect how my record is handled?
A: Please refer to our guide on Salesforce Merge & Delete FAQs for more information.
Q: Can I recover a record that's been permanently deleted?
A: Unfortunately, once the prospect has been in the Recycle Bin for more than 15 days, or was deleted due to limited space, there is no way to retrieve the record. Please refer to this guide for additional information: Can Accidentally Deleted Records be Recovered?
Q: I can't locate the record I need, even with the Recycled filter applied. How can I locate this record?
A: If you aren't able to find a record that was Recycled, you may not have the required visibility permissions to view that record. Please reach out to an Outreach Admin at your organization to locate the record for you, or adjust your permissions. Additionally, you can contact Outreach Support with any questions on locating records.
Q: I'm trying to import a prospect but Outreach is displaying the following error: "A prospect with this email address already exists in Outreach and prospect is in the recycle bin.". 
A: Please refer to this guide for troubleshooting the above error: Salesforce Import Error: Prospect in Recycle Bin