IMPORTANT UPDATE 
More Reports & Activities Reporting will no longer be available after 9/15/23: As part of the reporting migration effort, metrics from More Reports & Activities Reports have moved into the Team Performance Report.  With this new update, you will only be able to use Sale Execution Report, Team Performance Report and Sequence Performance Report. See support article for more info on where to find these metrics.
Releases
New Daily Activity Report included within the Team Performance Report
Summary
As part of the Team Performance Report, you can now access 6 core metrics every 15 minutes. This will enable SDR managers and SDR's to effectively manage their daily targets and ensure they are effectively building the top of the sales funnel.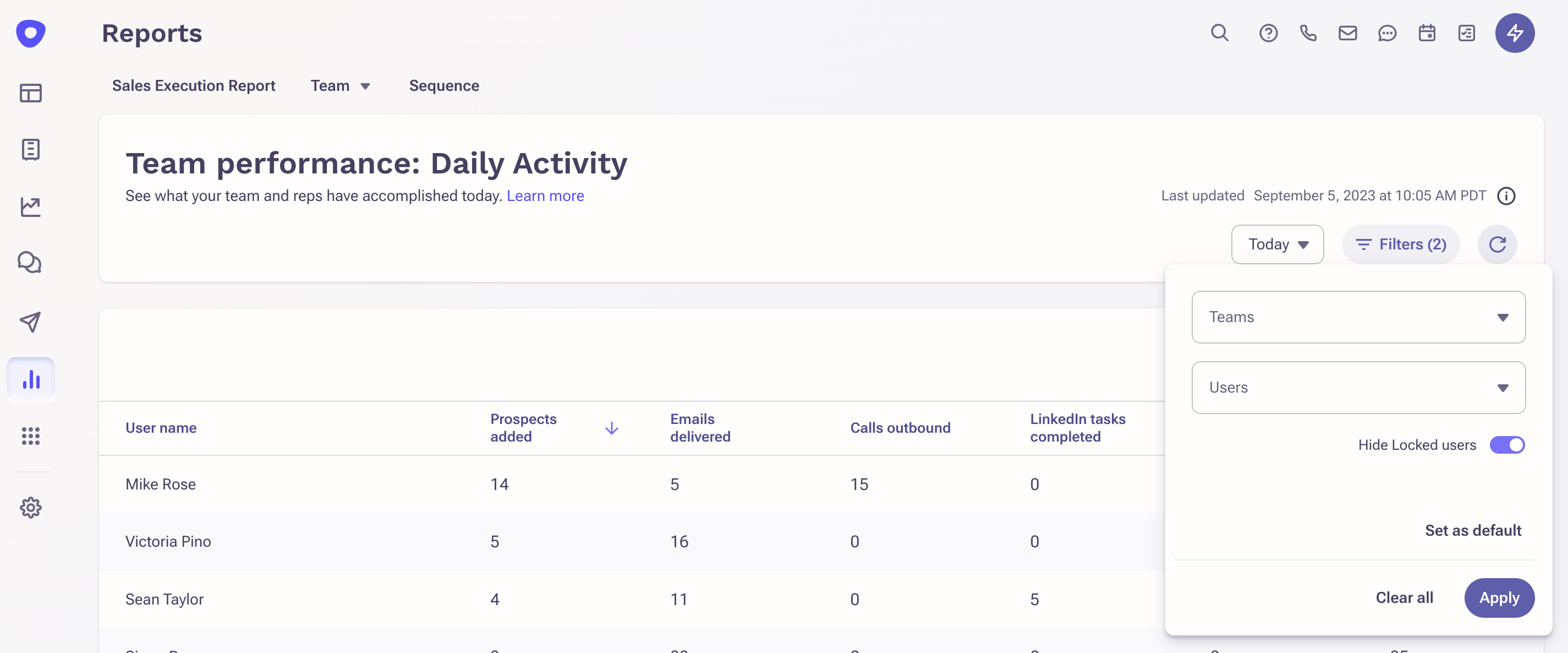 Release Date
Generally Available
Updates
Metrics include: prospects added, calls outbound, emails delivered, LinkedIn tasks completed, other tasks completed, current overdue tasks. This report refreshes every 15 minutes, can be easily exported for offline analysis and is available as a dropdown menu item in Team Performance. Learn more about the reporting migration and the new Daily Activity report on our support pages.
Elevate deal reviews and coaching conversations with Smart Meeting Assist
Summary
Smart Meeting Assist gives reps and managers an overall summary of a meeting, including topics discussed with timestamps and allows users to ask questions about what was discussed in the meeting and receive answers in natural language. Responses to questions include deep links to the relevant timepoints in the call recording, so users can jump directly into the meeting moment. The summary and questions/answers are visible to all users with access to the call recording. Users with access can ask questions, pin/unpin/delete answers.
Release Date
Private Beta in September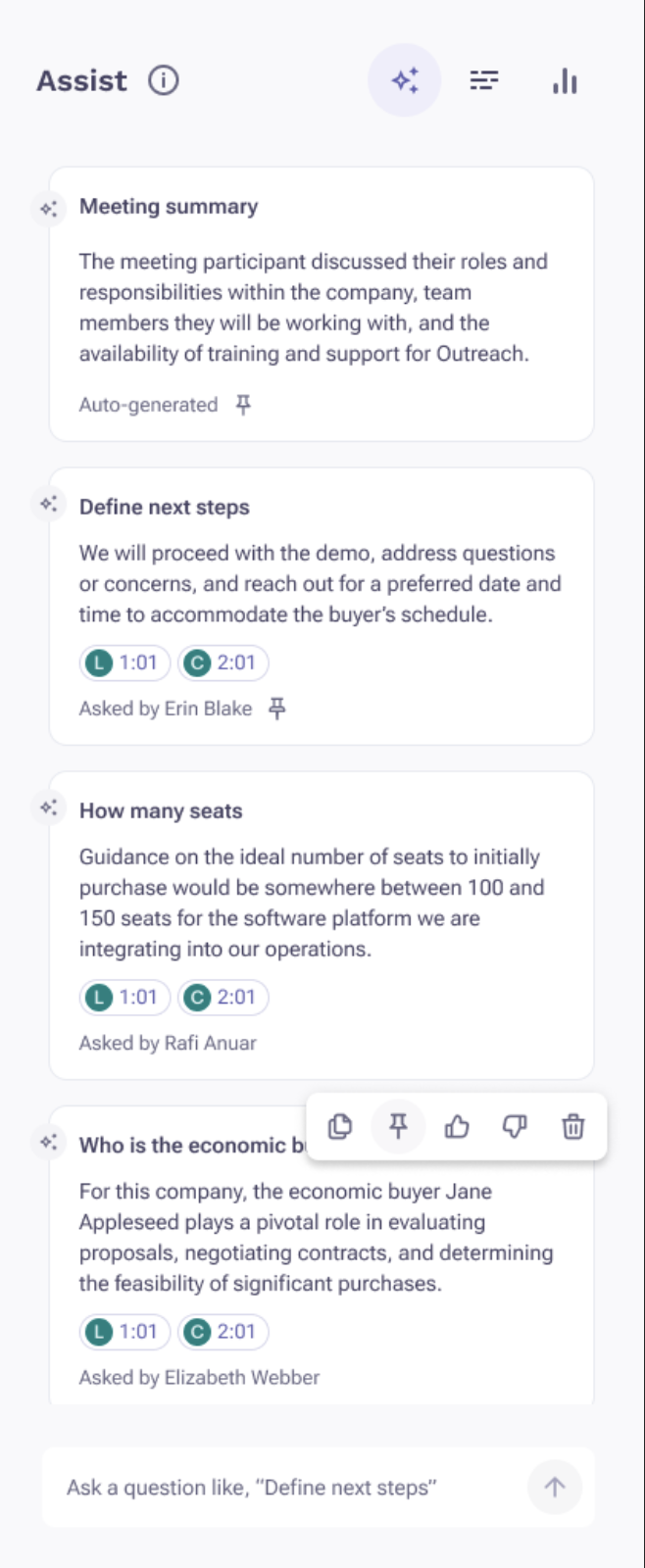 Enable multiple meeting providers with Kaia Multi-Platform Support for MS teams, Zoom and Webex
Summary
Organizations that use multiple conferencing providers can now enable Kaia for any user on any supported conferencing provider. 
Release Date
General Availability
Updates
Kaia multi-platform support enables users at your organization to utilize Kaia in a heterogeneous conferencing environment where different conferencing platforms are used across the organization. Kaia can be configured with Zoom, Teams and Webex within an organization and for users simultaneously. Learn more about Kaia.
Support governance needs with Kaia Enhanced Org Settings
Summary
Kaia Permissions settings provide a way for organizations to remove unauthenticated access to call recordings and meeting details within post-meeting email summaries.
Release Date
Generally Available September 15, 2023 
Updates
Three new org-level Kaia permission settings are available: 1) remove user's ability to download call recordings, 2) remove user's ability to share call recordings, and 3) remove meeting detail information from Kaia post-meeting summary email. 
Empower your global teams with Kaia Language Interoperability Expansion
Summary
Kaia supports users who lead meetings in 28 different languages.
Release Date
Generally Available in late September
Updates
Kaia users can now conduct meetings in 28 different languages and receive live transcription and post-call features including search, filter and analytics.
Chinese (Cantonese, Simplified)
Chinese (Mandarin, Simplified)
Chinese (Hong Kong)
Chinese (Taiwan)
Czech (Czechia)
Danish (Denmark)
Dutch (Netherlands)
English (USA)
Filipino (Philippines)
Finnish (Finland)
French (France)
German (Germany)
Hindi (India)
Hungarian (Hungary)
Italian (Italy)
Japanese (Japan)
Korean (Korea)
Malay (Malaysia)
Norwegian Bokmål (Norway)
Polish (Poland)
Portuguese (Brazil)
Portuguese (Portugal)
Russian (Russia)
Spanish (Spain)
Swedish (Sweden)
Thai (Thailand)
Turkish (Turkey)
Ukrainian (Ukraine)
Better understand customer interactions with Calendar Meetings Datasets available in Outreach Data Sharing
Summary
Calendar meetings data is now available to Outreach Data Sharing customers. Use calendar meetings datasets to see if accounts are being actively engaged with, opportunities associated with meetings, and for general health/outcomes of meetings being booked. 
Release Date
General Availability 
Updates
The newly released tables are CALENDARS, MEETINGS, and MEETING_ATTENDEES.
For more detailed information on calendar meetings datasets and a full list of all data available with Outreach Data Sharing, please visit our documentation website.
Easily understand reps on calls with Call Monitoring in real-time
Summary
Call Monitoring allows users with the Live Listen governance setting enabled to follow individual users or teams of users as they make calls through the day in real-time.
Release Date
Rollout starts September 3rd and will be Generally Available September 29, 2023
Updates
For users with the governance permission to use live listen, we are enabling a new tab under the calls page called Call Monitoring. This page follows individual users or teams of users, and updates in real time when those users are on a call without requiring the listener to manually refresh the page
Delegate content management with new Content Governance enhancements
Summary
Outreach is splitting teams and collections management.  Now, technical admins can delegate day-to-day content management responsibilities to Content Manager profiles. Additionally, for new customers, we are introducing a brand new default profile for Content Managers.
This change is backwards compatible, and does not impact your existing workflows. Your current teams and collections settings will be reflected in the new profile page. No action is required.
Release Date
Generally Available starting August 31, 2023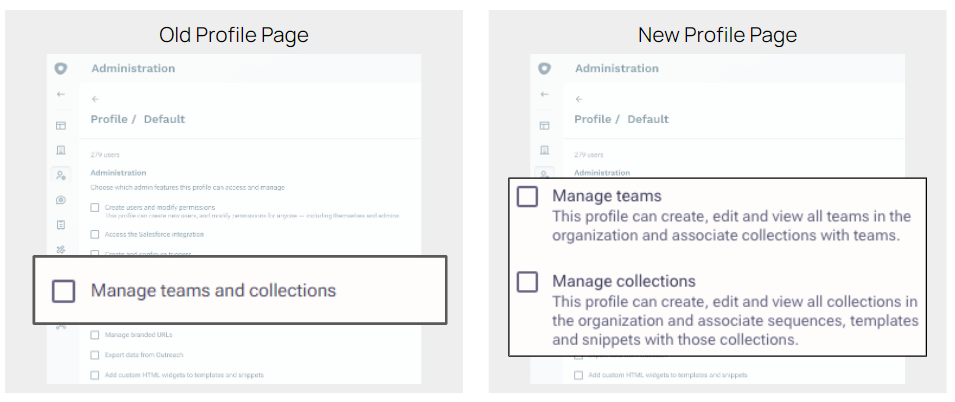 Optimize and scale content personalization with Opportunity Variables
Summary
We are extending our large base of available Variables in Outreach content by adding support for Opportunity Variables.
Release Date
Starting September 6, 2023 and Generally Available to everyone by October 6, 2023
Details
Variables allow information to auto-populate in Outreach content (Templates, Snippet, Email compose, Sequence step editor), making your emails relevant and personalized to the recipient. By adding Opportunity Variables users will be able to optimize and scale their content creation by allowing auto-population of Outreach content with matching opportunities.
Variables picker is updated to add Opportunity tab with Opportunity Variables