Symptom
Users encountering the error message "We couldn't install the CRM, please try again" during Salesforce integration setup are seeking a solution to this issue.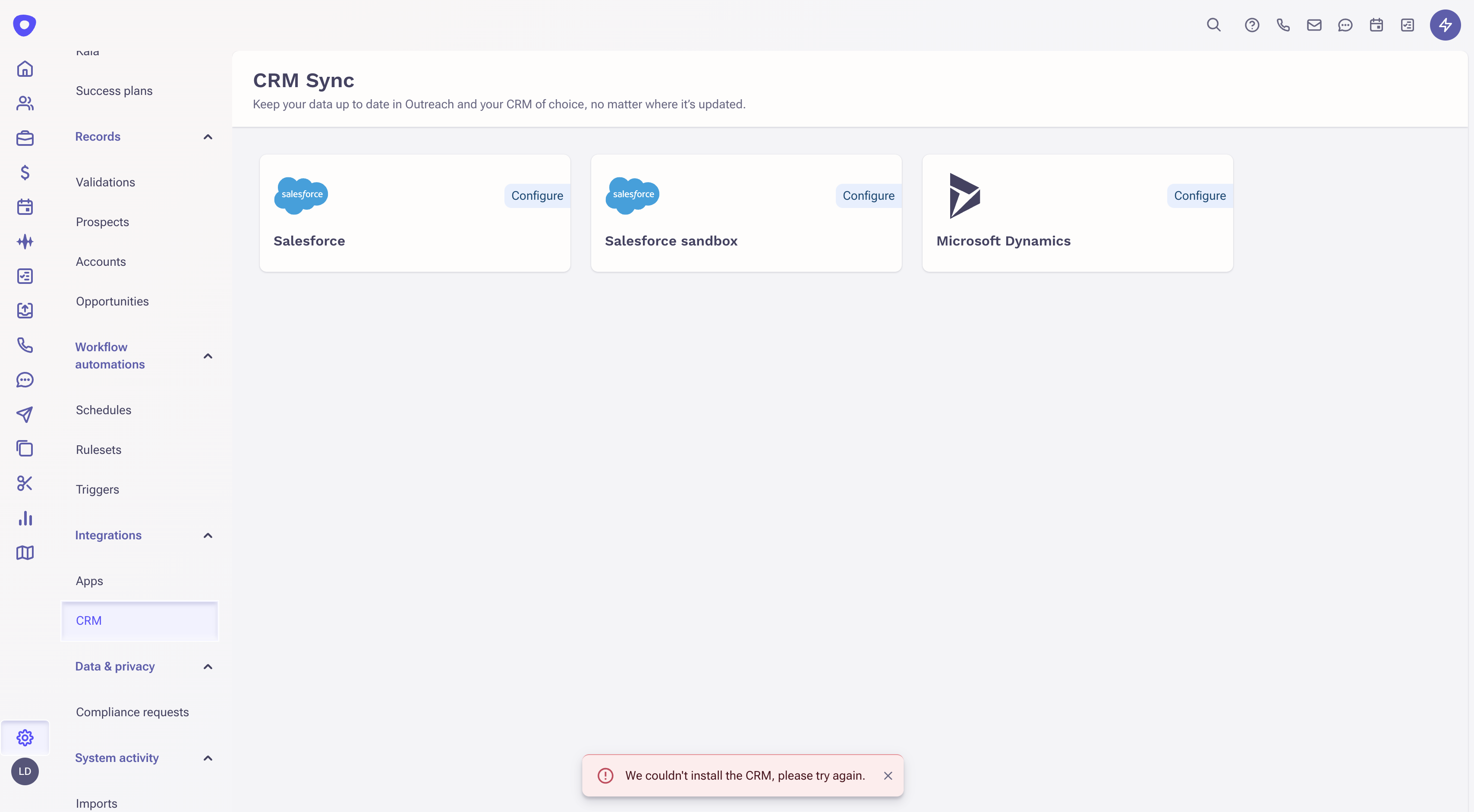 Applies To
This issue is relevant to users attempting to set up integration with Salesforce. It's important to note that some users may encounter this error even when their CRM is already connected.
Resolution
FOR PRODUCTION SETUP ONLY BELOW:
1.) Check Salesforce Permissions:
Ensure that you have full Salesforce permissions, including the necessary access rights to authorize the CRM integration. Lack of permissions can prevent the setup process from proceeding. Contact your Salesforce administrator or system administrator to confirm your permissions. Learn more here: Plugin Authorization User
2.) Verify Existing Configurations:
Check if there is an existing CRM integration configuration already created in your Outreach instance. Duplicate configurations can lead to conflicts and may cause this error. Follow these steps to check for existing configurations:
FOR SANDBOX SETUP ONLY BELOW:
Review Sandbox URL and Username: Verify the accuracy of the URL and username when working within a sandbox environment. These details should be correctly configured to establish a seamless connection.

Check Admin Profile: Ensure that the admin's Salesforce profile in the Salesforce sandbox is set to "System Administrator" to avoid any permission-related issues that may hinder integration.
Cause
The cause of the error message "We couldn't install the CRM, please try again" may vary. It could be related to incorrect setup steps, permissions, configurations during the integration process, or that you are attempting to configure when an already existing CRM is installed.
Additional Information
Successful integration with Salesforce is crucial for optimizing your Outreach experience. Utilizing the Outreach to Salesforce Integration University Course and the Knowledge Base Guide can help users overcome integration hurdles, enhance their Outreach capabilities, and make the most of the platform's features.