Purpose
The purpose of this article is to provide Outreach Users information regarding Outreach Commit.
Intended Audience
Outreach Commit Frequently Asked Questions
Q: How do I access Outreach Commit? Is it unified with Outreach?
A: Outreach Commit is a separate product sold independently of Outreach Engage, and is not part of the Outreach Engage license at any tier. If you are interested in purchasing Outreach Commit, please connect with your Outreach account contact.
Q: How much historical data does Outreach Commit require to produce results?
A: For best results, we recommend that customers bring in historical data that represents at least 2-3x the length of their average sales cycle. The more historical data Commit is able to review, the more depth it is able to provide in its analysis.
Q: As a customer, do I need to use the default Salesforce forecast categories, or can I bring my own?
A: Outreach Commit offers the flexibility to specify any custom field to be used as forecast categories in addition to the built in forecast category field.
Q: Can we forecast on a time interval other than quarterly?
A: Yes, Outreach Commit offers the flexibility to change the length of the forecast period.
Q: When can I submit a forecast?
A: Users can submit a forecast update at any time. Managers will be able to see the last time a user has submitted a forecast update via the last submitted column.
Q: Can we forecast on different time intervals for different teams?
A: At this time, Outreach Commit does not support multi-period forecasting. We suggest forecasting your business on a quarterly or monthly basis.
Q: Can I access a high-level overview of Outreach Commit?
A: https://www.outreach.io/product/commit
Q: How long does it typically take to implement a new customer?
A: Implementation for new Outreach Commit customers typically takes 2-3 weeks to configure everything in the admin and sync data. Actual time for adoption will depend on how you plan to roll the product out and work it into your current forecasting process.
Q: Do users of Outreach Commit also need a Salesforce/CRM license?
A: No, only Outreach Commit users whose data you want to appear in the forecast must also have a CRM license. For example, if you want to grant a marketing user view access to Outreach Commit that user is not also required to have a CRM license.
Q: Are there minimum requirements for CRM sync?
A: The user authorizing the CRM integration will need the appropriate API permissions and visibility to all required objects.
Q: Are my Commit teams based on roles in CRM?
A: If you decide to sync your Outreach Commit Team hierarchy to CRM then yes, teams will be based on the assigned hierarchy and roles that exist in CRM, and will stay up to date with any changes.
However, you may also configure your own teams within the Outreach Commit admin interface if you would like the structure to be different from what appears in CRM.
Q: If I create my own team structure, will it disrupt my CRM hierarchy or be overwritten?
A: No, Outreach Commit only pulls data inbound from CRM for teams and roles. Any changes within Commit will not change roles in CRM, and will not be overwritten by future syncs for CRM data to Outreach Commit.
Q: Is there a limit to the number of users that can be added to the hierarchy?
A: No, there is no technical limit to the number of users that can be synced to Outreach Commit, beyond any licensing restrictions that might apply.
Q: Are we able to create custom user profiles in Outreach Commit?
A: Yes, you can create custom roles based on the system roles with the ability to dictate specific permissions using the admin interface.
Q: Where do I access the Admin portal?
A: Login to your Outreach Commit account. In the upper righthand corner, click on your name and avatar. In the drop down click on "Admin," which will direct you straight to the self-service portal. Only Outreach Commit users with admin permissions will see this option.
Q: What if I cannot see "Admin" in the drop down menu?
A: Check with your PSC to make sure you have Admin permissions or contact your organization's Admin to make any necessary role based changes.
Q: What can I manage in the Admin portal?
A: The admin interface is the central place to manage your Outreach Commit instance. It can be used to manage users, teams, goals, and CRM sync as well as management of roles and access permissions.
Q: What is the definition of Teams?
A: Teams in Outreach Commit are managed using a hierarchy system that should reflect your organization. This hierarchy is used for both pipeline and team visibility, as well as forecast roll-ups. You are able to synchronize your Teams with the User Roles currently configured in your CRM if desired.
Q: What is the definition of Users?
A: The "Users" tab allows you to manage Commit licenses and to define what each user's role should be. A user's "Role" in Commit determines what they can see and do within the platform.
Q: What is the definition of Goals?
A: The "Goals'' tab allows customers to track quotas and other KPIs across your organization. This process allows you to set targets for each individual and team.
Q: What if I see users in the hierarchy that have left my organization.
A: Currently, any inactive user that is listed in your hierarchy will be lightly grayed out. Outreach Commit will need these inactive users mapped into the hierarchy because Commit uses them for historical data reporting purposes. All active users will be listed in bold, with the ability to add, edit, or delete a user from a team.
Q: What does it mean for a deal to be "Stalled" in Outreach Commit?
A: Outreach Commit will show you a Stalled label on deals that have been in a stage for substantially longer than normal for the given seller and their team.
Q: What does it mean for a deal to be "Off Track" in Outreach Commit?
A: Outreach Commit classifies deals as Off Track that generally are not pacing or do not have time to close based on your normal sales cycle. This includes scenarios like:
The rep has put a close date on the deal that is too soon given your normal sales process and where the deal currently is in that process.
The deal has been stuck in its current stage for at least double the normal amount of time.
Q: How do Quotas work?
A: Outreach Commit tracks quotas per individual over a configurable period of time. We are able to set quotas for any duration of time and can be as granular as weekly or as broad as annual quotas.
For your teams, by default Outreach Commit will roll-up all quotas for each individual on the team and show that as the manager's quota, but you can always provide specific quotas for each manager to use instead.
Q: Why isn't my quota or my Team's quota correct in Outreach Commit?
A: If your quota is missing or incorrect in Outreach Commit, this can be due to your user or team not having a specific quota set.
By default, Commit uses a sum of all quotas on a team to generate a team quota that we assign to the manager of that team. If you'd like a specific quota value to be set, visit the Goals page in the Commit Admin to download a new quota template file, enter the correct quota values, and then upload it to ensure your quota is set correctly in your Commit instance.
Q: When are values updated in forecasting in Outreach Commit?
A: Values for current forecast and next period forecast are constantly kept up-to-date. If a deal value or category has changed since you last modified your forecast, you will see a blue triangle next to the value that changed.
If you hover over the triangle, you will see a tooltip which shows you what you entered for that call and what the rep has entered, which is generally coming directly from the CRM.
Q: What are Omitted Deals?
A: The omitted forecast category totals deals that have been moved to closed lost. This way, you can focus your time on pipeline risk and rep coaching.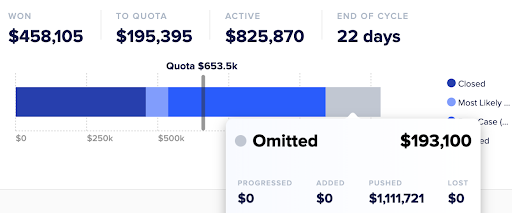 Q: What are Signals?
A: Outreach Commit curates custom Signals that tee up opportunities and action items for identifying pipeline risk, coaching reps, and increasing forecast accuracy.