Purpose
The purpose of this article is to provide Outreach Users with information about how to view data within Outreach Commit to understand the outcomes impacting your revenue teams.
Intended Audience
Outreach Admins
Outreach Users
A Breakdown of Point-in-Time Reporting
Analytics gives you the ability to instantly view data from any point-in-time, add filters across any object or data point, and understand the true outcomes impacting your revenue teams. We can rewind time to discover what has happened to your pipeline in any given window. This is why we like to call Analytics, "The DVR of Revenue."
Running a Report:
Run a report easily within analytics by filtering down on any field that is attached to revenue (opportunities) in your database. Zoom in on account attributes, decision-maker titles, and any custom or standard field across any object.
The most powerful aspect of Analytics is the ability to take snapshots of historical data, ensuring you can review any custom time window and compare results to today's trends. To do so:
Choose a specific time window from any of the options in the drop-down.
Zoom in on any opportunities that have closed during the same time period or same sales period.
Filter your pipeline based on

 

Forecast Category

 

or

 

Stage Name.
Click

 

Run.

Reviewing your Pipeline:
Once your report has been created, Outreach Commit will provide you with a detailed view into how your pipeline moves over time. Click into each Forecast Category or Stage to pinpoint slippage, variance, and conversion rates during that given timeframe.
To see the specific deals that have moved through each stage, click View Deals. This will provide you with a detailed view of every deal that has moved during that selected time frame.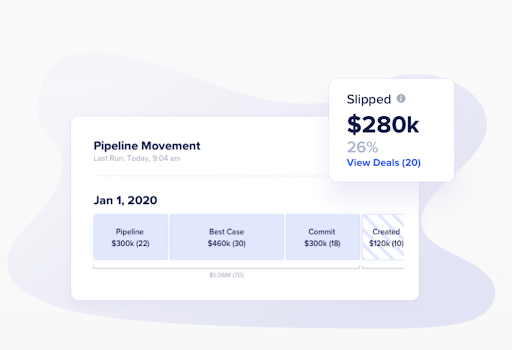 The blue background segments represent deals that are already in the pipeline at the start of the selected time period. The striped background categories represent deals that will later became a part of the pipeline after the start of the selected time period.

When a forecast category is selected, for example "Best Case", the Won, Lost, Moved, Slipped, and Idle subsets automatically update to show a breakout of the "Best Case" amounts, percentage of the amounts, and the ability to view the deals that compromise the category.
Moved means that a deal changed whatever breakdown category you selected (in this case, Forecast Category) during the quarter, but did not manage to close. The deals listed in the Won, Lost, and Idle subsets will not overlap. The only subsets that can overlap are Moved & Slipped, since technically a deal could change forecast categories, then get pushed out into a future time period.