Connecting Outreach With Salesforce
Once Outreach has authorized the connection from Salesforce, the Administrator will need to grant Outreach authorization to connect to Salesforce. From the Outreach homepage, click on: Settings > Plugins > Add > Salesforce > Allow.
Configuring The Plugin
After both connections have been made, the Salesforce Plugin will appear within the Plugins page. Click on the Salesforce named tab and 4 tabs will display (Activity, Types, Limits, Logs). For now, skip the set up process for automatic polling or creating records. The automatic data transfer process should not happen until Outreach has been configured completely.
Activity
The Activity tab shows a user friendly, history snapshot of when Outreach has synced with Salesforce.
Types
The Types tab shows the different objects within Salesforce and the different options available to connect to those objects. The options that are chosen control the flow of data between Outreach and Salesforce for those objects.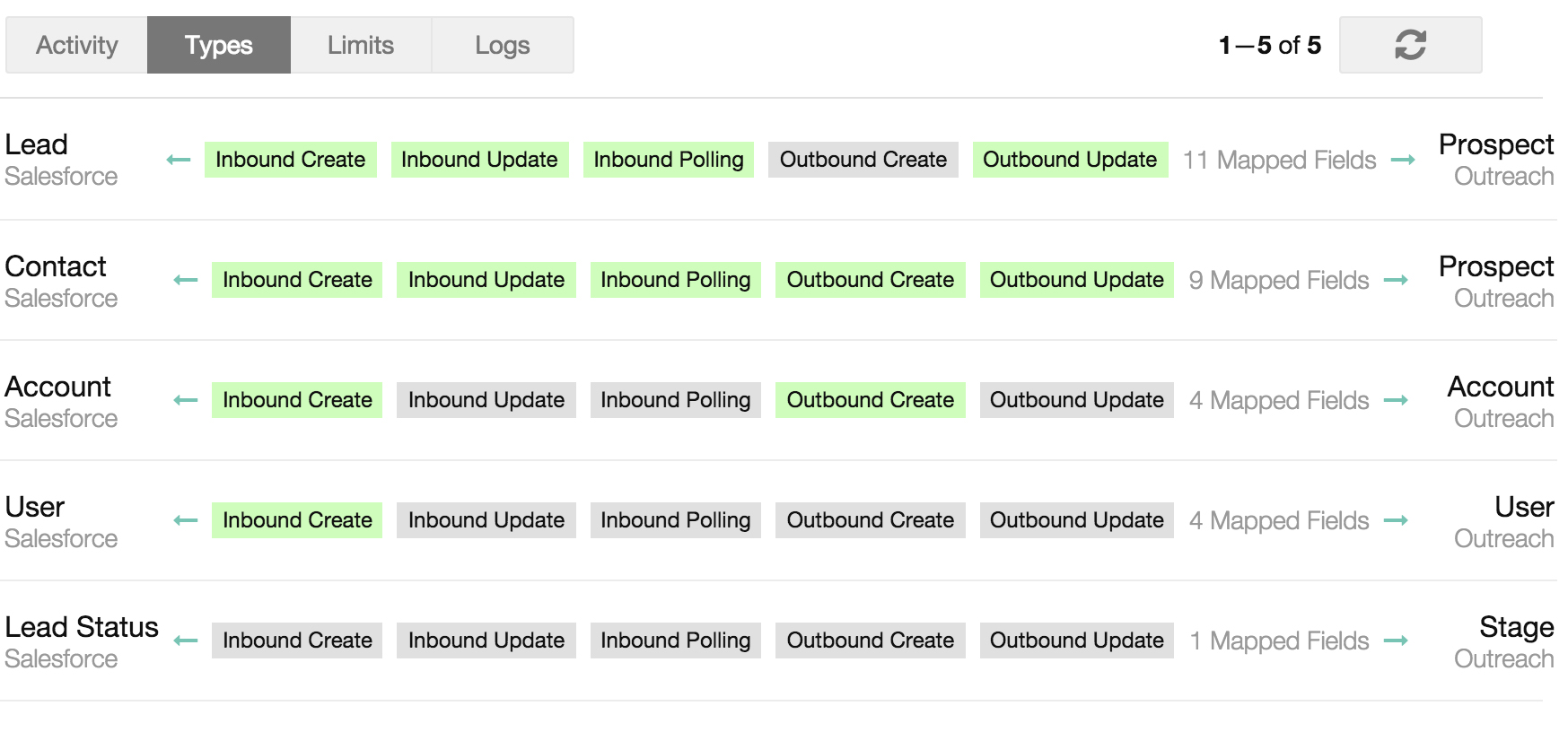 Limits
The Limits tab allows an Administrator to set limits on how many API calls Outreach is allowed to make on a given day. The API calls available are designated by SFDC and if you need additional API calls, we recommend reaching out to your SFDC representative.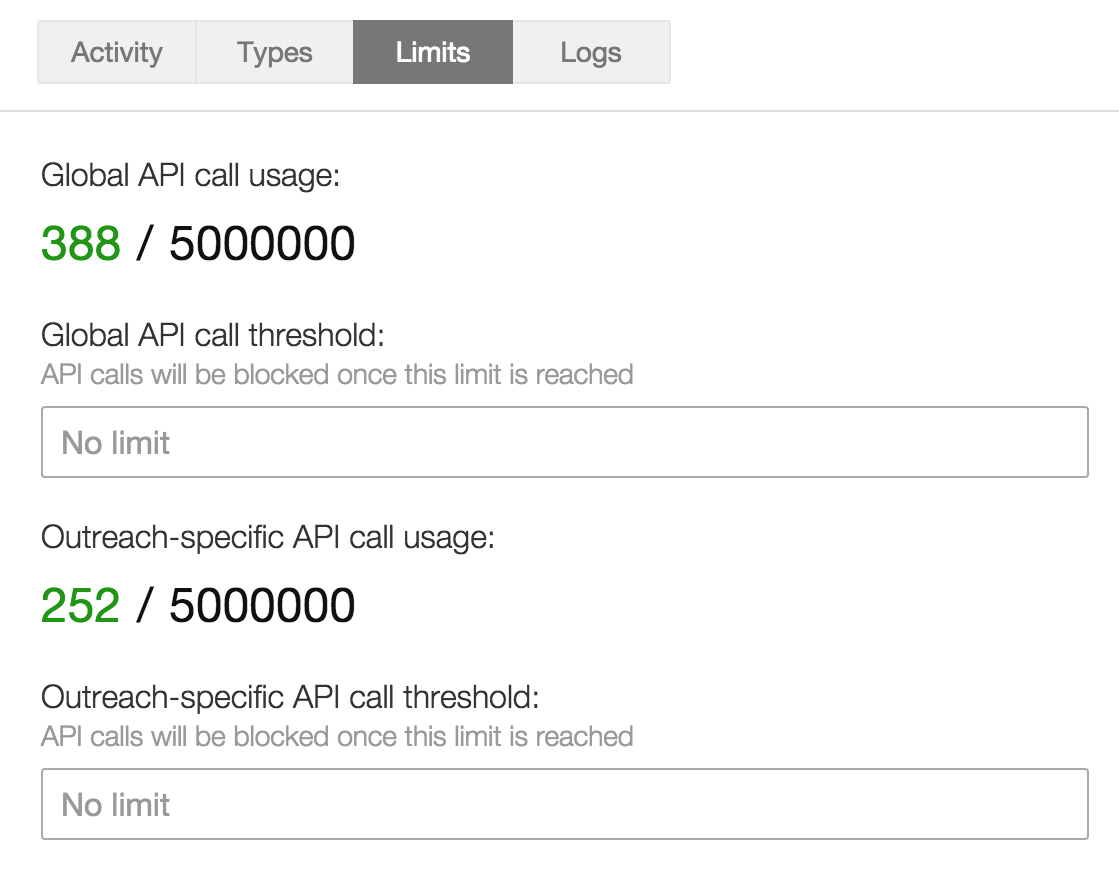 Logs
The Logs tab provides a more in-depth, technical look at user and sync activity. The Logs will show which actions are happening, when they are happening and if Outreach is able to sync.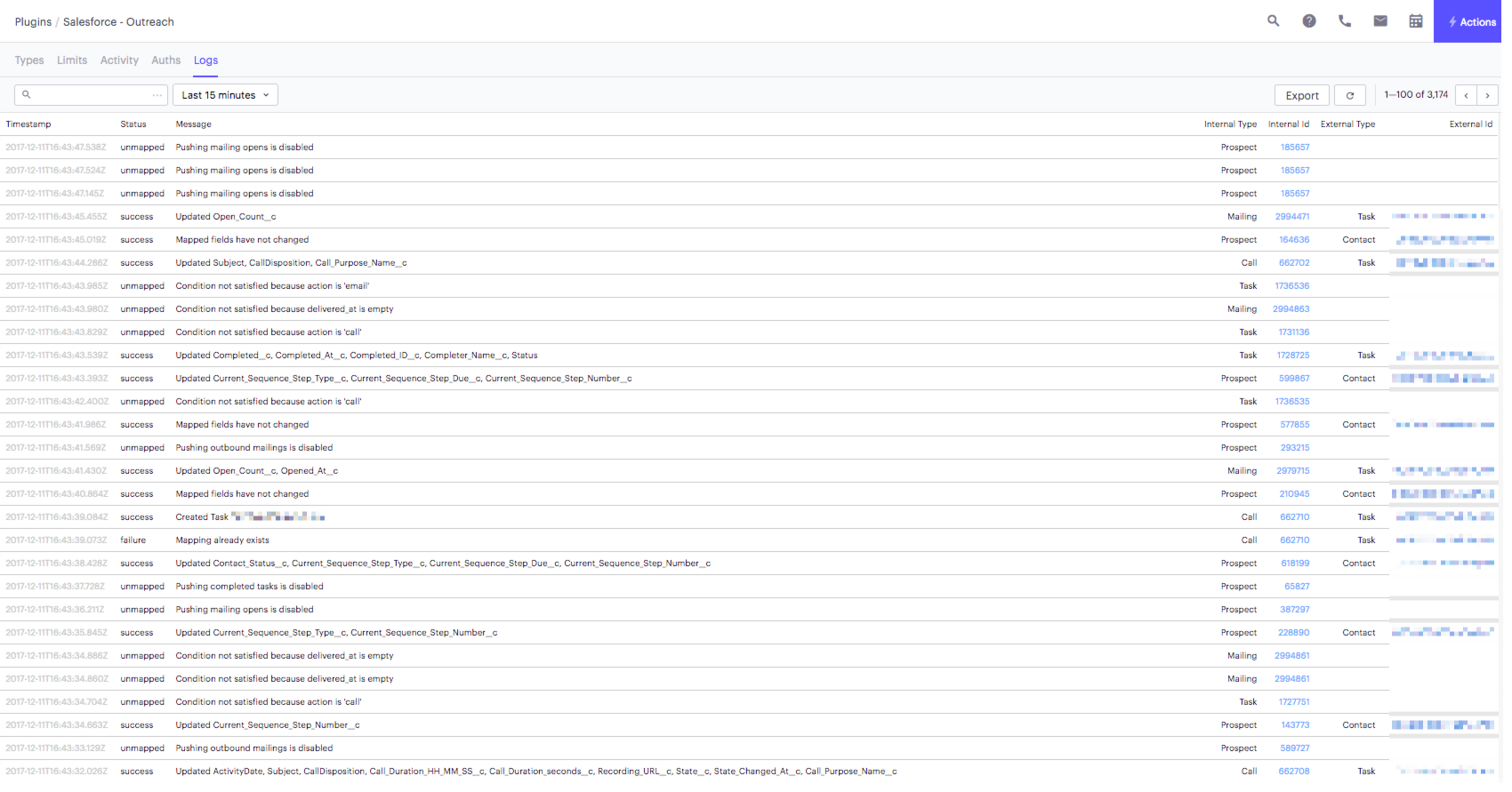 Map Users
When mapping users inside the Salesforce plugin within Outreach (Settings > Plugins > Salesforce > Types), make sure to create and name all fields the way Salesforce lists them. Afterwards, match each type of records side by side with Outreach. When finished, turn on Inbound Create only.
Setup Lead Status Mappings
Before mapping your contacts and leads, they need to have already been configured. If the contacts have already been configured, then you are ready to map them to Outreach. Because Outreach utilizes a bi-directional connection, all fields must be identical to those in Salesforce. For example, spelling is case or space sensitive. If using drop down menus, confirm that drop down menus are also used in Outreach. 
Confirm All Fields Are Visible To The API
Outreach comes with sample stages for field mapping purposes, but sometimes the sample stages are not visible due to Field Level Security. Only a Salesforce Administrator can verify the following 2 fields:
Verify the Opt out field is visible under a Lead or Contact's profile in Salesforce. See Setting Field Level Security For Opt Out.
Verify the Type Field Label is visible under the Activities tab in Salesforce. See Setting Field Level Security For Type Field.
After updating the Field Level Security options, refresh the Types page within Outreach to see the updated list.
Ensure All Field Mapping Checkboxes Are In Order
Outreach will update and sync any field that has been mapped, both in and out of Outreach. Be conservative on which fields you choose to sync both in and out as each sync counts as an API call. For example, many customers use the in and out sync for Lead status, but choose to only pull in data to Outreach for both Contact and Lead. For example, users would use bi-directional syncing for first name, last name, company, title, opt out preferences, or other fields that might be modified more often.