Automatically stop all sequences directly from a Lead or Contact page in Salesforce by using field mappings between Outreach and Salesforce and triggers in Outreach. This trigger is most helpful for reps whose workflow lives in Salesforce, enabling Outreach functionality outside of the Outreach environment.
To create a trigger that will automatically stop all sequences for a prospect:
Create a custom true/false field in Salesforce called "Stop Sequences"
Create a field mapping from Outreach to Salesforce for the Stop Sequences field

Navigate to the Settings > Triggers in the Outreach menu
Click the + Add button in the top right to create a new trigger
Best practice: Click the "edit trigger" link on the bottom right of the quick create window to see all trigger settings
Trigger Event
This prompts the trigger to take action if a prospect is updated in Outreach.
The event for this trigger should be "Prospect Updated" so the triggers attempts to take action once a the prospect is updated in Outreach.

Prospect Conditions
These are the field conditions that need to be met before the trigger takes action on a prospect.
See the conditions grouped together below that denote the Stop Sequences (currently mapped to the Custom 2 field in Outreach) field must equal "True".

Trigger Action
This is the action the trigger finally takes once the event and conditions are met. In this case, you will automatically be setting a field value of "True" for the Stop Sequences field, which will stop any active sequences a prospect is currently active in if the box is ticked in Salesforce.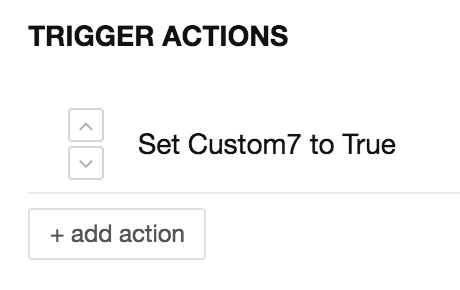 More Resources