Sales Intelligence Tiles Overview
Sales Intelligence is built to equip Sales Reps with relevant information about the people and organizations they engage within Outreach.
Outreach aggregates prospect data from a variety of third party sources, including Twitter, MapBox, and Owler. The result allows sales reps to monitor engagement and key buying signals at both the individual prospect and account levels.
Intelligence tiles comes with 4 system layouts:
Engagement insights (available in prospect and account intelligence): displays a combination of insightful information including company news, local time and historical interactions with prospect/account to ensure the communication is effective
Prospect overview(available in prospect intelligence): displays everything from historical activity to custom fields
Account overview(available in prospect and account intelligence): displays account firmographics and prospect information
Social overview (available in prospect and account intelligence): displays social feeds for the account or prospect, including the LinkedIn Sales Navigator tiles, company twitter, and company information from owler.
Customizing Sales Intelligence Tiles
Each individual has the option to tailor which tiles appear in Account and Prospect overviews. Modifications made are unique to the individual, meaning changes to these tiles will only be reflected to the individual making the changes.
1. To customize your layout, select one of the system layouts and select "edit". Click on "clone", which is the option that gives you the ability to customize with your preferences. 

2. Adjust the layout name, owner, and privacy settings.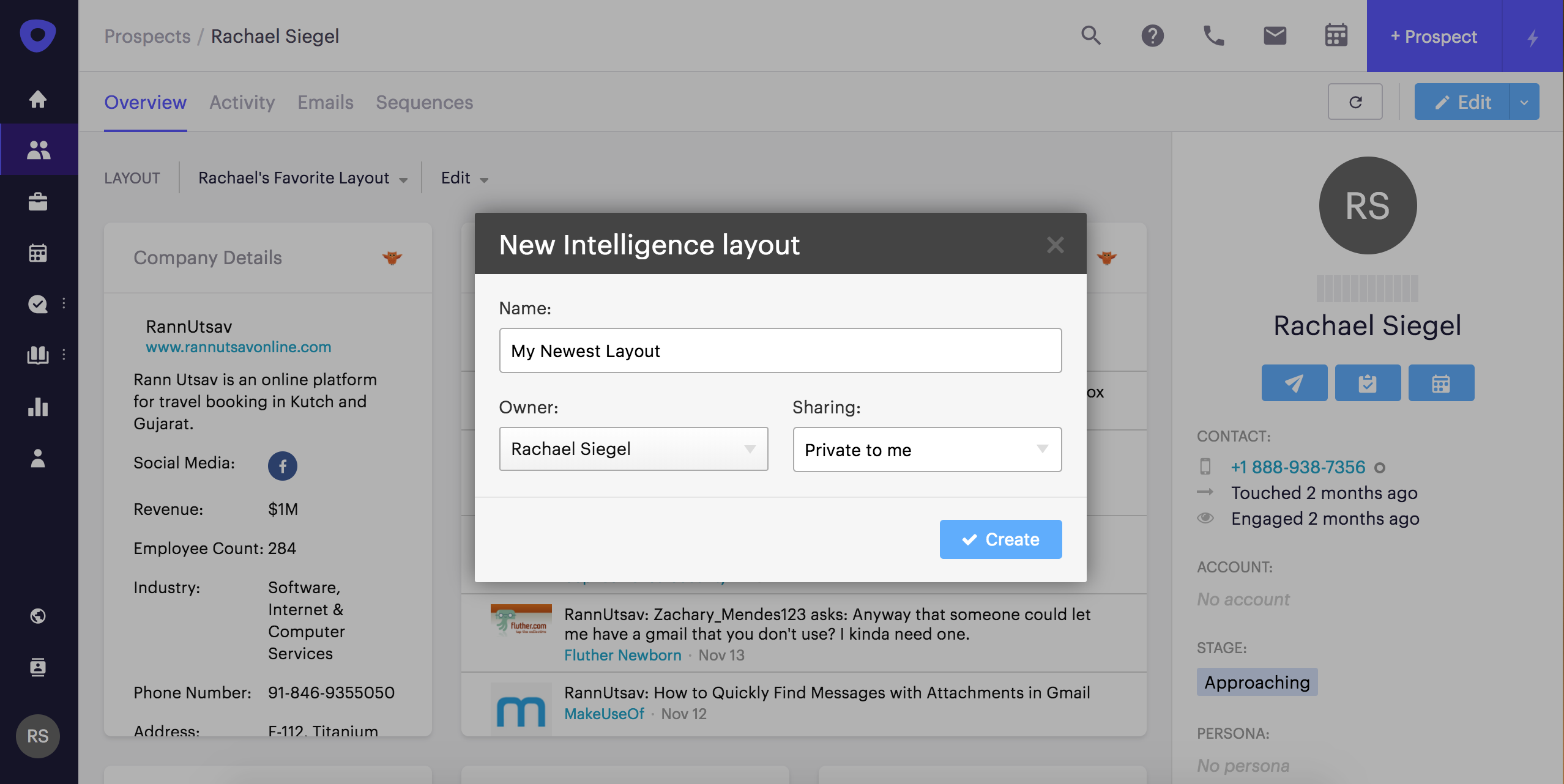 3. Once complete, you'll be brought to the layout editor. The layout editor allows you to:
Add and/or remove tiles 

Drag and drop tiles to reorganize their placement (click to drag and drop)



Resize tiles (click bottom right corner and drag to resize)

 
 Note: Any changes made to customize the layout of Intelligence Tiles are unique to the specific user and are not reflected org-wide to other users.
Governance & Settings
Outreach admins have governance control over intelligence tiles. Based on an assigned role, admins determine which layouts their reps can see, whether or not they can create new layouts, and permit or deny the ability to share personal layouts with other Outreach users.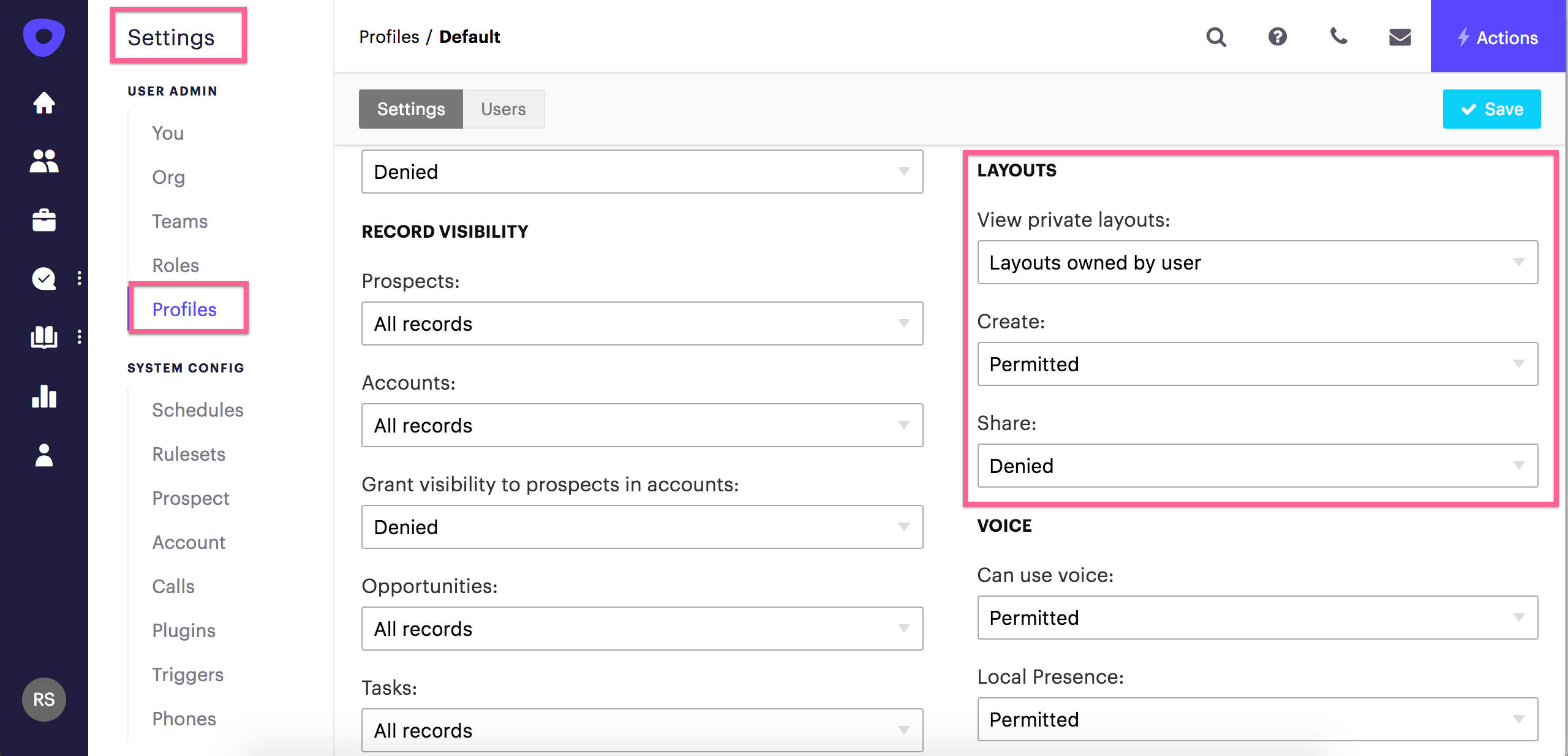 Note: There are no governance settings that restrict access to certain tiles. 
For more information, please see the governance settings overview.
Available Intelligence Tiles
| | | | |
| --- | --- | --- | --- |
| Tile | Description | Source | Additional Details |
| Local Time | Display the local time of the Prospect or Account. | Outreach |   |
| Company Details | Load relevant company data for a Prospect or Account. | Owler | To identify the company, we first use the name listed in the company field. Otherwise, we use the email domain. If we have a connected account, we will also use that. |
| Company Peers | Display a list of similar companies to the given Account. | Owler | To identify the company, we first use the name listed in the company field. Otherwise, we use the email domain. If we have a connected account, we will also use that. |
| Address Map | Display a Google Map of the Prospect's or Account's address. | MapBox |   |
| Account Due Tasks | Due tasks related to an Account. | Outreach |   |
| Account Emails | Outreach outbound emails related to an Account. | Outreach |   |
| Twitter | Display a Twitter Feed for a given Prospect or Account. | Twitter |   |
| Activity | Outreach Activity for a given Prospect or Account. | Outreach |   |
| Account Prospects | Prospects associated with an Account. | Outreach |   |
| Account Calls | Calls associated with an Account. | Outreach |   |
| Account Notes | Notes associated with an Account. | Outreach | Add notes directly from tile, will by synced |
| Prospect Notes | Notes associated with a Prospect. | Outreach | Add notes directly from tile, will by synced |
| Local Weather | Display the local weather for a given Prospect or Account. | Dark Sky |   |
| Owler Company News | Display a news feed of articles and posts about a company. | Owler |   |
| Company Funding Rounds | Display a list of funding rounds for a company. | Crunchbase |   |
| LinkedIn Sales Navigator (Account and Prospect) | Displays LinkediN Sales Navigator information on the account and/or prospect. | LinkedIn Sales Navigator |   |