Intelligent Email Data Extraction automates the process of identifying new phone numbers from the email signature or numbers that are discrepant to existing ones in Outreach. With this feature, Outreach is able to identify and add new phone numbers from a prospect email signature, right from your inbox.
To enable the Phone Number Extraction feature, make sure you've downloaded the Outreach Everywhere Chrome Extension and enabled the extension in Gmail or Outlook.
Intelligent Email Data Extraction
Intelligent Email Data Extraction is a feature of our Chrome Extension that works in your inbox. When you click into an email thread, we'll scan the email signature of the opened message. If the email address is associated with a prospect, we'll compare the signature phone number with the existing prospect information in Outreach.
If the phone number in the signature of the email is different than what exists in Outreach, we'll ask if you want to update the prospect profile. When confirmed, the phone number will be added as a net new number, rather than overwriting an existing number.
You can select the phone number type (work, mobile, home, VoIP, other) by clicking on the dropdown menu next to the phone number.
Gmail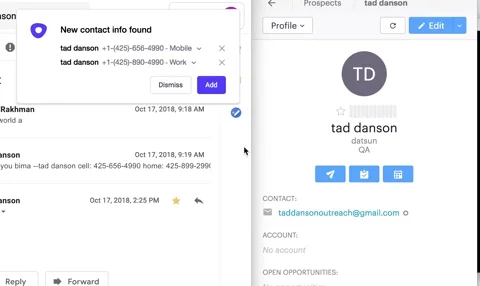 Outlook
Note: If a phone number already exists on the prospect profile in Outreach, the new number will be added as a second phone number, below the existing information. To adjust the order, you'll need to make manual edits in the prospect profile.