Q: My organization had already set up some or all of the Engagement Panel Fields. Does this replace those fields?
If you had set up some or all of these fields in the past, you will find that this package has created duplicate fields. Feel free to delete all fields that have API names that start with "outreach_" on the Lead and Contact object except for "Current Sequence Name" (API: outreach_current_sequence_name). This field is used as part of the Process Builder flows. If your organization has already mapped "Current Sequence Name" in Outreach to a legacy custom field, you'll need to modify your mappings to point the Outreach data to this newly created field.
Q: Why are my "Updates Out" check-boxes blank in my Outreach Leads and/or Contact Field Mappings?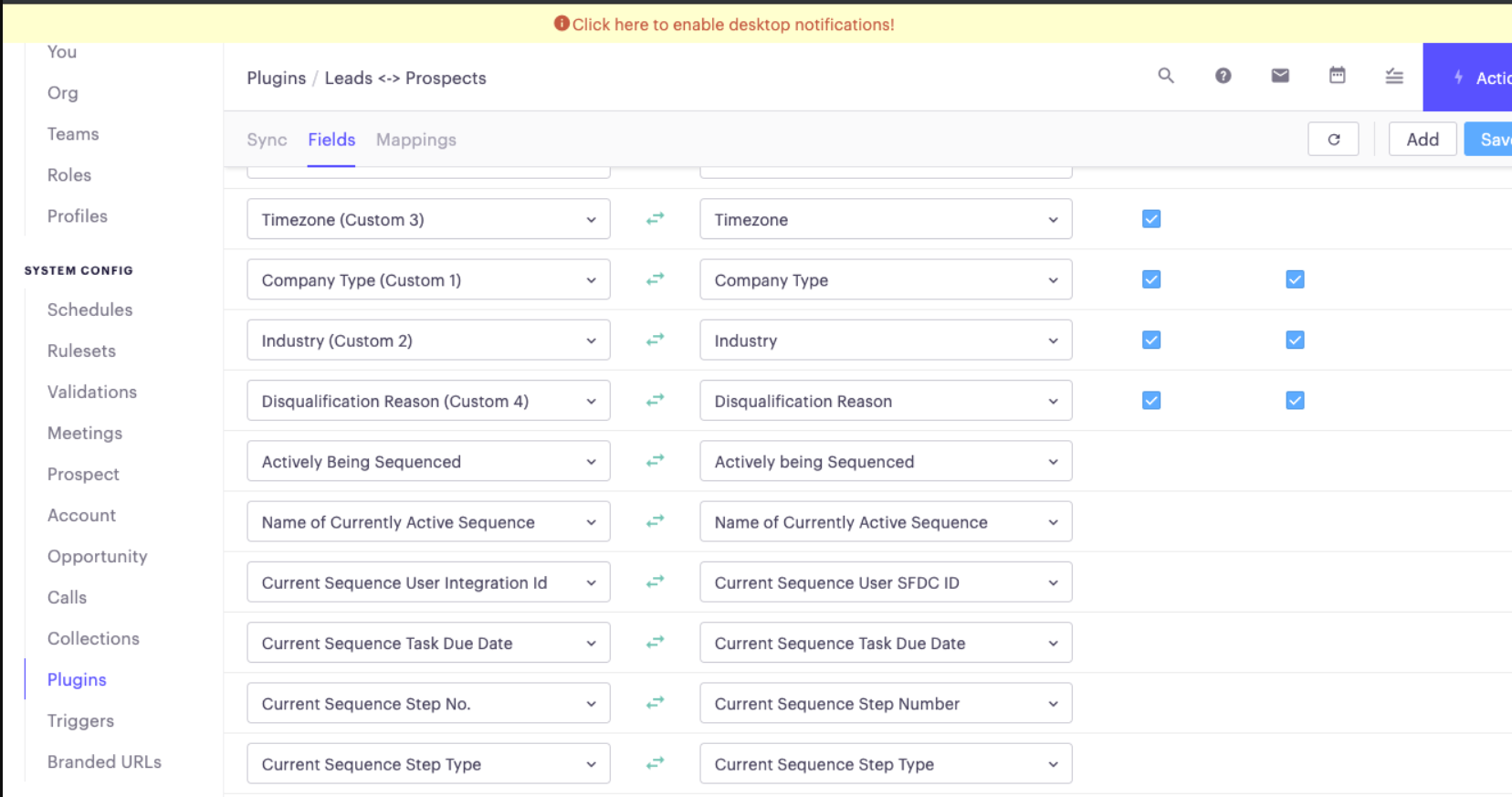 This typically indicates that your Plugin Authorization User doesn't have read/write permission for these fields in Salesforce. Make sure these fields are not labeled as "Read-Only" using the steps in our Support Article: Setting Salesforce Field Level Security For Type Fields
Q: What are the names of the process builders? Can I modify them?
Since this is an unmanaged package, you have complete access to the processes that power this functionality. You can find these in Process Builder, with the following naming:
Update First Primary Point of Contact (transfers Sequence Name to the opportunity)
New Contact Created or Edited Get Copy of Current Sequence (captures the first Sequence Name for Contacts)
New Contact Created or Edited Get Copy of Sequence (captures the first Sequence Name for Leads)
Feel free to modify these processes to fit your business needs.
Q: I just added the new "Current Sequence" fields, but I don't see them available in my Field Mappings in Outreach. Where are they?
If these fields were just recently added, you may need to perform an in-app Refresh to get them to appear. Please see our Support Article: Missing Salesforce Fields in Outreach Plugin for additional troubleshooting steps.
Q: Can I adjust the Revenue by Sequence Salesforce report?
Yes, the report is a standard Opportunity report, and is intended to serve as a starting point for your organization.
Q: Why is the Primary Contact Name a required field on the Opportunity?
Because Outreach associates Leads and Contacts with Sequences rather than Opportunities with Sequences, we need to sync Sequence information up to Salesforce via a Contact record. By adding this mapping, it helps to pinpoint which Contact and which Sequence ultimately lead to the Opportunity.
Q: My Salesforce report is not showing any data. Why?

Please remember that this only works for Opportunities created going forward- and is not retroactive. To see data show up on the report, you'll have to follow the steps in Phase 5. The out of the box report uses the standard "Amount" field on the Opportunity. If your business uses a different field, you'll need to adjust the filters and columns on the report to reflect that.
Q: Why don't I see any data in the field "Current Sequence Name"?

If you have just finished mapping the fields for the first time, it may take Outreach some time to completely sync the data over to Salesforce. To test with a single record, navigate to a prospect in Outreach that does have data in the field "Current Sequence Name" and force sync the lead. If you do not see the data populate on that record in Salesforce, then check your field mapping settings in Outreach. Revisit Phase 4/Step 1 to ensure the fields are mapped properly.