Outreach and Salesforce are constantly sending information back and forth through the bidirectional sync set up in the plugin. Every record in Outreach (prospects, accounts, tasks, etc.) must be mapped to its corresponding record in Salesforce so we know where to move that data when any updates occur. The same is true for your users. Mapping your users ensures your reps' activities push to Salesforce and any mapped fields on the user level update properly.
Fortunately, Outreach will typically take care of this mapping for you automatically. There are times, however, that a user must be mapped manually or remapped.
Navigate to the User Mappings
To navigate to your user mappings in the plugin: 
An Outreach Admin can click on their initials on the bottom left hand corner of the Outreach Platform.
Under the settings panel, find the section labeled "System Config" and select "Plugins"
Click into the Salesforce plugin and under "Types" select the User Object.
On the top of the page, click "Mappings."
Adding a New User Mapping
Before adding a user mapping, use the search bar at the top to check for an existing mapping. If none exists, you can proceed to add a new mapping for your user.
Note: The external, Salesforce ID must be used to search for existing mappings. For users, these will start with "005." Searching for the user's name will return no results.
Click the blue "Add" button in the top right corner. A window will appear to create the mapping.
Using the two drop-downs, select the correct Salesforce user and Outreach user accounts.
Click Save. 
Fixing Mismatched Mappings
While looking in this area of the plugin, you may notice mappings that don't match. This can be a result of repurposing seats instead of creating new seats to replace old ones. 
You'll know a mapping is incorrect if the name on the left doesn't match the name on the right. To fix this, hover over the incorrect mapping and click the dropdown arrow that appears on the right. Click "Remove."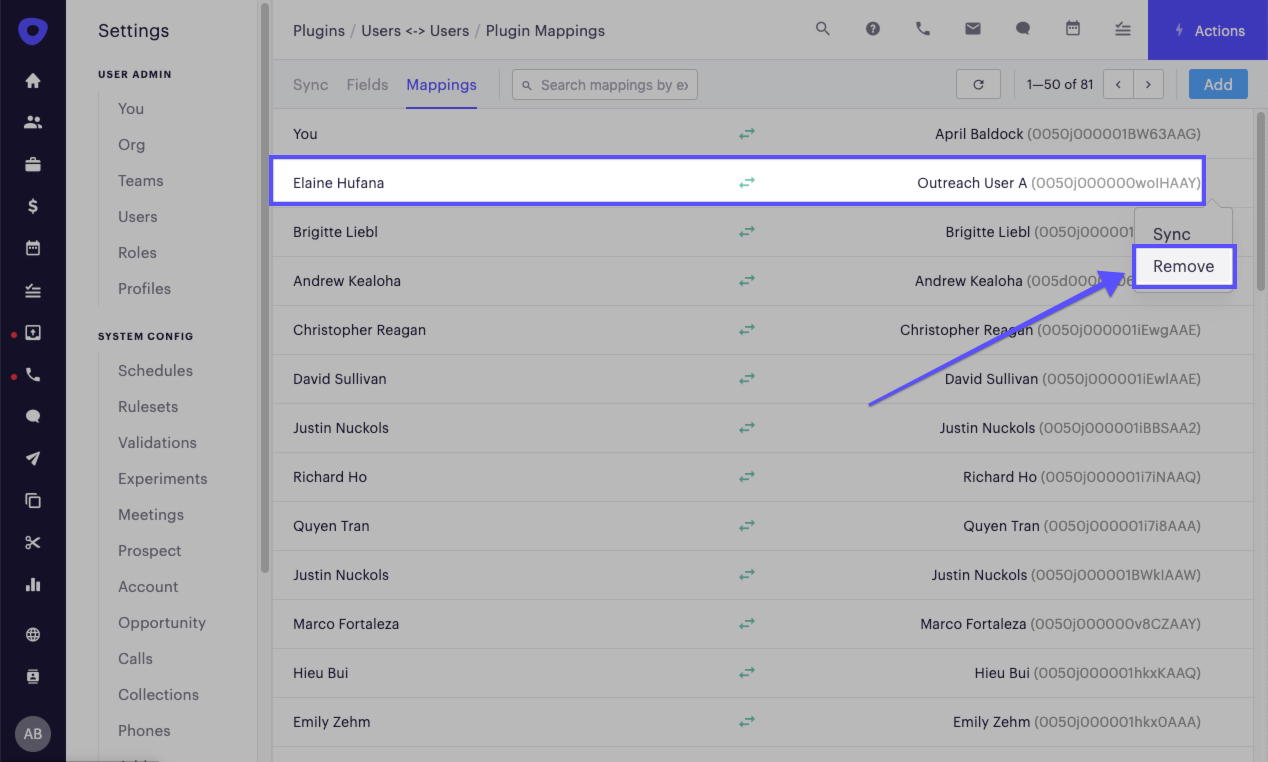 Once the incorrect mapping is removed, follow steps 1-3 above to add the correct mapping for the user.