Exporting Prospects, Accounts, and Opportunities
From the prospect, account, or opportunities list view, sort and filter until you have a list that you're interested in exporting. Click on the checkbox to select all items in the list, click the button at the top of your page with the ellipses (...), and select "Export".

Once you've selected "Export," you can rename the export and select one of the following options for your export method.
Download Now
This export method is great for exporting 200 records or less. The report will download as a CSV file to your Chrome browser after you click the export button.
Email CSV
This export method will work for any number of records. After naming your export (optional) and clicking the export button, you will see a notification telling you that an email notification will be sent to you when your export is ready for download. Please note, the email notification is sent to the email address of the user requesting the export.
Please Note: If you're exporting all prospects, accounts, or opportunities, then you should use this option, as there is no limit applied to the amount of records you can export. If you are exporting a filtered list of prospects, accounts, or opportunities, then you will need to split up the export into sections of 100k, as that is the limit for exporting filtered lists.

You will see the email below once your file is ready. When you see this email in your inbox, you can click the button that has your export's name displayed. This link will take you to your exports page in Outreach where you can download your export. Additionally, the email contains the expiration date of your export.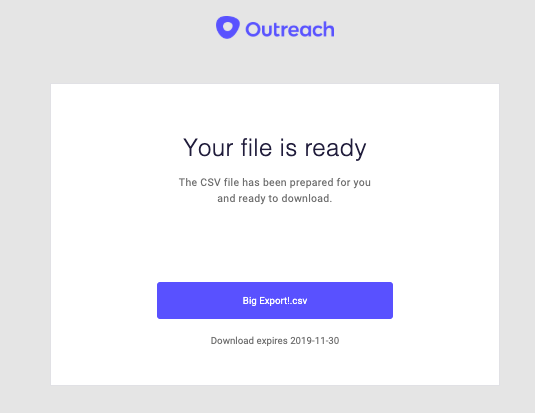 An alternate route to the Exports page is by navigating to Settings > Exports. Once you've arrived on this page, your report should begin to automatically download. If you have a pop-up blocker enabled, you will need to click the "Download" link to export the file instead.
If you notice that the "Download" link is greyed out, that means that your export has reached its expiration date. Each export will expire after 7 days. If your export expires, you will need to recreate the query and export again.
Users with an Admin profile in Outreach are able to view export requests regardless of the user requesting the export. All other users can only view their own export requests.
At this time, users are not able to cancel or delete exports.