Purpose:
The purpose of this article is to provide direction to Outreach Users in adding team members to Outreach Success Plans.
Outreach Success Plans Teams is where the Plan's owner can invite internal and external stakeholders to collaborate. All Plan collaborators have the ability to view and edit the timeline, comment on events, view and edit the Success Criteria, access resources, and add team members.
Intended Audience:
Notes:
Only individuals on the internal team will have visibility of internal-only timeline events.
How To Manage Outreach Success Plan Teams:
Access the Outreach Platform.
Click the Success Plans icon (trifold map) in the navigation sidebar.
Click the applicable Success Plan.
Click Teams in the menu bar.
Click +Add People on User team and/or Prospect team as applicable. Note: Automatically sending invites is enabled by default for Outreach User invites.
Click Add to Team.
Team members have added accordingly.
A Note About Adding Team Members and Success Plan Invites:
Adding Team Members:
Users have the ability to add team members through either email or direct add for existing Users. If the team member is already a User with the Plans feature their name will automatically show up in the user list.
Adding by email: To add someone by entering their email address. When you hit enter you then have the option to add their name and title.
Adding an existing user: When you select a user from the dropdown list their name will automatically pull in but you can adjust their title to display differently based on the plan. They will immediately see the plan in their plan list but will still get an email invite to this plan that will link them directly to the plan in Outreach if they are on the seller team.
Send invites now or choose to send later: You can choose to send an email invite immediately where the user will be sent an email from plans.outreach.io.

All invite emails contain a unique URL that provides the user access for 30 days. After 30 days a user can request a new invite with a personalized URL that will be sent to their inbox.
Invites can be sent to users who do not have an Outreach account and they can collaborate on the plan, but they will not be able to create plans without an Outreach account.
Note: Only sellers can add someone to the seller side. Sellers also have the ability to add someone to the buyer side, but buyers can only add someone to the buying team.
For more information regarding Team Management tips, refer to the Outreach Success Plans Best Practices article.
Invites and Link Sharing:
Once the User triggers an invite, the Prospect receives a User-branded email that includes a personal access link.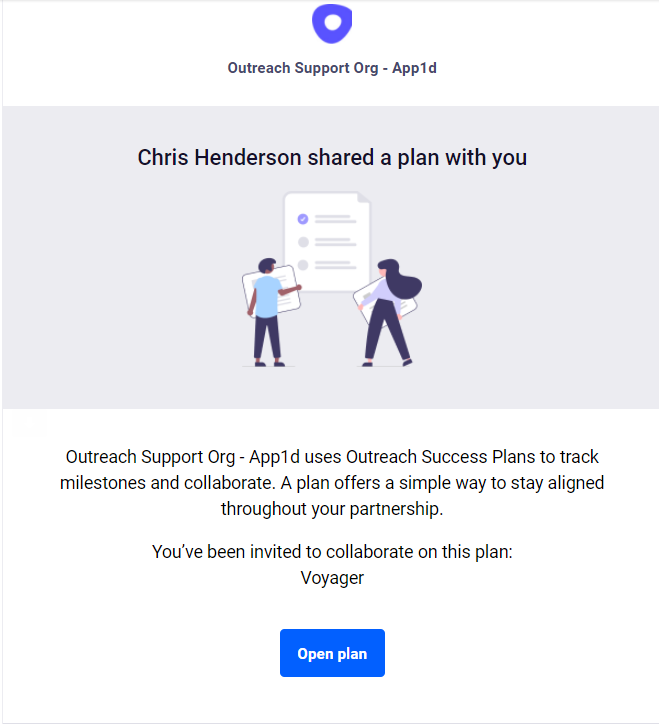 Prospects authenticate themselves and are granted immediate access to the plan --- no password required -- once the Prospect clicks the invite link.
The Prospect's view of the Success Plan is completely removed from the Outreach experience and excludes all events and comments that the seller flagged as internal-only content.
Sharing a link with your Prospect is not an alternative to adding a Prospect record to Outreach and sending them an invitation to collaborate. These links are best used after a stakeholder has already accepted the plan invite and simply needs access to the plan down the road.
Link Sharing - "Anyone" mode
Sharing an "Anyone" link provides anyone who clicks the link access to the plan, those who are not collaborators on the plan will be brought to a "Read-only" version of the plan that prevents them from editing or seeing any sensitive information such as contact information, comments, and resources.
These Prospects will then need to request collaboration access if they'd like to make edits or access resources.
Sharing an "Only Team Members" link only allows plan collaborators to view and edit the plan. Those who have not yet been added as a collaborator or haven't accepted their invite will be told to do so before being able to view the plan.
Additional Resources:
Outreach University - Outreach Success Plans
Outreach Success Plans Overview