Purpose
The purpose of this article is to provide information to Outreach Users regarding Outreach's standalone Commit product.
For guidance on the latest Outreach platform-native Forecasting & Pipeline Management features, click here.
Notes:
Outreach Commit is a separate platform from Outreach and requires a separate license and subscription. For more information regarding Outreach Commit, contact your AE as applicable.
In order to leverage Outreach Commit you must use a version of Salesforce that supports API access as your CRM. For more information regarding Salesforce supported API, refer to the Additional Information section of this article.
Intended Audience
Outreach Commit Overview
Outreach Commit brings predictability to Outreach's Engagement and Intelligence Platform by helping revenue leaders optimize their pipeline, gain confidence in its health, and forecast with the highest possible accuracy. Outreach Commit analyzes real-time buyer engagement signals to help leaders understand if deals should be included in the forecast, and connects to Outreach's Sales Engagement and Intelligence Platform for reps to take action on deals. With Outreach Commit, revenue leaders can stop guessing their forecast and start committing it with confidence.
Using the navigation menu to the left, Admins have access to the following Outreach Commit categories:
Summary
Forecasting
Analytics
Scenario Planner
Deals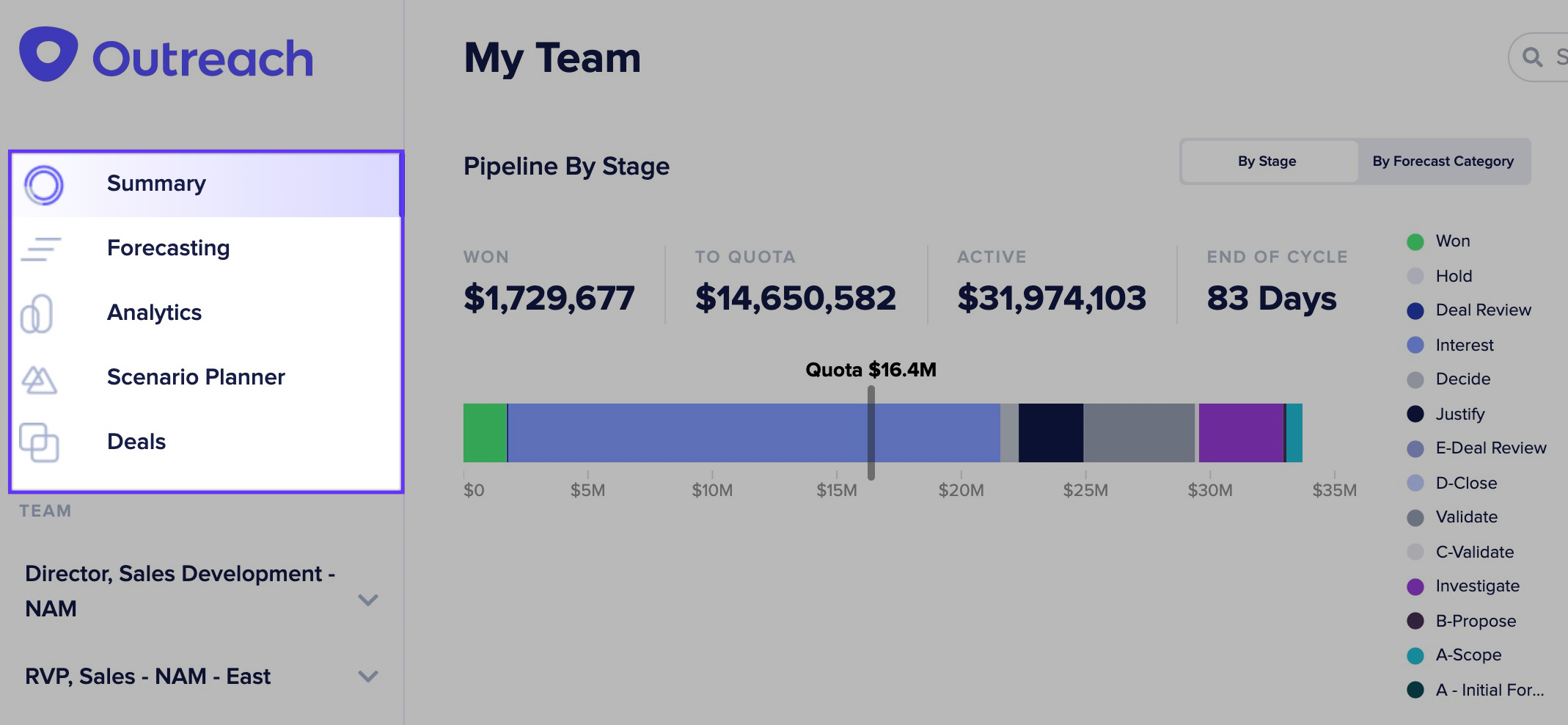 Summary View
The Outreach Commit Summary view provides a comprehensive overview of how each of the various teams that you have visibility for are currently performing compared to their established quotas. From this view you are able to gain valuable insights on overall quota attainment, deal pacing, historical coverage and much more.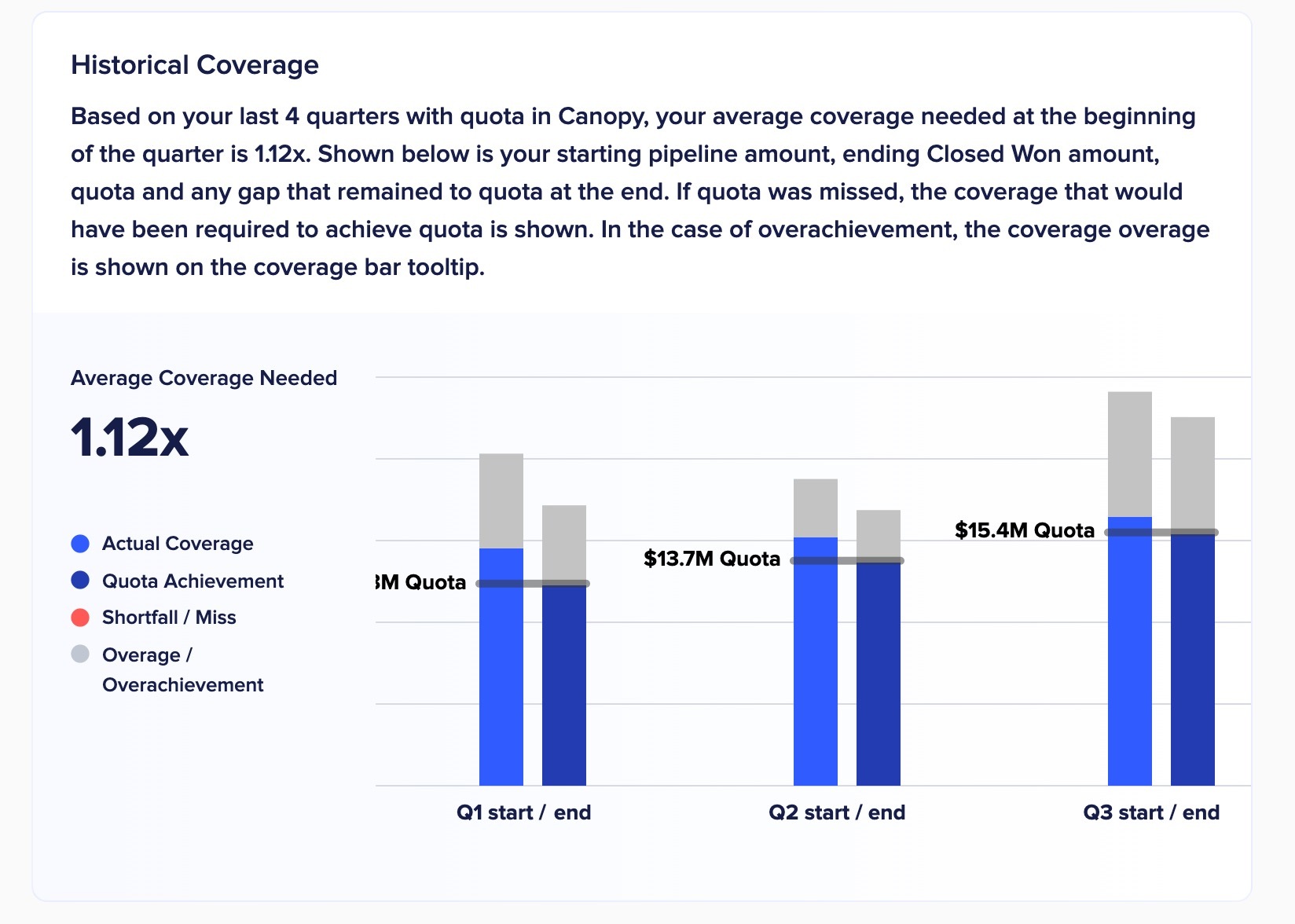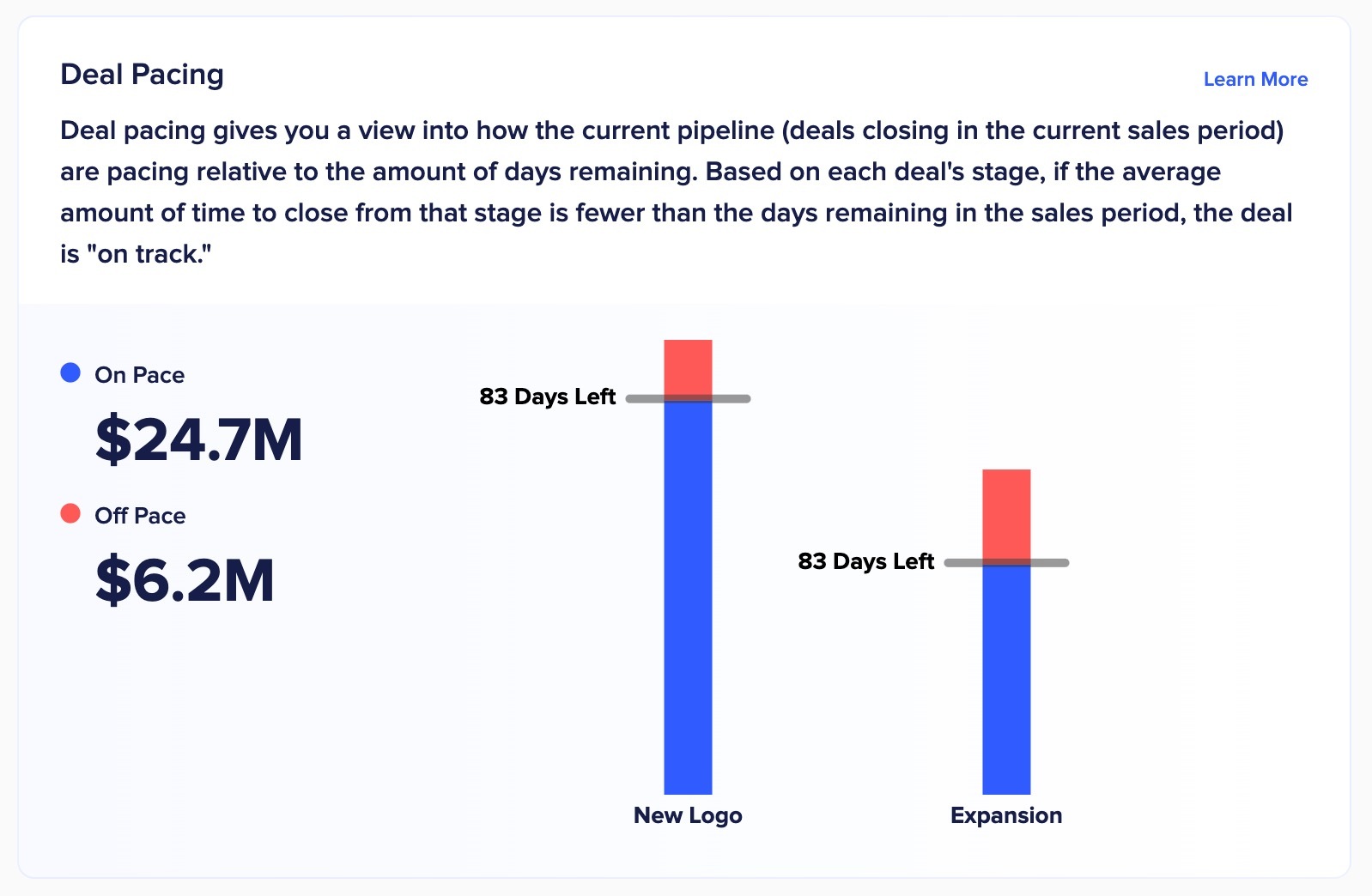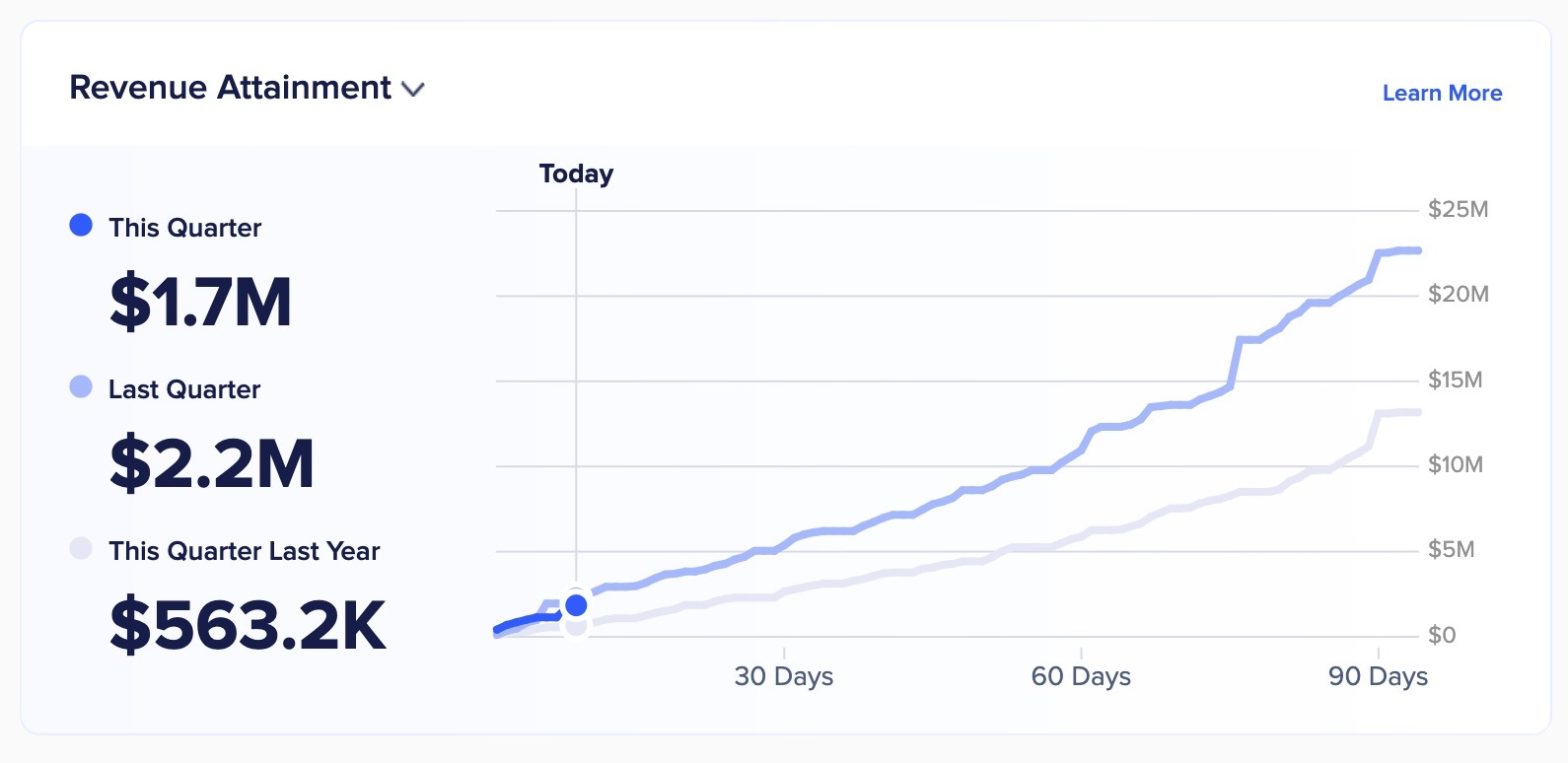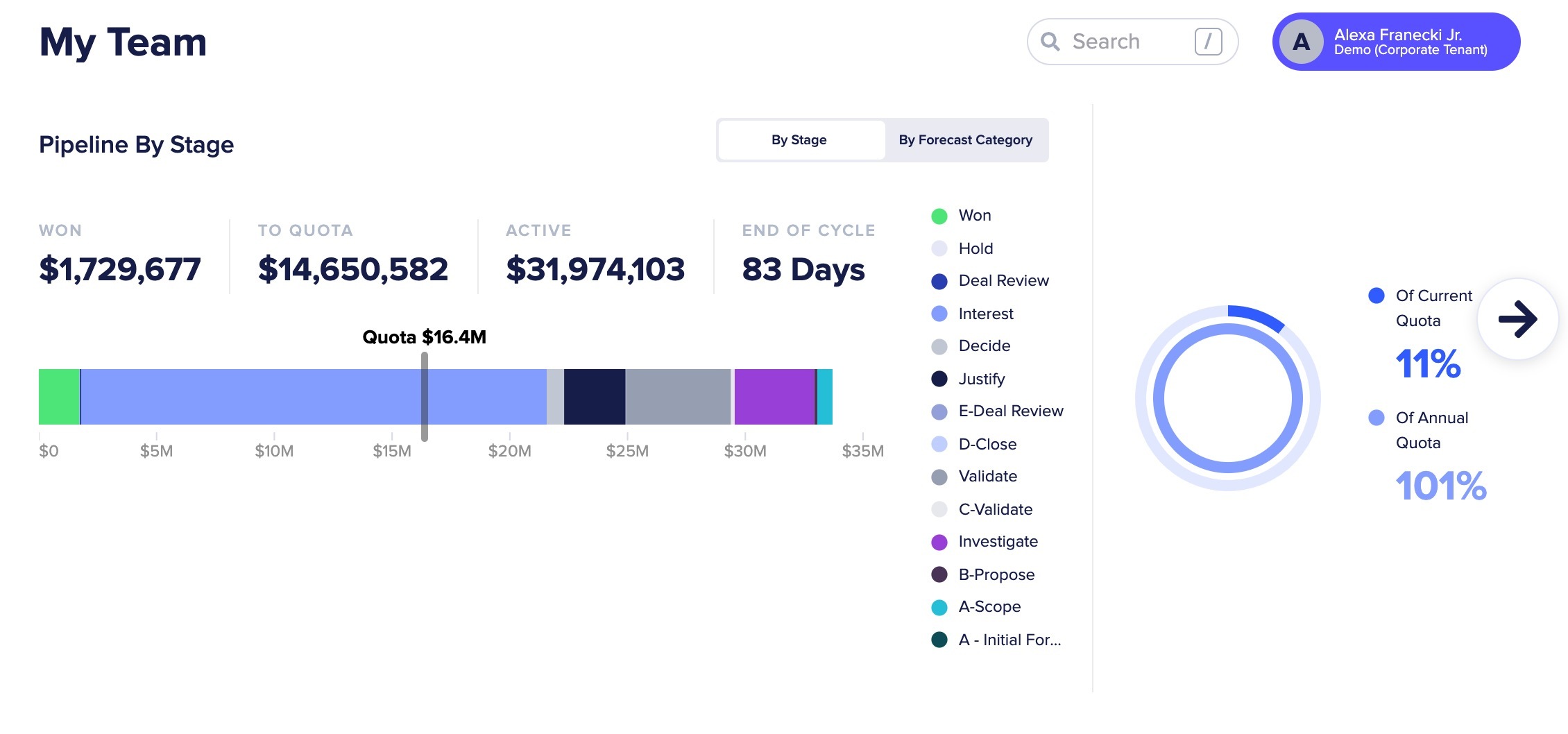 Forecasting 
From the Forecasting tab you can easily review, edit, and submit calls in a simple interface with visibility down to each deal that makes up your forecast.
From this section you can drill into specific teams and even down to individual sellers to review their open deals. When making your official call, you can override the numbers provided by anyone directly below you before submitting.
Note: Commit will not write forecast changes back to CRM, it is simply an overlay on top of the actual value the individual had entered.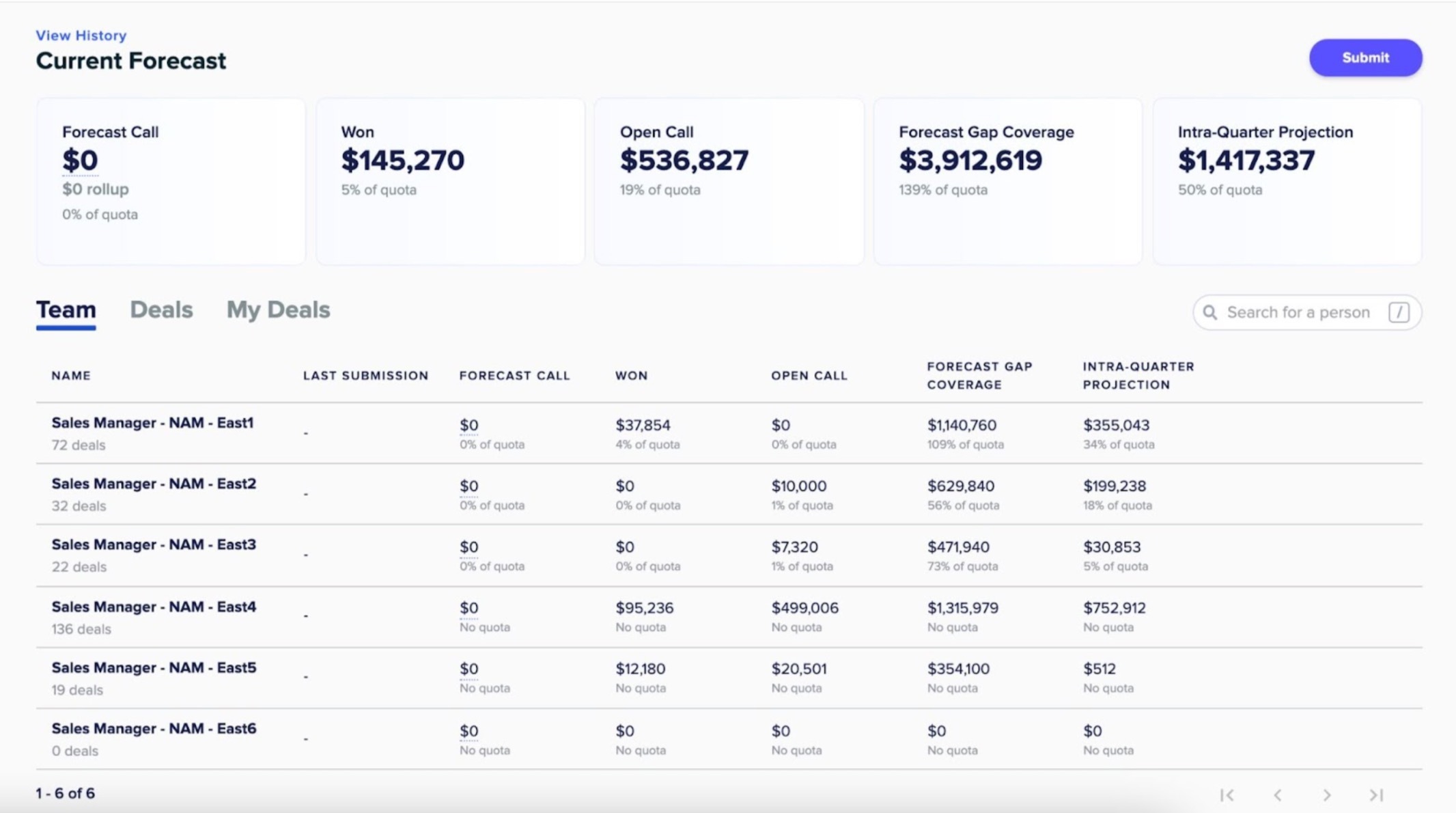 Analytics 
The Analytics section within Outreach Commit gives Users the ability to view data from any historical point-in-time, add filters across any object or data point, and understand the outcomes impacting.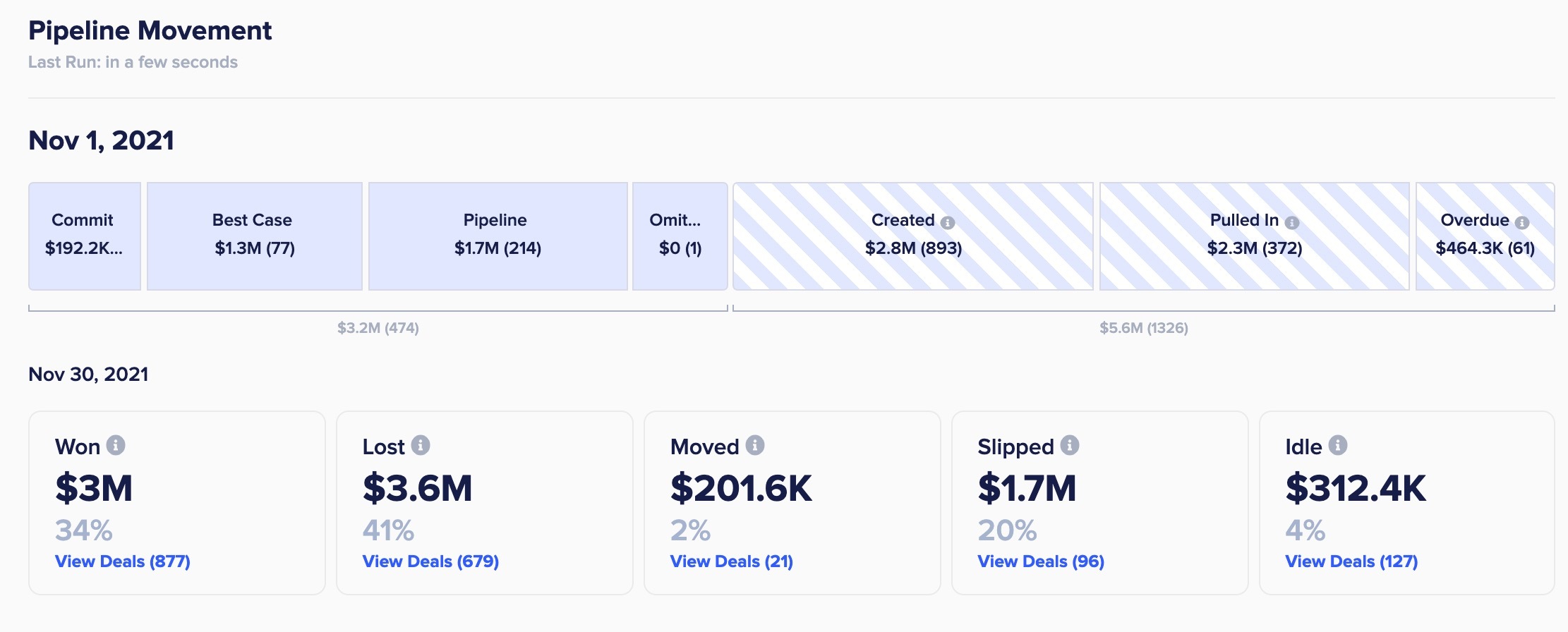 Scenario Planner
The Scenario Planner gives you the ability to plan ahead and project into the future by comparing multiple different types of forecasts. With Scenario Planner you are able to review and adjust the inputs that Outreach Commit has used to create your current forecast projections to see how they may impact your results. Scenario Planner runs ten thousand simulations with each set of inputs to provide a distribution of the bear case, bull case, and the most likely outcome.
As an example, you may know that your marketing team is about to launch a significant campaign that is going to generate a lot of interest and you suspect that will impact the amount of net new deals that come in during the current forecast period. In this case, you could use Scenario Planner to see what your adjusted forecast could look like if the Projected Amount for Net New business was higher.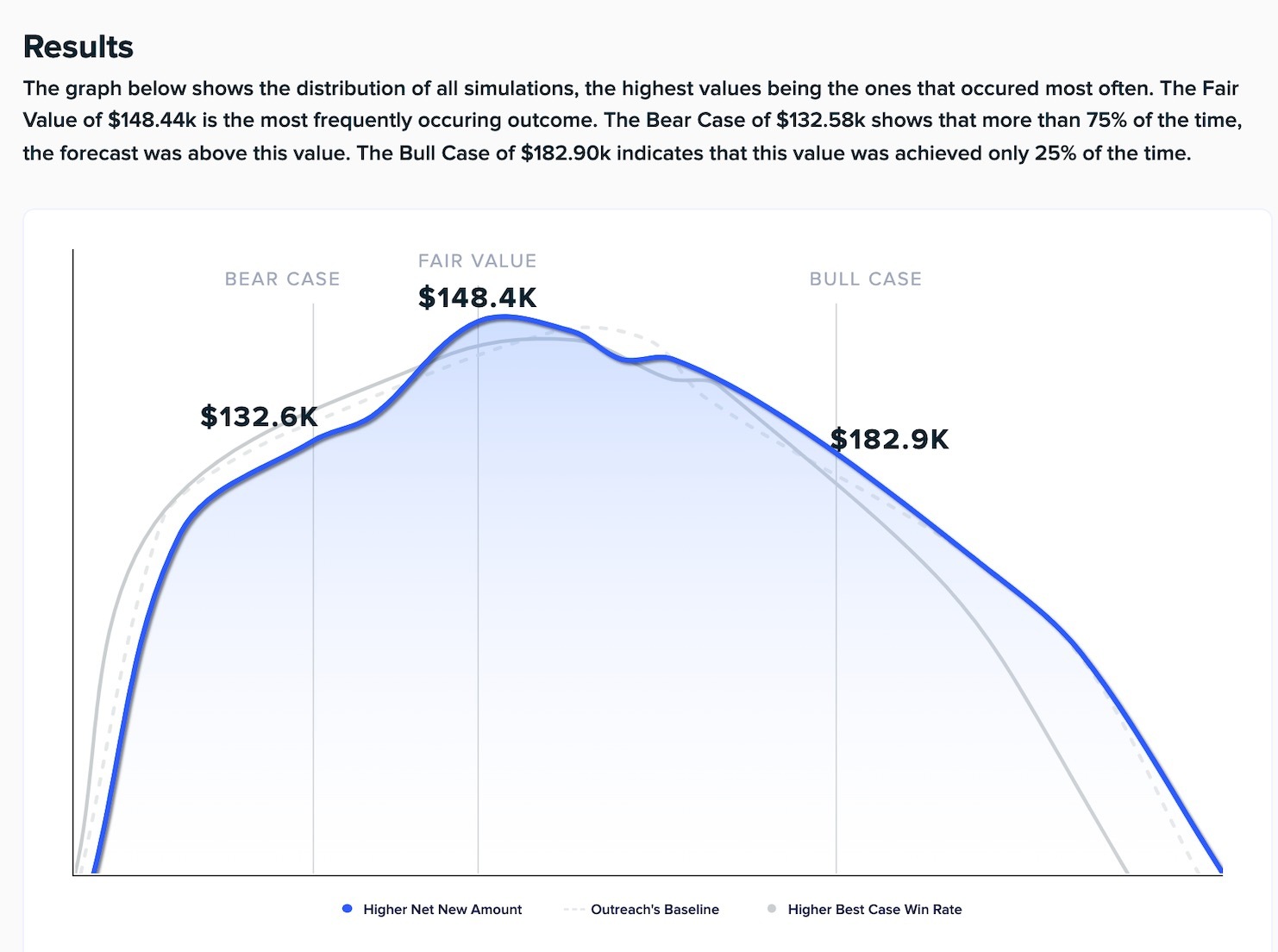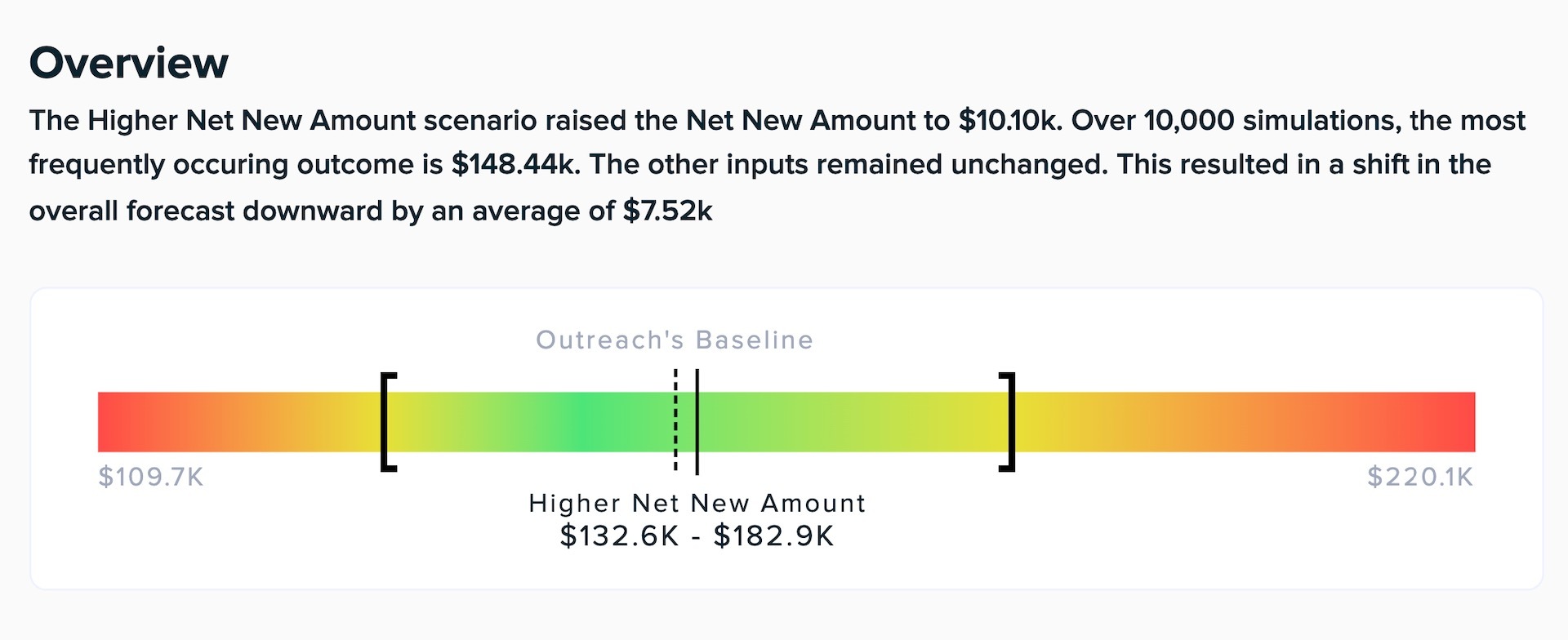 Deals
The Deals section of Outreach Commit provides you with an easy, all in one view to review key details of the deals in your sellers' pipeline such as deal amount, next step, close date, and other relevant fields as determined during your implementation. You can also quickly see whether the deal is on track or needs review by scanning the "Signals" column - the higher the number, the more likely the deal is veering off course. Click on that specific opportunity to review those "Signals" and quickly understand why that deal may be veering on or off course.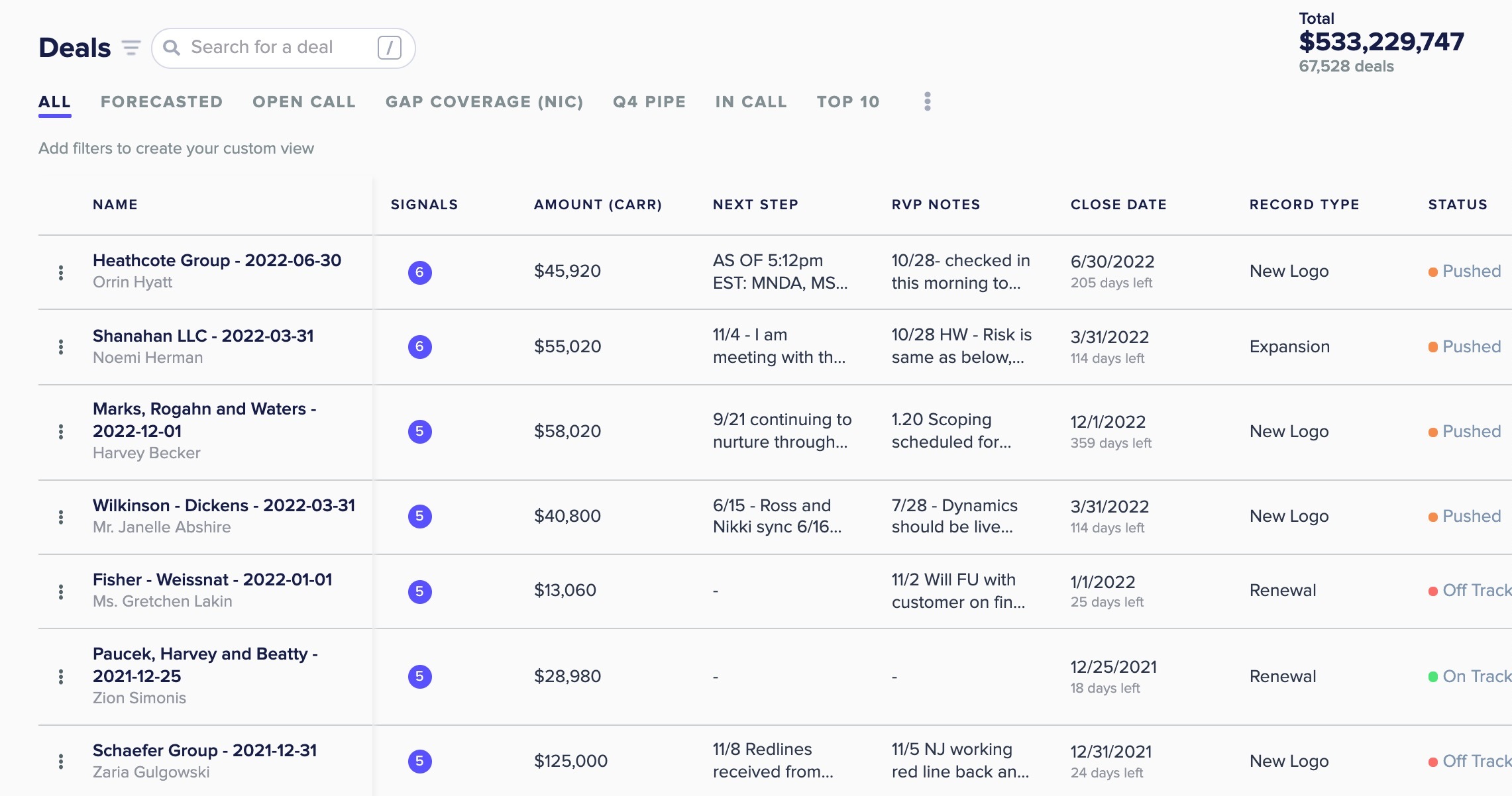 You can also drill into specific deals from this view so that you can review with your sellers during 1:1s and ultimately make your call with confidence.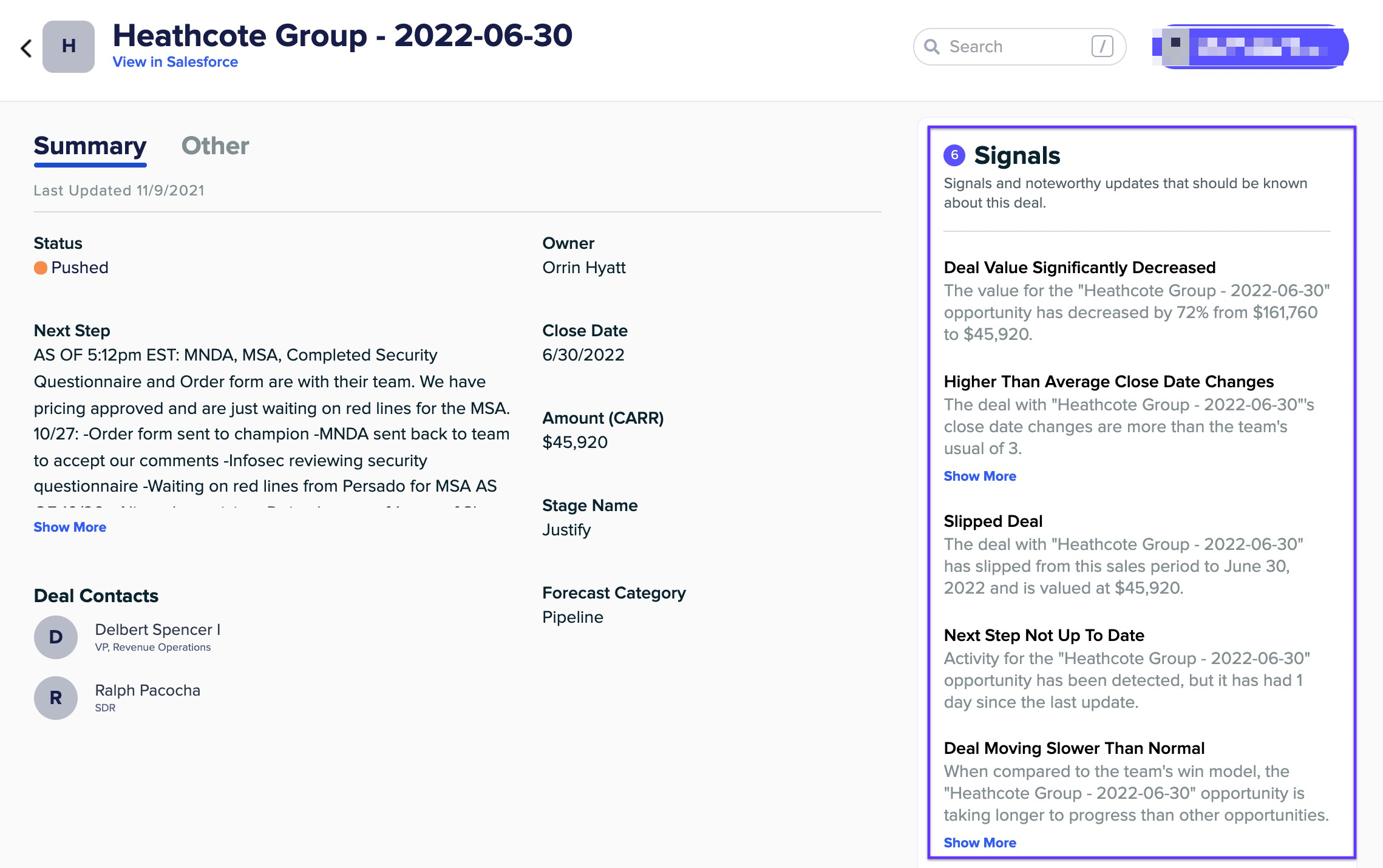 Additional Information
Outreach Webinars - Commit with Confidence