Purpose
The purpose of this article is to provide Outreach Users information regarding Outreach Commit's sandbox environment for testing CRM configurations.
Intended Audience
Sandbox Overview
A Sandbox is an isolated environment that allows customers to test various CRM configurations. This leads to higher user satisfaction and reduced risk of downtime in the production environment.
When navigating between production and sandbox environments, admins can visualize the impact of the test CRM configurations and other admin configurations within the main Outreach Commit app and admin.
How to Use Sandboxes
View Sandboxes
Within the Commit admin, users can navigate to "Sandboxes" from the left-hand navigation menu. If you do not see this page, then submit a support ticket to request a sandbox for your organization.

Add Sandbox
Add a Sandbox by clicking Add Sandbox.
Enter a name for your sandbox.
Select whether you would like a sandbox that clones your production configuration or an empty sandbox that needs full configuration Optionally utilize a sandbox environment from Salesforce.
Authenticate with CRM and Configure the Commit Admin.
Using the 3-dot menu next to your newly created sandbox, select Access Admin.
Connect to your CRM.
Once the sandbox CRM connection has been established, navigate among the admin pages (Data Sync, Teams, etc,) to configure your sandbox as desired.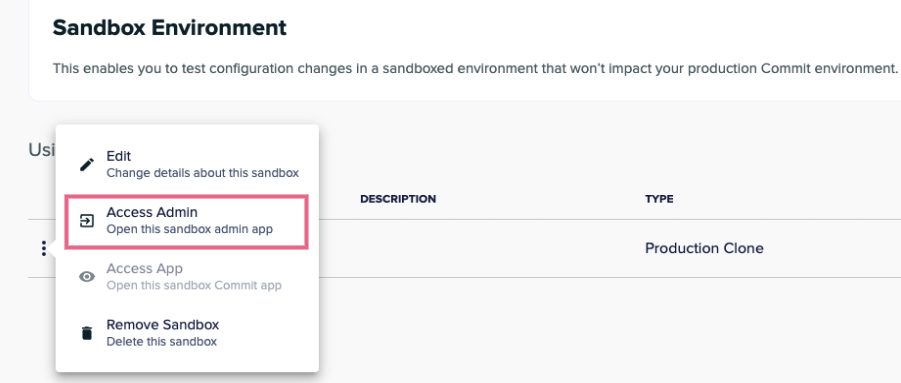 Access Sandbox
Using the 3-dot menu next to your sandbox, select Access App. Here you can view the implications of the Admin app sandbox configurations.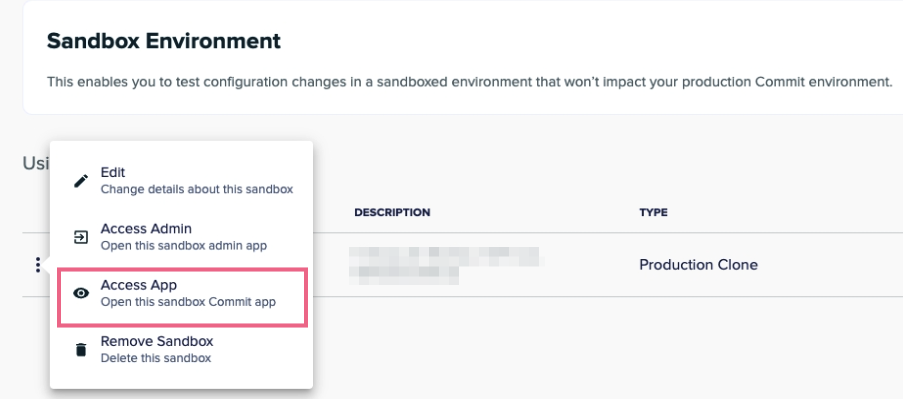 Banner While in Sandbox
When a user has accessed the Commit admin or Commit app through a sandbox, a banner appears at the top of the screen to give a visual indication that the user is in a sandbox.