Purpose
The purpose of this article is to provide Outreach users with information about how to view and review key details of the deals in your sellers' pipeline such as deal amount, next step, close date, and other relevant fields as determined during your implementation of Outreach's standalone Commit product.
For guidance on the latest Outreach platform-native Forecasting & Pipeline Management features, click here.
Intended Audience
Deal Grid
Deals give you the ability to view, manage, and edit all opportunities in your CRM.

Write-back to CRM is enabled and configured during customer onboarding. When enabled, a new column will appear in the Data Sync field mapping table. From here, you can select the specific fields that should be bi-directional as well as define which users should have write-back capability turned on for that particular field.

For more information on syncing data in the deal grid, please refer to the Data Sync support article.
Column Configuration
To add additional columns or adjust their order, a request can be made by emailing your Outreach Commit point of contact, or by using the Support Portal.  Commit currently supports a uniform deal grid column configuration for all users within your organization.
Deal Status
Off Track
Outreach Commit classifies deals as Off Track that generally are not pacing or do not have time to close based on your normal sales cycle. This includes scenarios like:
The rep has put a close date on the deal that is too soon given your normal sales process and where the deal currently is in that process.
The deal has been stuck in its current stage for at least double the normal amount of time.
On Track
Indicates that based on your team's historical trends, the deal is on pace to be able to close within the current sales period.
Stalled
This indicates that the deal has been in a stage for substantially longer than normal for the given seller and their team.
Pushed
This indicates that the deal's close date has been pushed outside of the current sales period.
Deal Signals
Outreach Commit monitors every deal in the pipeline and proactively alerts leaders when issues are discovered. These alerts will include an overview of why the deal is off track and recommendations for the next steps they can take to remedy the situation.
Risk signals in Outreach Commit help identify situations where you or your team may need to work with individual reps to intervene. For example, if one of the deals in your pipeline is missing a key decision maker and is moving slower than normal for a typical deal in the same stage, Outreach Commit will highlight this in a single view so that you can understand what needs to be done to resolve the deal risk.
This view is accessible by clicking on any deal in Commit. It includes all the key information on the deal as well as an activity timeline.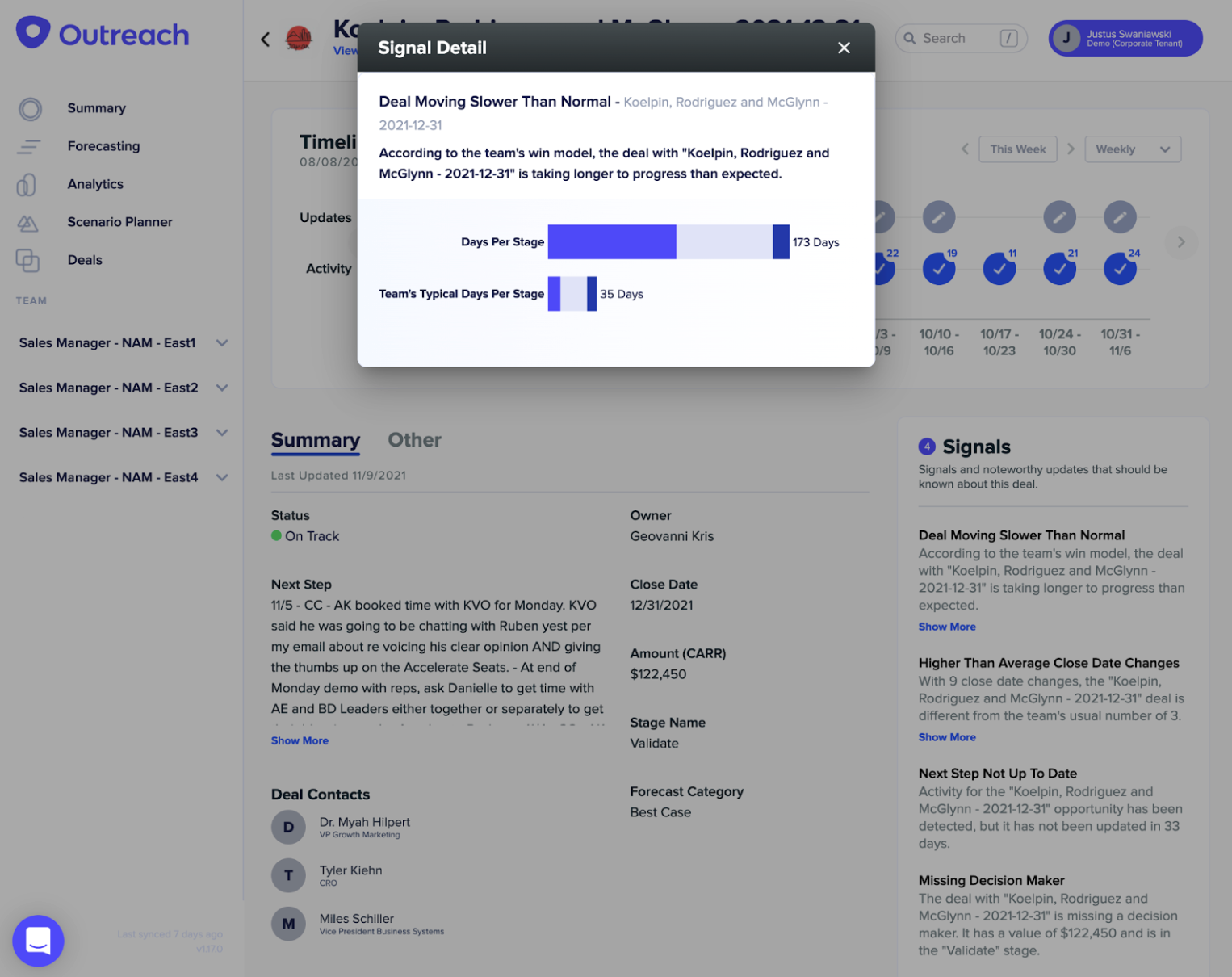 Shared Features with Outreach Guide
The goal of these features is to provide access to opportunity management features (deal health score, success plans, etc.) and Kaia recording links from within the Commit deals experience. To use this shared functionality, you must be licensed for both Outreach Guide and Outreach Commit.
The inclusion of the Deal Health score, Success Plans, and Kaia Recording Links provides new, actionable information to managers and reps in Outreach Commit to help them close deals in the pipeline and forecast with confidence. The Deal Health score is shown with its own column in the deal grid. While the Success Plan status and last Kaia Recording link appear below Deal Health in the flyout menu and in the deal overview page.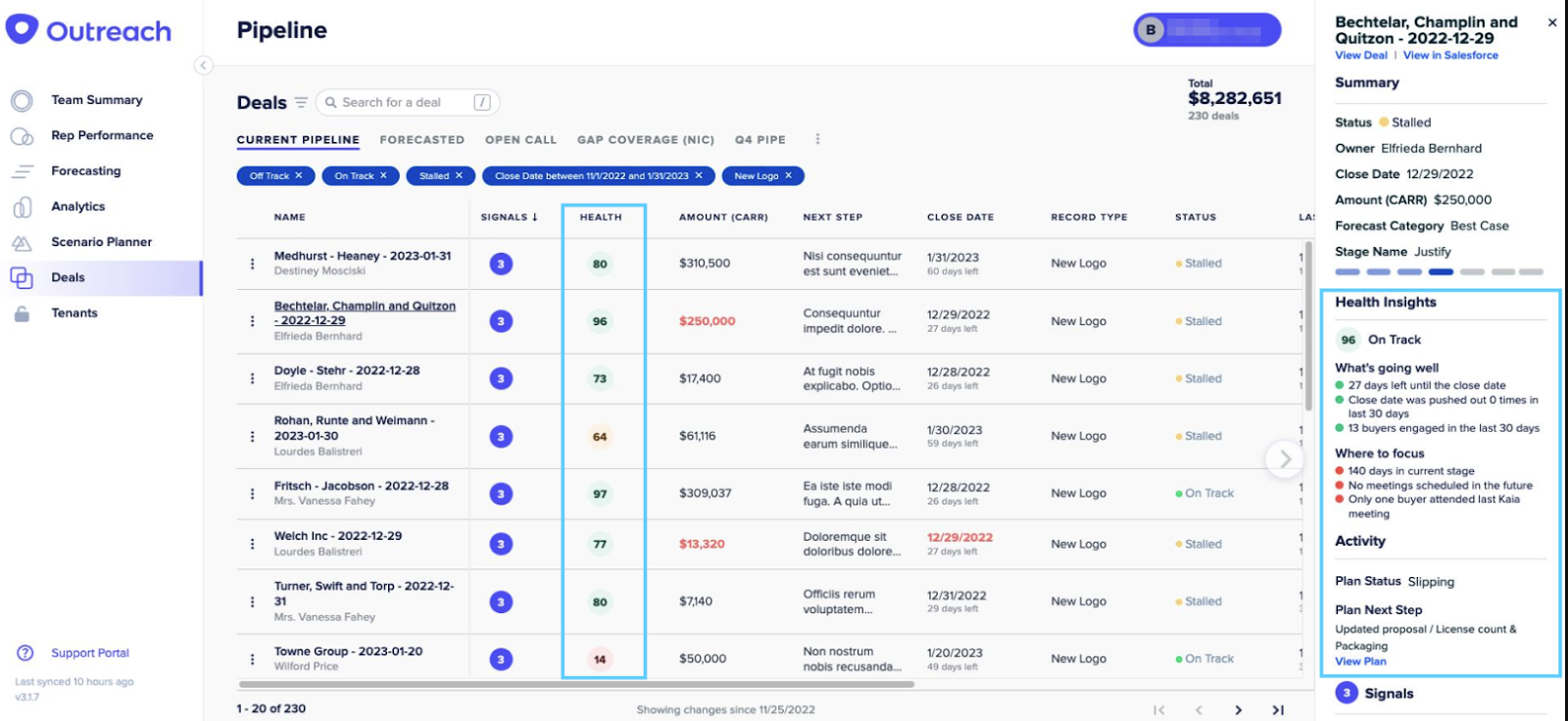 Forecasting for Reps
Reps will utilize the deals page experience to submit forecasts by clicking the "View Forecast" purple button in the top right corner.  Within this side panel, a rep has data points on the rollup of their deals segmented by forecast category.  The rep should review their forecasts and then click "Submit" to send it to their manager.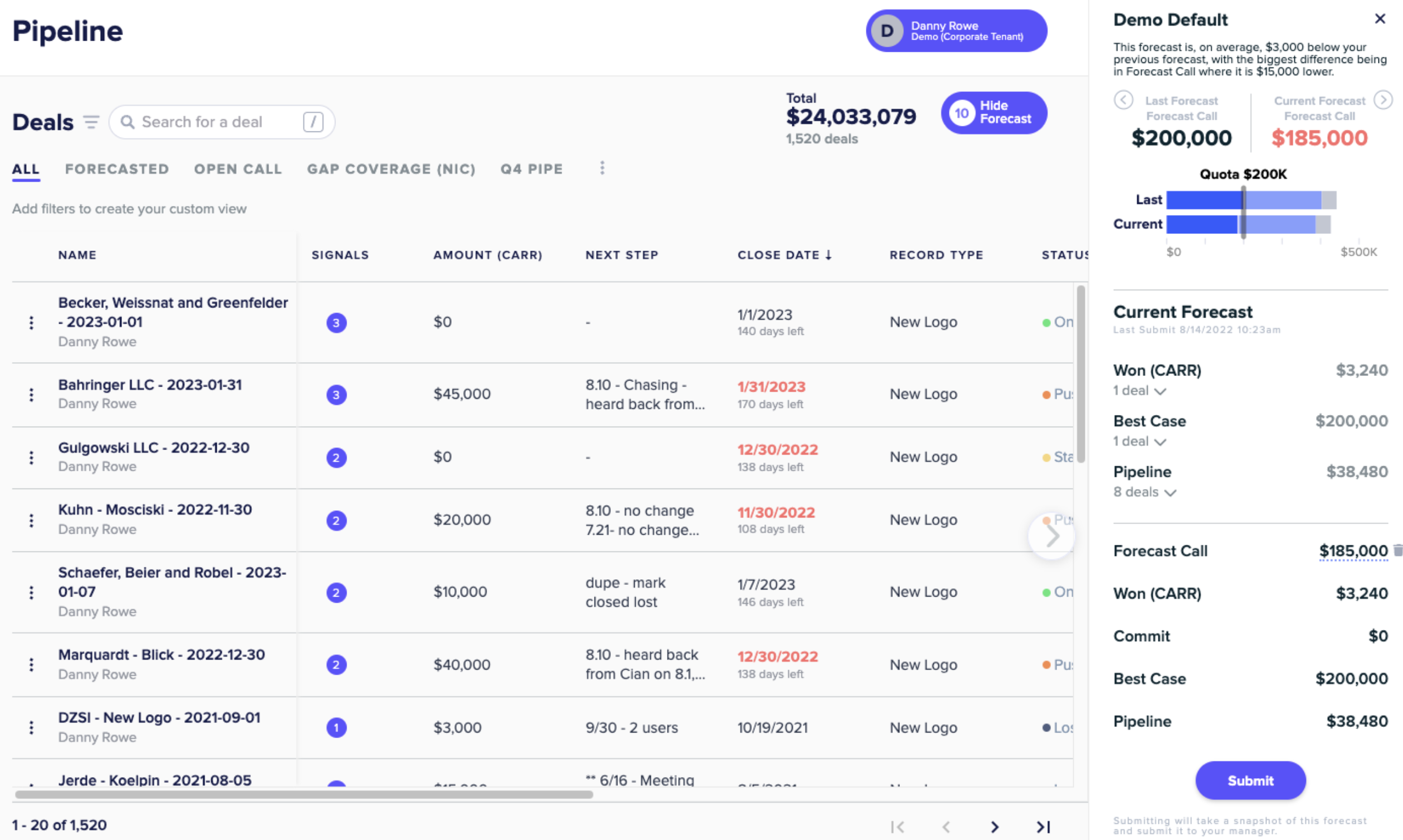 Retention Period for Deals
Outreach has a standard 3-year retention period for all deals in this experience.