Purpose
The purpose of this article is to provide Outreach Users with information about creating, sharing and saving Pipeline Dashboard metric views.
Intended Audience
Outreach admins

Outreach managers
Pipeline Dashboard Metrics Overview
The Pipeline Dashboard page provides revenue leaders and sales managers with revenue intelligence data and helps them inform their teams about how the sales organization is progressing toward its goals. This experience includes a handful of curated metrics that are customizable based on an organization's unique needs.
Each metric starts with a default view that represents unfiltered data.  All users have the ability to create and save custom-filtered views for each of these metrics.  Admin users can create, share, and set organization defaults for their users.
Who can use Metric Saved Views?
Metric filters are enabled for any user with access to the Pipeline Dashboard page.  Shared filters for each metric can be created and managed by users with the Admin role type.  User-specific filters are unique to each individual and are not dependent upon any specific role type.
Creating a New Saved View for a Metric
For a given metric, click the dropdown in the top right corner, then click Create new saved view.  Within this pop-up screen, you can change the name of the new saved view, configure metric specific parameters (e.g., sales period), and add opportunity object fields as filters (i.e., record type = new logo).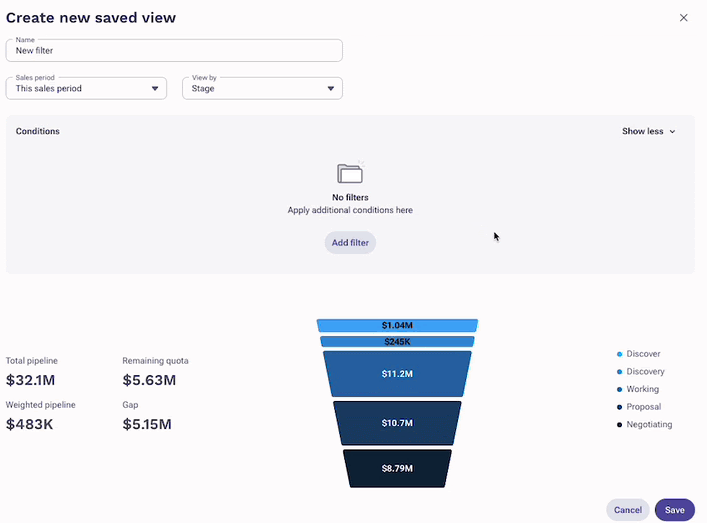 To add conditions, click Add filters.  
This experience allows users to build nested boolean and/or logic structures with the fields your organization is syncing into Outreach on the Opportunity object.  Both standard and custom fields are supported. Note that only fields that have been mapped in the CRM plugin will show as available filter options here. You can learn more about the CRM requirements for forecasting and pipeline management in this article.
Example 1: In the Revenue attainment chart, we have a user who created a saved view for New Logo deals driven by their Sales Development Rep (SDR) team.
Example 2: In the Pipeline metric, we have a user that created a saved view for non-renewal deals that have an amount larger than $100k.
Can I Share Saved Metric Views with My Company?
Users in the admin profile can share saved filtered views. To do so, click the 3-dot menu to the right of the Save button, and then click "Share" to add the current filter to your organization's shared filter list for that specific metric (e.g., Revenue Attainment).
Fields Available for Filtering
All opportunity fields mapped into Outreach via the CRM plugin should be available to be added as filters to these metrics.
Certain metrics allow for more advanced filtering.  For example, the weighted pipeline metric allows users to view the weighted pipeline for future sales periods in addition to the current sales period.