Purpose 
The purpose of this article is to provide information to Outreach Users regarding Outreach Kaia Meetings. 
Intended Audience: 
Notes: 
Outreach Kaia must be enabled for Users. 

To use Kaia for calendar meetings, Outreach must be synced with an Outreach-approved provider calendar (i.e. Google, Outlook, Exchange, or O365). For more information regarding calendar setup, refer to the

How To Connect a Calendar to Outreach

article. 

Users must be logged into their conference provider (Zoom or Teams) for Outreach Kaia to join those meetings.

Outreach Kaia cannot join meetings that have manual passcodes enabled for Zoom unless said passcode is embedded in the URL.

If there's a prospect on the meeting invite, Kaia can auto-join the meeting, however, there's no hard requirement to have a prospect on the meeting. 

The Kaia icon cannot be removed using user profile governance settings. The icon will remain visible even if the user can use Kaia or not. This is to allow everyone to have access to the Kaia Recordings page.
Outreach Kaia Overview
Kaia in Outreach Voice Calls
Once Kaia setup for a user is complete, all calls that are recorded in Outreach Voice will have Kaia. Kaia respects your Outreach Voice recording settings. 
If meetings are configured to auto-record, Kaia will automatically join.

If meetings are configured to ask for consent, 

Kaia will automatically join once you consent and begin the recording.
Schedule and Join Outreach Kaia Meetings 
Once a User has ensured Kaia is set up properly, all meetings scheduled from either the Outreach Calendar or a synced calendar, are automatically enabled for use with Outreach Kaia, provided the scheduled meetings include the following:
The meeting is scheduled with a Prospect created in the Outreach Platform.
The calendar invite includes a meeting link in the location or description.

Outreach only supports one platform per Org.
If your org is a Zoom-connected Kaia org, this meeting link needs to be a Zoom link.
If your org is a Teams-connected Kaia org, this meeting link needs to be a Microsoft Teams link.

The meeting has synced with the Outreach Platform if the meeting is created in a third-party calendar.
If the auto-join feature is enabled, Kaia will automatically join prospect meetings.
Users can also join scheduled Kaia meetings by accessing the meeting's calendar placeholder (either in Outreach, or the third-party calendar) and clicking Join meeting with Kaia. This will launch your conference provider client and also open the Outreach Kaia Live Experience for your meeting. 
Notes:
Alternatively, Users can start the Kaia Live Experience after joining a prospect meeting:
Start your meeting with the same URL link provided in the meeting invitation.
Outreach Kaia Assistant automatically joins the meeting approximately one minute before the scheduled start time.
If a waiting room is enabled, Users will have to admit the Kaia Assistant from the waiting room.
Starting the Kaia Live Experience 
After you have entered a prospect meeting and Outreach Kaia Assistant has joined the meeting, you can start the Kaia Live Experience with one of the following methods:
Outreach Kaia Live Experience Auto Start: 
Kaia Live Experience automatically opens for you when the Outreach Kaia Assistant joins as a participant in your Zoom meetings with Prospects. 
Note: Users must enable/allow pop-ups in the Chrome browser for Outreach. For more information regarding enabling pop-ups, refer to Google's guidance on how to block or allow pop-ups in Chrome.
Outreach Kaia Start Link in Zoom Private Chat:
Outreach provides a live Kaia experience start link in the Zoom private chat for your Kaia-enabled meetings.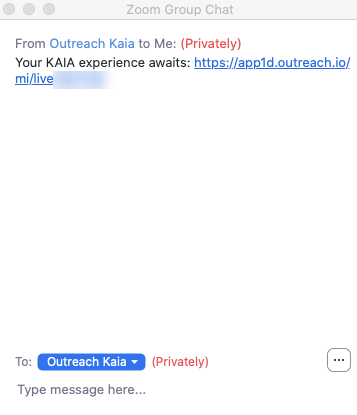 Click the link to start the Outreach Kaia Live Experience.
Outreach Kaia Start Link in Outreach Calendar 
Users can start the Outreach Kaia experience from the Outreach calendar meeting invite. Access the calendar placeholder and click the Join meeting button to start the Live Experience. 

Using Outreach Kaia During a Meeting
Starting Outreach Kaia produces a panel where Users can see the meeting details such as title and participants, as well as access: 
Action Items
Notes
Content Cards
Real-Time Transcription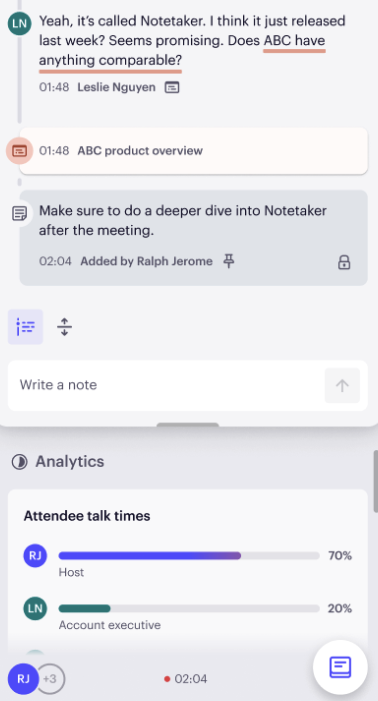 Action Items
Outreach Kaia automatically captures action items as they are spoken during the call and syncs each action item to the meeting transcript in real time. Action items are automatically highlighted in the context of the live conversation, within the associated meeting transcript, and in the email summary, allowing you to quickly identify and review each action item.
Notes and Bookmarks 
Outreach Kaia captures key moments in the meeting by bookmarking or taking quick notes that are synced to the sales transcript for improved context.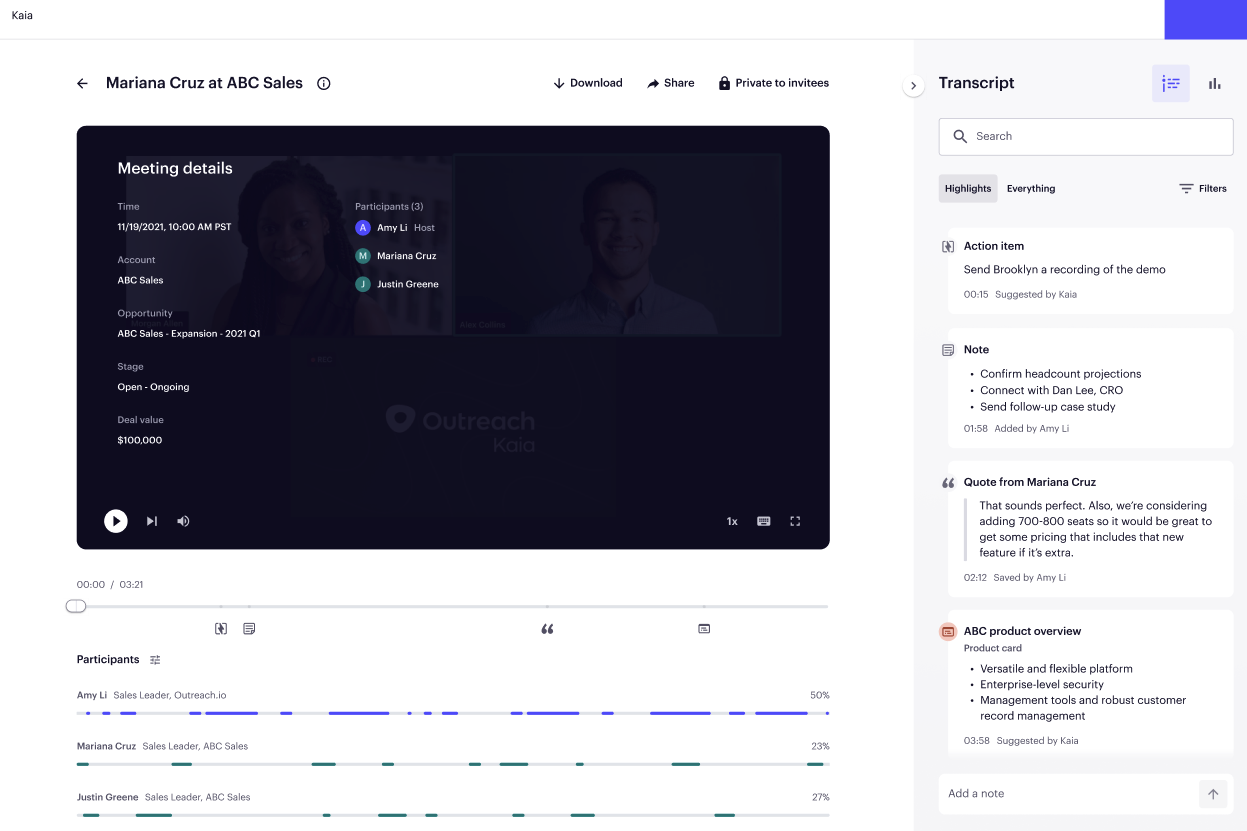 Outreach Kaia detects key moments in the conversation and automatically surfaces Content Cards to help address questions and concerns, or provide additional information to improve the success of a conversation with a Prospect.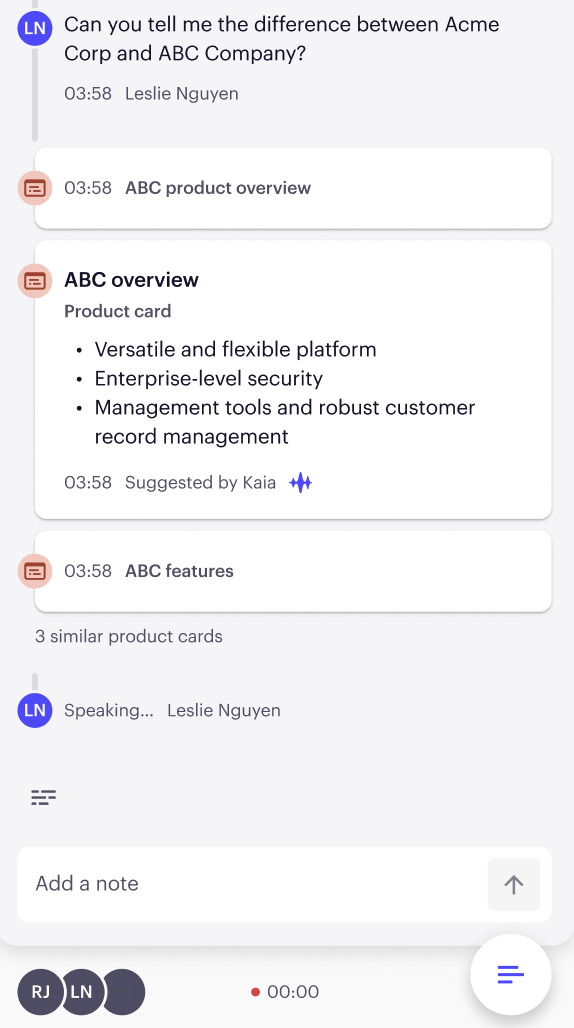 There are 4 types of Content Cards: 
Competitor 
Product
Integration
Pricing
For more information on creating content cards, refer to How To Create Kaia Content Cards. 
Additional Resources: 
University - Outreach Kaia for Admins