Purpose:
The purpose of this article is to provide information to Outreach Admins regarding org-level voice settings.
Intended Audience:
Contents:
This article discusses the following:
Note:
Some Outreach views and options require admin-level governance permissions. If the options outlined in this article are unavailable, contact the Org's Outreach Administrator as applicable. For more information regarding governance profile settings, refer to the Outreach Governance Profile Settings Overview article.
Outreach Org Voice Settings Overview:
Outreach provides Outreach Admins the ability to set restrictions and parameters to better protect and maintain consistency for all Users included in the organization.
A Note About Changes to or Switching Voice Services and Admin Notification:
When changes are made to the Outreach Org Voice settings, Admins will receive a detailed email outlining the change made, the User responsible, and date and timestamps of changes made.
Because call recordings are stored for up to 10 days once Outreach Voice services have been disabled, Outreach Admins will receive an email notification with the same details on days 1, 5, 9, and 10. Enabling Voice during this time frame will prevent potential data loss.
Any action where Voice is disconnected, including switching providers, results in the following:
Purchased phone numbers will be deleted in ten days
Call recordings will be deleted in ten days
The Address tab will no longer be accessible to Users
The Phones tab will no longer be accessible to Users
Recording options for call logs will no longer be accessible through Outreach Voice and Users will have to rely on the organization's preferred provider (i.e. RingCentral, Dialpad, etc.) to manage call recordings moving forward.
Call recordings will still be available in Call Logs; however, Outreach is not responsible for the quality or maintenance of call recordings originating from a third party integration.
How To Access Org Voice Settings:
Access the Outreach Platform.
Click the User's initials (avatar) in the bottom left corner of the navigation sidebar.
Click Org under the User Admin section in the Settings Panel.
Click the Voice tab.
Outreach Org Voice Settings are separated provide Outreach Admins the ability to configure the following settings for the Org:
Turn on Calling
Choose a Voice Service
Outreach Voice Call Settings
Turn On Calling:
Outreach Admins can Enable Outreach Voice services for calling Prospects from a web browser.
Disabling, toggling the Voice service off, will result in the deactivation of all purchased phone numbers, and any recordings will be deleted within 10 days. Deleted recordings cannot be recovered.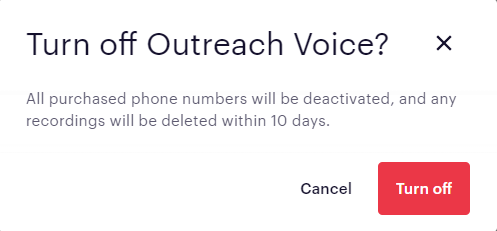 Choose a Voice Service:
Once an Outreach Admin has enabled Voice services for the Org, a Voice service can be configured.

Selecting a Voice service other than Outreach, results in the deactivation of all purchased phone numbers, and any recordings will be deleted in 10 days.
Additionally, before Outreach Admins enable Dialpad, RingCentral, or another third party service, the following must apply:
Previously deployed the service successfully
Enabled Voice calling for all Users
Confirmed the User's browser supports Dialpad
For more information regarding Dialpad, RingCentral, or a third-party service and Outreach integration, contact your AE as applicable.
Outreach Voice Call Settings:
Outreach Admins have the ability to configure if extensions are dialed automatically, whether or not to allow Users to record calls, and define how long records should be kept.

A Note About Recording Calls:
United States Call Recording: One-party vs. Two-party Consent
When it comes to the legality of call recording in the United States, states typically adopt a one-party consent policy or a two-party consent policy. A one-party consent policy states that you will need consent from one of the parties participating in a call in order to record.
Some states, however, have opted for a two-party consent policy (often known as all-party consent) where all parties have to be informed that the call is being recorded. Whether a state is one-party or two-party, it is best practice to obtain consent from all parties in the call.
For more information regarding call recording laws and regulations, refer to the applicable content in the Additional Resources section of this article.
Automatic Call Recording Deletion:
There are preconfigured durations for the most common choices, but admins can configure a custom duration to meet their organizations specific privacy needs
Recordings are deleted within 24 hours once the duration is met
Any pre-existing call recordings older than the entered duration will be deleted when the feature is enabled for the first time. Please note that it may take up to 30 days for all call recordings to be deleted due to the variable number of recordings present, and that this action is irreversible.
Admins will be emailed once the job to delete historical recordings are deleted
Once a recording is deleted, it cannot be recovered
This only covers the call recordings. Any data entered when logging the call remains in the system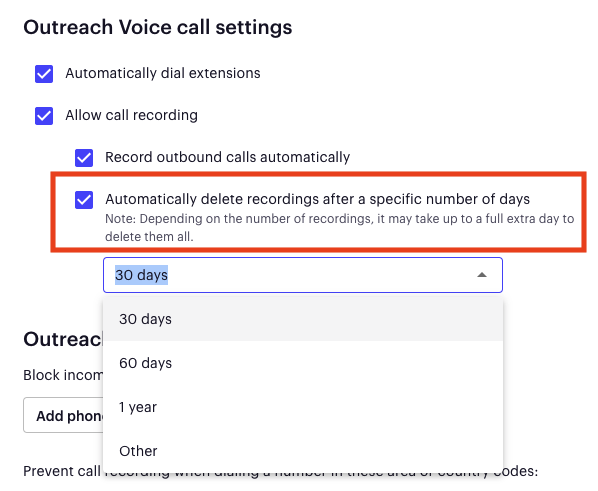 Outreach Voice Restrictions:
Because some states require consent from both parties for calls recorded, Outreach provides Admins the option to restrict incoming calls from specific phone numbers as well as prevent call recording from occurring when dialing specific area code.
Click to Save or Cancel changes as applicable.
Additional Resources:
Outreach Governance Profile Settings Overview
How To Enable Call Recording in Outreach