Objective
Learn how to use the Outreach Support Portal at https://support.outreach.io for the first time. This Portal is a one-stop hub for answers and solutions while providing convenient, direct access to the Outreach Support Team and your help request tickets.
For your convenience, general user and admin content on the Outreach Support Portal is available without logging in. However, you must sign in as a customer to contact Support and manage your tickets.
Applies To
Accessing the Outreach Support Portal
The Outreach Support Portal is located at https://support.outreach.io. 
From within the Outreach application, you can reach the Support Portal by clicking the question mark icon at the top, then selecting Knowledge Base from the drop down.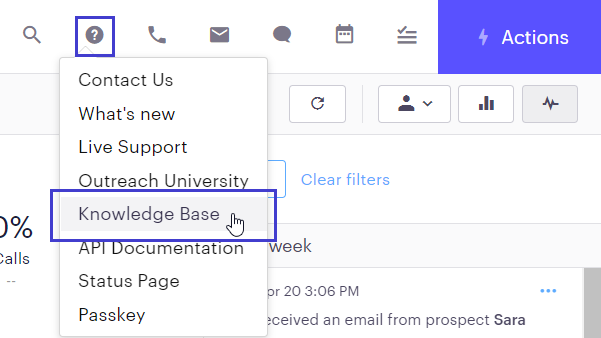 As the knowledge base articles are openly accessible for your convenience, you can also utilize public search engines (Google, Bing, DuckDuckGo, etc.) to get to answers and solutions on the Support Portal.
Note: The search feature on the Support Portal additionally includes other content from our rich library of resources, such as blog posts, webinars, and Outreach University courses.
Logging in to the Support Portal for the First Time
Accessing the help request form and ticket management features of the Support Portal requires signing in separately from your Outreach application with a unique set of credentials, and is based on your Outreach user email address.
IMPORTANT
: If you have multiple Outreach instances, this process will need to be repeated for for each instance that uses a unique email address for login.
To complete your initial sign in and create your access, first, in the upper right of this (or any) page on the Support Portal, click Log into the support portal.
To sign in via one of the available SSO options:
Simply click the applicable single sign-on (SSO) provider button to proceed, ensuring that the email address it is based on is the one associated with your Outreach user account.
To create a new password for sign in:
In the Sign in to Outreach window, click the link to Get a password.

In the Please set me up with a new password window, enter the email address associated with your Outreach user account.
Check your email inbox for a message from the Outreach Support Team with subject Create a password for Outreach. It may take a couple of minutes. Be sure to also check your spam folder.
Follow the link and instructions in the email to create a password and sign in.
Review and update your Support Portal user profile.
Additional Resources
Manage Your Outreach Support Portal Profile
Best Practices for Contacting Outreach Support
How to Submit a Technical Support Request
How to Manage Technical Support Request Tickets
Outreach Technical Support Offerings