Purpose
The purpose of this article is to provide information about the rep forecasting experience within Outreach.
Intended Audience
Outreach Rep Forecasting Experience
Outreach helps reps manage the opportunities in their pipeline, build trust in their health, and submit a forecast to their manager with confidence.  
Pipeline Management
Outreach allows reps to inspect what is happening with their opportunities without having to go into a CRM and manually check all of the items related to the deal. In the Opportunity view, reps get a complete summary of where opportunities are, their value, their next steps, and any deal health insights that may be flagging at-risk opportunities.
Changing Fields Before Submitting a Forecast
When a field on an opportunity is changed and written back to CRM, applicable changes will also be applied to the rep's forecast metrics.  For example, moving the forecast category of a $30,000 opportunity from Best Case to Commit (as in the example below) will be updated instantly in the rollup metrics for Best Case and Commit.
Note: the fields that show as editable on an Opportunity will depend on your organization's settings. If there are fields that are not showing as editable, but you feel they should be, please contact your Outreach admin.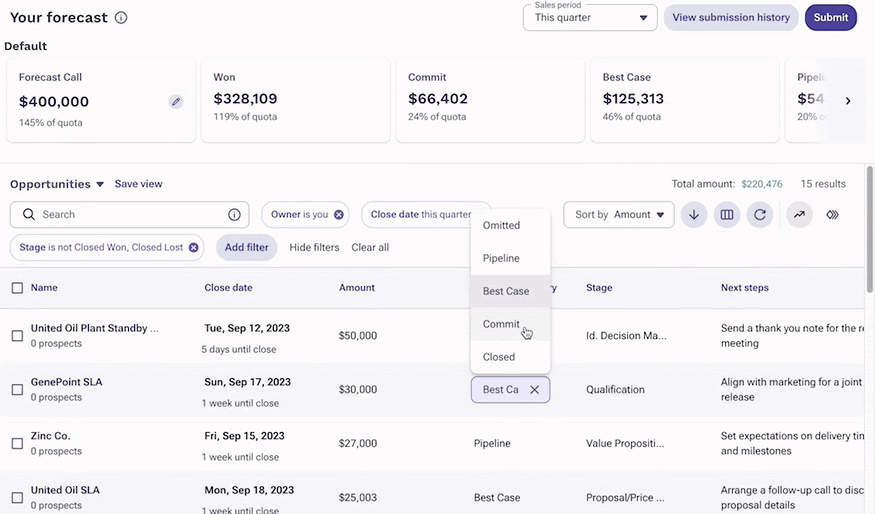 Submitting a Forecast
Outreach helps build confidence in the forecast by showing its evolution over time, including both how it has changed and why. It weaves together visibility into inputs and rich historical snapshots.
Reps can access the forecast panel by clicking Show Forecast in the top right corner of the Opportunities page.  Within the forecasting panel, a rep has the ability to:
Toggle between forecasts (if more than one is enabled for this rep)
Review how their forecast differs from the last submitted forecast call
Adjust their forecast call by clicking into any category with a dotted line underneath
Click Submit to document their forecast call with any associated notes

Reviewing Past Forecast Submissions
Outreach records all forecasts submitted at each level of the user rollup.  For reps, clicking the View submission history button next to Submit will provide a table of all forecasts submitted within that forecast's time period.  This table will also provide access to all applicable notes submitted with the forecast.
To see where a rep ended up for the previous sales period, they can select "Last quarter" in the Sales period list to view a snapshot of their opportunity values on the last day of the previous sales period.