Upcoming Releases
Recently Released
____________________________________________________________
New Outreach Look & Feel
Summary
We're updating the way Outreach looks, bringing a softer and more modern feel to the platform so that it's easier for users to spend their day in Outreach.
Release date
February 22, 2023 [BETA]
Updates
The biggest change is the visual appearance of Outreach.
Color palette:

Softer and warmer, to reduce eye strain when spending hours in the app.

Fonts:

Clearer distinction between headers and body text, optimized for web.

Buttons & Inputs:

Rounded corners and better contrast for scannability. 
For technical reasons, the new look & feel update will also be released at the same time as several other UX changes:
New URL:

Outreach will now be available at

web.outreach.io

. Users will be redirected to this URL automatically. All historical URLs will be backwards compatible for 2 years.

Global navigation:

Icons are larger and no longer collapse into sections. The Settings menu has also been separated into "Administration" and "Personal" settings.

Global (top) header:

More condensed icons and actions menu converted to a button.

Admin settings:

CRM Sync: 

Only the new, enhanced CRM sync experience will be available in this release. We encourage admins to take a look since the legacy experience will be deprecated in May 2023.

Profiles:

This release will include an updated user experience, but all functionality remains the same. The new UX paves the way for more comprehensive governance improvements.

Task Flow header:

Several changes to reduce visual clutter.

Owner/Prospect badges:

"Prospect" badge removed from upper right corner to eliminate redundant information. The "owner" badge will remain in the same place.

Task priority and overdue status:

Increased visual prominence to improve accessibility and scannability.

App shortcut icons:

Reduced to Outreach, LinkedIn, Salesforce, Generic Website (links to account/company website).

Follow-up & Ruleset tasks:

Only the task type will display in the header. "Follow up with" and "Email opened/clicks" will appear below the prospect title/company name.

Prospect hover card:

Removed due to low usage. This information can still be accessed by clicking on the prospect or account name.

Other Task Flow updates: 

Default parent window page

: Due to low usage, we have removed the ability to set Universal Task Flow's default parent window page to the following: Facebook, Twitter, Google+, Github, StackOverflow. Users can still set Universal Task Flow's default parent window to: Outreach, Salesforce, Dynamics, LinkedIn, and prospect company website.

Additional actions

:  Additional actions such as "skip step", "Finish (Replied)", "Finish (No Reply), and "Delete" can now be found in the overflow menu indicated by the ellipsis icon located at the bottom left hand corner of Task Flow.

Task Queue:

Updates to include all task functionality available in other views.

Default view:

Users will now see a list of tasks (as opposed to task groups) when they first open Task Queue. 

Task groups:

Now accessible through the  "Group by" drop down located on the left hand side of the task queue panel.

Group by Timezone (new):

This new feature allows users to see their tasks in groups of prospect timezones to make calling across time zones more efficient. 

Sort by

: Moved into a dropdown menu so we can add more sorting options.

Filter by task category

: Filtering by task category is now even more accessible. Simply click on the ribbon of task category metrics to filter down to a specific category.

Access to Saved Views (SmartView):

Saved views are now accessible in Task Queue. The task list in your Task Queue shows your due tasks by default, but now you can access any of your Tasks Saved views from Task Queue and set a Saved view as the new Task Queue default view.

Urgent Task Alerts:

Urgent task alerts are now delivered via chrome browser notifications. This change ensures that you receive the urgent task alert regardless of the browser window you are viewing. Please make sure to 1) Select to "Enable desktop notifications" in Outreach settings and 2) Ensure Chrome browser notifications are not blocked on your desktop.

Prospects, Accounts and Opportunities Side Panel:

All functionality is the same, but information has been grouped and ordered differently so that it's easier to read.
Announcing general availability of Enhanced CRM Sync Experience
Summary
New CRM sync experience makes it faster and easier to connect your CRM to Outreach and manage sync settings.
Release date
Feb 2023 [BETA]
Updates
Outreach continues to build out and enhance our customer experience for Outreach Platform. As a result, we are offering an improved experience for connecting your CRM (e.g., Salesforce and Microsoft Dynamics) to Outreach. This new enhancement includes:
Guided onboarding experience to more quickly set up CRM integrations

Simplified UX for managing sync configurations.
The intent of this new experience is to improve the speed at which you are able to connect your mission-critical CRM with Outreach while proactively addressing API and activity feed issues. Click here to learn more.
Improved Team Performance Report
Summary
Team performance reporting is being expanded to include core metrics currently provided in Activity and More Reports. This will lead to a consolidation of reports, with Activity and More Reports being removed as metrics are made available in the new suite of reports.
Release date
April 24, 2023
Updates
Consolidation of our existing solutions into a suite of reporting insights nested under team performance. The current Team Performance report will expand to include more metrics around core user activity in Outreach (outbound calls, emails delivered, current overdue tasks, etc.). As part of this effort, three additional reports will also be added as a dropdown menu in order to support drill down into call, email and task related outcomes.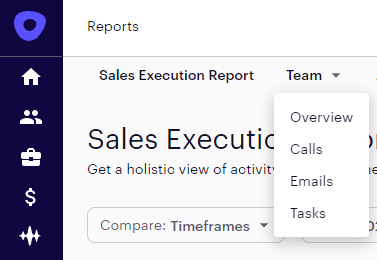 A few areas of reporting will be consolidated into these new areas. This will include: 
Activity>Team

Activity>Call

Activity>Email

Activity>Task

More Reports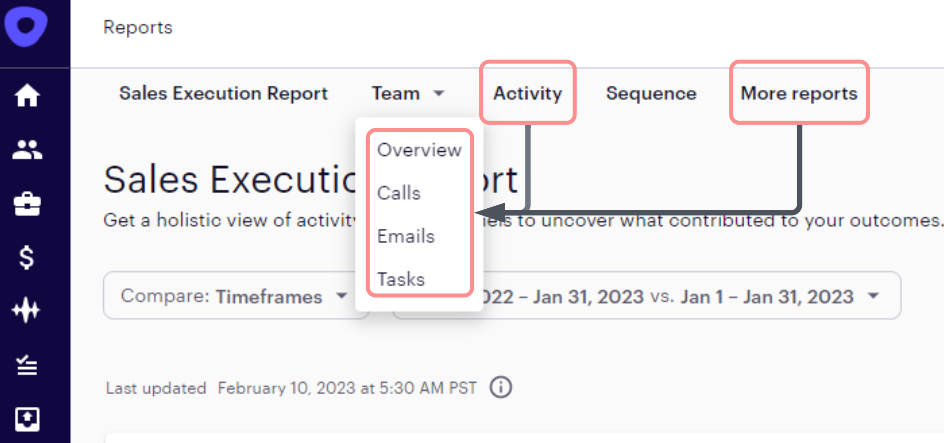 Additional details can be found here. More detailed content will be provided in future communications. 
Sequence Insights: Refreshed Insights Dashboards
Summary
The Sequence Insights dashboards have been updated to a new look and feel. All functionality should remain the same, with a few UX updates. 
Release date
April 24, 2023
Updates
Non-selected filters used to show as an outlined ring, now non-selected filters will appear grayed out. 
Legacy: New: 
The scale of the graphs are now larger to display greater detail. One might of to scroll right to see all of the metrics in the ribbon. 
The hide graph icon has changed to be more descriptive.
Legacy:     New: 
Export stats has been moved out from under the Add Prospects button to the more action (•••) Legacy:   New:
Hovering over the bar chart now shows a breakout of all values in one view (ex: Active, Paused, Failed, and Bounce states). 
Email steps now display if the step is an Auto Email or a Manual Email. 
Pipelines default to percentages and change to counts on mouseover. 
In-Progress: Prospect Overview - We will be adding the "Day" count to the step number shortly.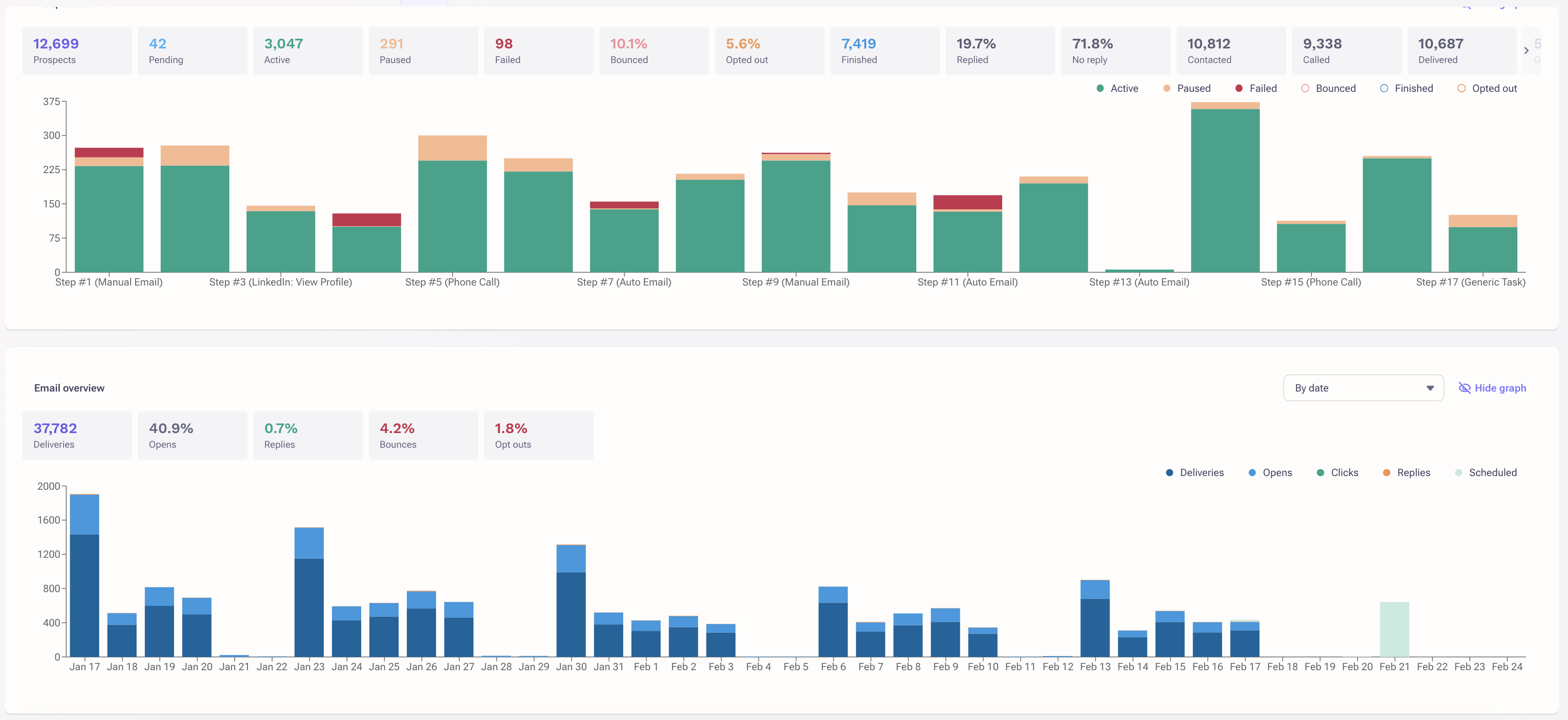 Enhanced security and compliance with Advanced Email Sync Control
Summary
Header-Based Sync is the new method of syncing emails into Outreach. It is available for all mailboxes connected via
Microsoft Graph AP
I.
Release date
February 28th, 2023
Updates
With the
Header-Based Sync
enabled, Outreach will only process email headers (as opposed to the full email content) to decide if the email is relevant to Outreach and should be synced into the platform.
This feature is designed to support customers with restrictive security requirements to meet their compliance obligations.
Learn more about the benefits and how to enable the Header-Based Sync in the
support article
.
MS Teams and Google Meet integration with Outreach meetings
Summary
MS Teams and Google Meet integration with Outreach meetings automatically adds video conferencing details to all meetings scheduled with Outreach.


Release date
Feb 28, 2023
Updates
Make scheduling meetings hassle free with MS Teams and Google Meet integration. Our new integration automatically attaches unique videoconferencing links to every meeting created with Outreach, regardless of whether you created this meeting in Outreach directly or whether a prospect booked it through the sales representative's public calendar. Outreach will add the videoconferencing link so sales representatives no longer need to do it manually.
This functionality is available for organizations using Office 365 or G-Suite, who also use MS Teams or Google Meet as a video conferencing tool.
You can enable this functionality starting from Feb 28, 2023 by following the steps outlined in this article. We are excited to offer you a more convenient and secure Meeting experience.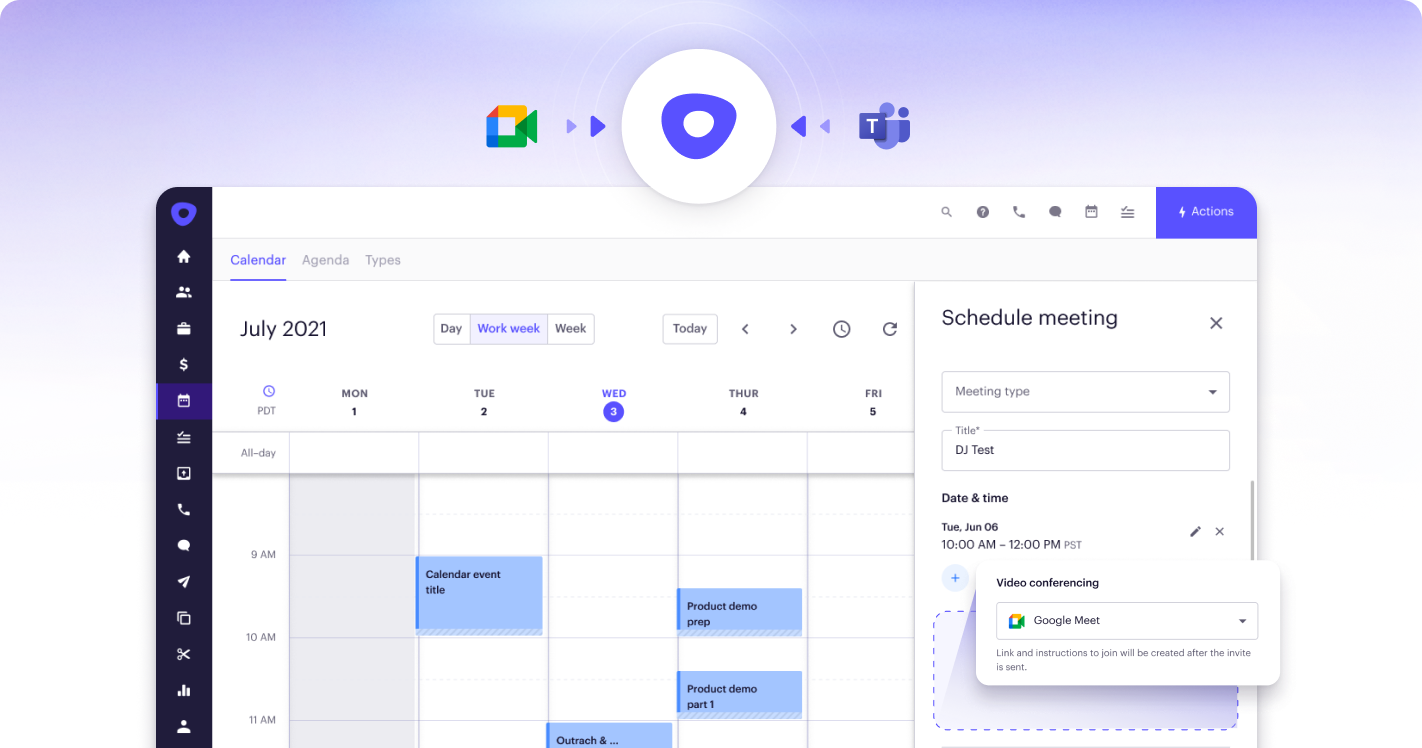 Styling updates made to the Prospect and Account edit page
Summary
Styling updates made to the prospect and account edit page


Release date
Feb 28, 2023


Updates
The edit pages have the same functionality as before with an updated user interface.

The page now features just a single column to improve the readability. Clicking on an option on the left pane will directly take you to the respective section to edit fields.

The 'Save' button has moved to the bottom of the page.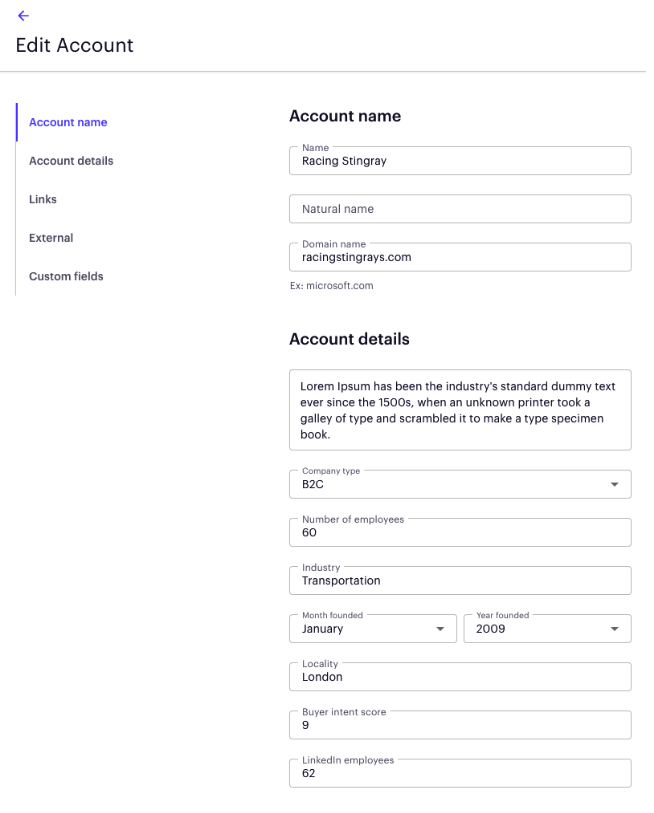 Updated filters for Templates and Snippets list view pages
Summary
Additional filters were added to Templates and Snippets list view pages to enable more efficient content management and clean up in the Outreach app.


Release date
Feb 23, 2023


Updates
Additional filters are now available on the Templates and Snippets list view pages, in the list of filters: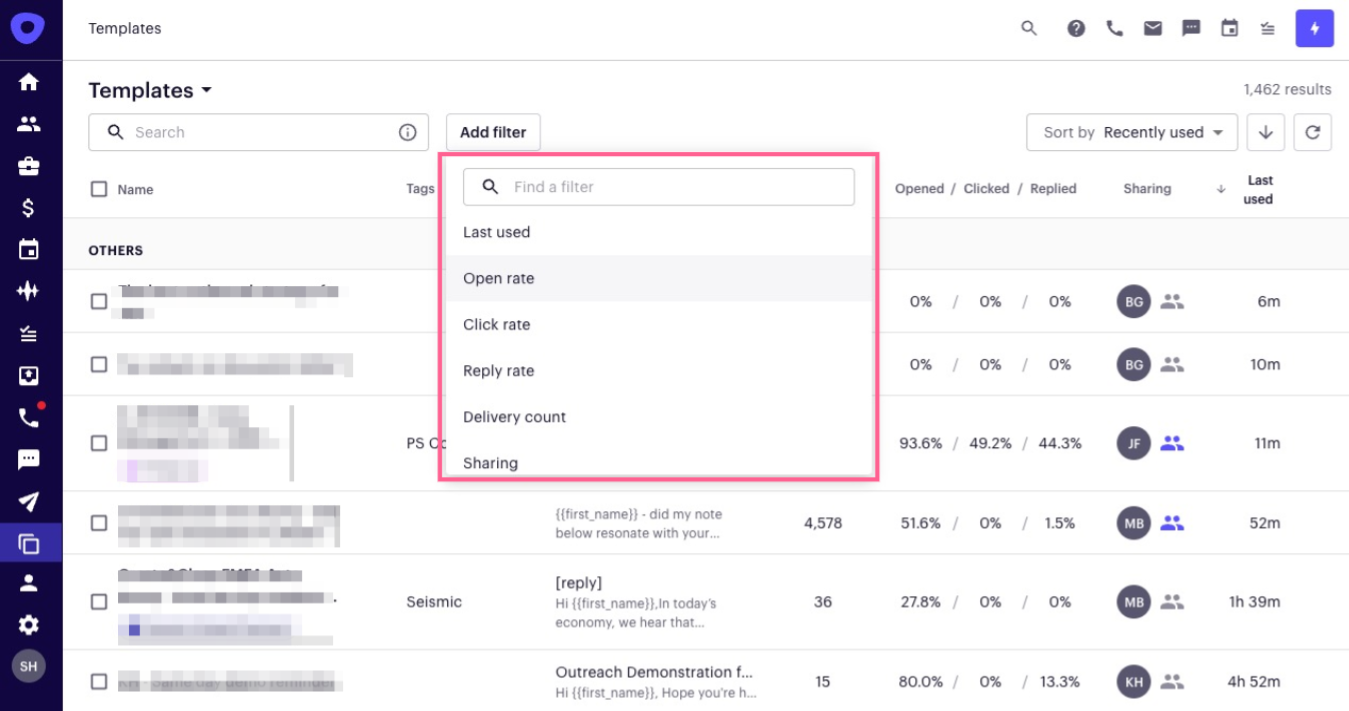 These filters include:
Templates page:

Last used
Delivery count
Open rate
Click rate
Reply rate
Sharing

Snippets page:
Easy access to Success Plans and Kaia Recordings within Commit
Summary
The inclusion of the Success Plans links and Kaia recording links provides new, actionable information to managers and sales reps in Outreach Commit to help these users to close deals in the pipeline and forecast with confidence. 
Release date
February 8th, 2023
Updates
The goal of these features is to provide access to traditional Outreach opportunity management features from within the Commit deals experience. To use this shared functionality, you must be licensed for both Outreach Guide and Outreach Commit.
The Success Plan status and last Kaia Recording date and link appear below in the activity section in the deal grid side panel and on the deal overview page.  The use of deals in Outreach Commit is detailed in this article.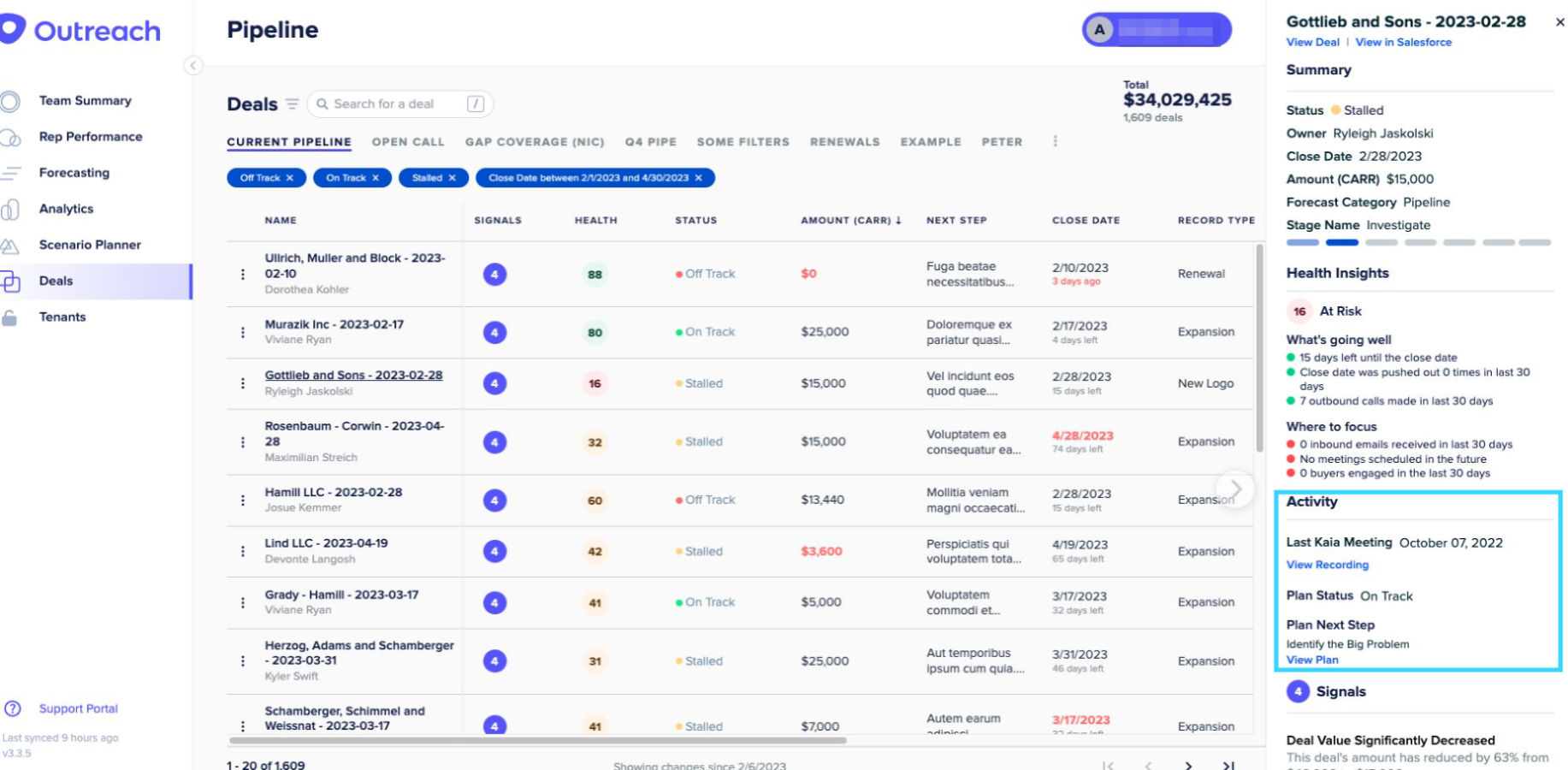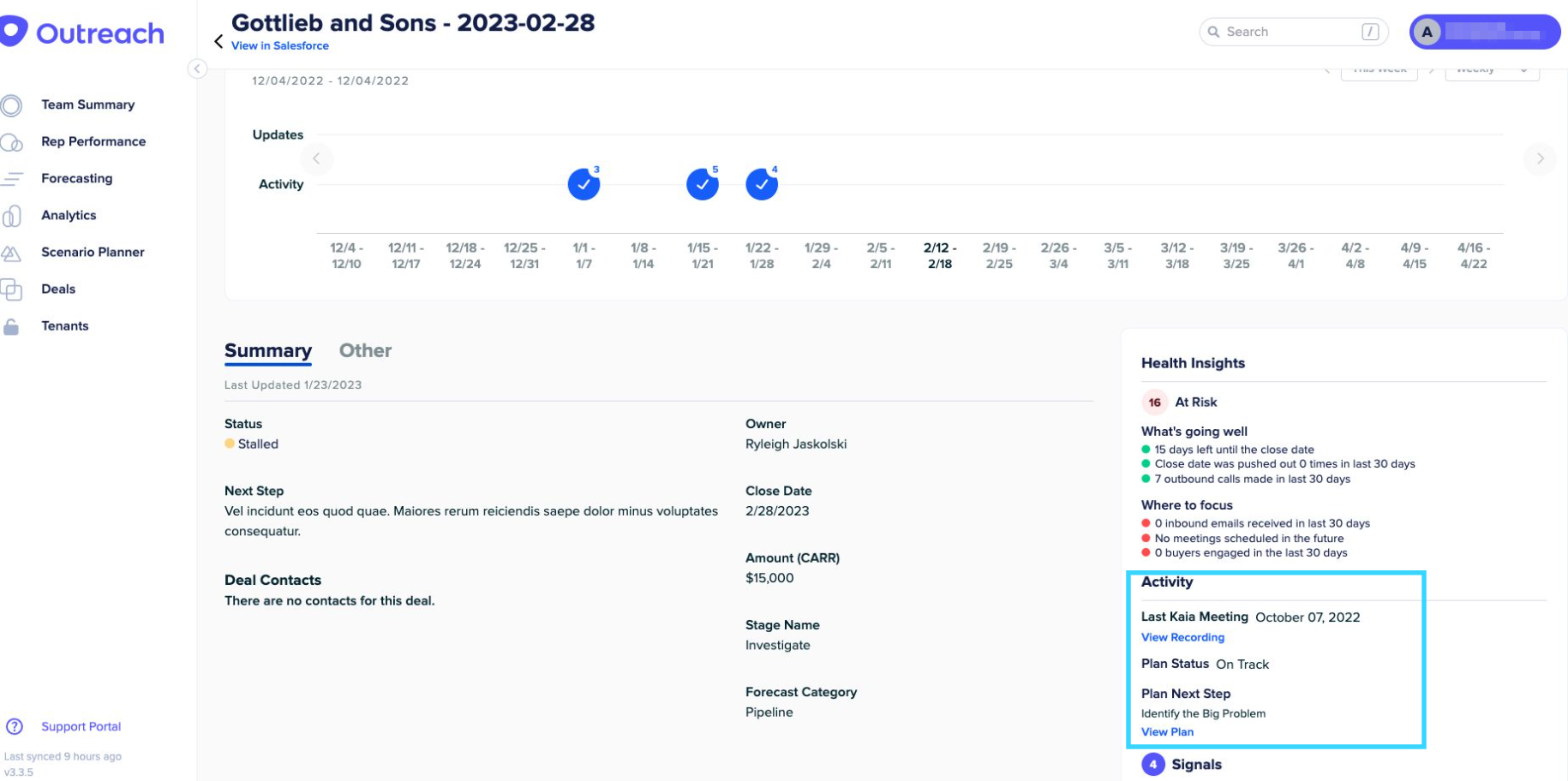 Easier Export Forecast Submission History
Summary
Outreach Commit enables revenue leaders and sales managers to call their forecast number with confidence. To support this goal, Outreach Commit now provides better access to the forecast calls over the duration of a given sales period. This will enable revenue leaders to run analyses outside of Commit for a variety of use cases.
Release date
February 8th, 2023
Updates
First, a user should access the Forecasting page within Outreach Commit and navigate to the forecast configuration and the chosen sales team.  Within the Forecast Submission History modal, any user can export a particular team's forecast submission history to CSV for further analysis and business planning.

Consent integration: Kaia recording consent via Zoom
Summary
Outreach Kaia can now be configured to use Zoom's native consent mechanism.
Release Date
Starting Feb 20, 2023 and rolling out to all customers in April 2023
Updates
With this new feature, Kaia will only record when Zoom is recording to the cloud; all of the recording notification and consent is captured natively through Zoom.
Performance visibility with Kaia Team Trends Report
Summary
Team Trends Report gives managers visibility into the performance of their team, how performance trends over time, and how it compares to other sellers.
Release Date
Feb 2023
Updates
Launch of the Kaia Team Trends Report
Enhanced Kaia auto-join setting
Summary
Outreach Kaia can now automatically join meetings with any external attendees.
Release Date
February 21, 2023
Updates
Outreach Kaia can now automatically join meetings with any external attendees. Auto-join is a user preference and can be configured to auto-join when attendee is a prospect or outside of your company.
Name Customization for Kaia
Summary
Outreach Kaia can now be configured with a custom participant name in Zoom meetings. Meeting participants will see this name in the zoom participant list and in video meetings, the Outreach Kaia tile will show the custom participant name in white text on a black background.
Release Date
Feb 2023
Updates
Meeting participants will see this name in the zoom participant list and in video meetings, the Outreach Kaia tile will show the custom participant name in white text on a black background.