Objective
Learn how to create and manage Outreach Smart Views. Smart Views allow Users to search, filter, and view specific records in a list. Additionally, Users can save these custom views for future access. 
Note: Some Outreach Views and Options require admin-level governance permissions. If the options outlined in this article are unavailable, contact the Org's Outreach Administrator as applicable. For more information regarding governance profile settings, refer to the Governance Profile Settings Overview article.
Applies To
Outreach Users
All filterable and sortable Outreach feature pages
Procedure
Access the Outreach Platform.
Access the applicable feature.
Example: To create a custom Smart View for Sequences, click the Sequences icon in the navigation sidebar to open the feature page.
Configure the filter and Sort by options above the data table as needed.

Click Save view. 
In the resulting Save new view window:

Input the Name of the new view.
Define the Owner and Sharing options as applicable. 
Review the configured filters and sorting.

Click Save. 
Once saved, the new view will be available in the pulldown to the right of the feature name above the data table. Users can edit, remove, and set the view as default by clicking the More Options (ellipses) to the right of an available view.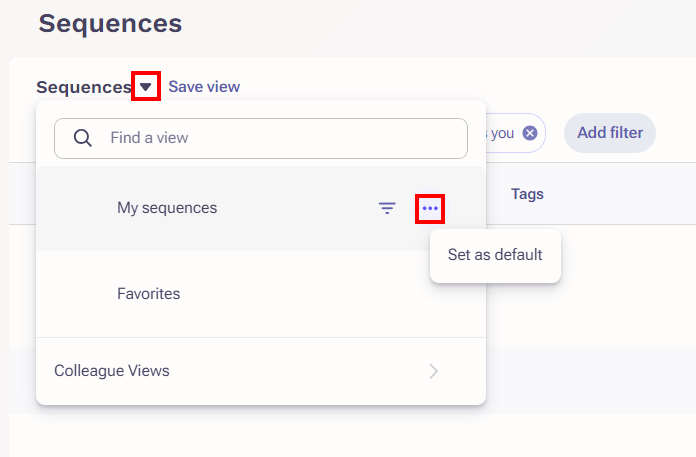 Additional Information