Overview
Every individual has a unique set of processes they use to execute their daily tasks. These processes vary from simple tasks, like booking a meeting from a call, to more complex actions such as customer risk management. The processes your team is currently utilizing can be referred to as traditional workflows.
So...
What's an Outreach Workflow?
An orchestrated and repeatable pattern of activity representing your teams' traditional workflows. An Outreach Workflow might look something like this:
Why do you need Outreach Workflows?
To understand why, let's talk about the facts surrounding modern sales development teams: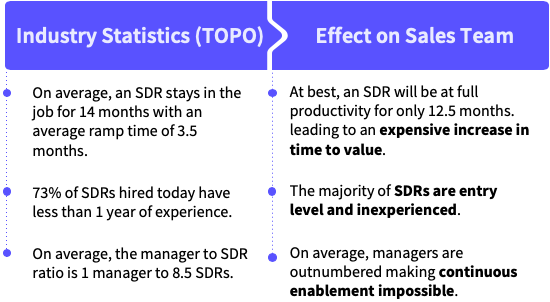 The fact of the matter is that modern sales teams are facing some big challenges including expensive time to value and nearly impossible scalable coaching. With increasing pressures to reduce ramp time, outnumbered managers, and inexperienced reps at your helm, it's more important than ever to standardize and automate your traditional workflows. By implementing Outreach Workflows, you'll accomplish this and much more!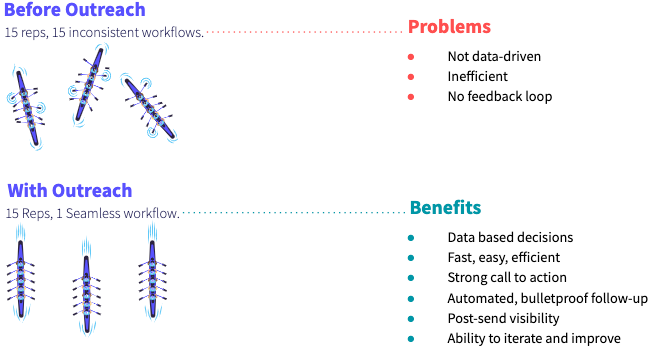 What's in an Outreach Workflow?
Outreach Workflows consist of four key components: finding the right prospect, choosing the right playbook, taking action, and managing the results. To set up your Workflows in Outreach, use these components as your guide. It may also be helpful to ask yourself the following questions

What are some common Outreach Workflows?
Now that you've got the fundamentals down, check out some common Outreach Workflows:
In each article, you'll learn the typical steps in the Workflow, how to set it up as an admin, and how to measure its efficacy. Start here to set your teams up for success by giving them Workflows proven to help them engage smarter.
Advanced Pro Tip: Once you have these Workflows up and running, it's time to think about taking them to the next level. One way to do this is through multi-channel communication. Engage with your buyers with the right message at the right time and stay one step ahead of your competition!
Need some assistance setting up your Workflows? Check out our Professional Services.