When implementing a new tool or program, intentional change management is the key to successful adoption. Change management means helping people adjust to something new or different. This involves communication, planning, and support. Without change management, teams will often get lost in the adoption process or fail to utilize all of the key components that Outreach can offer. It's important to remember that change management is actually about the people involved in the process rather than the process itself.
[This article is an excerpt from the Office Hours for Admins session, "Change Management."]
Why change management?
[4:12] At Outreach, we talk about change management when introducing new customers to our tools or realigning with long-time customers. Intentional change management strategy is important because it allows you to achieve:
Increase your ROI
Change management is a risk mitigation strategy that reduces threats to project objectives. We provide a structured approach to support people and teams moving from current to desired state. 70% of change projects fail due to a lack of change management structure; [1] comparatively, when you have excellent change management on a project, you're six times more likely to realize desired ROI. [2]
Recommended resource involvement
Whether starting from scratch, implementing a system change, or identifying KPIs, you should involve leadership, marketing, IT, and your operations teams. The diagram below indicates where each team should be involved.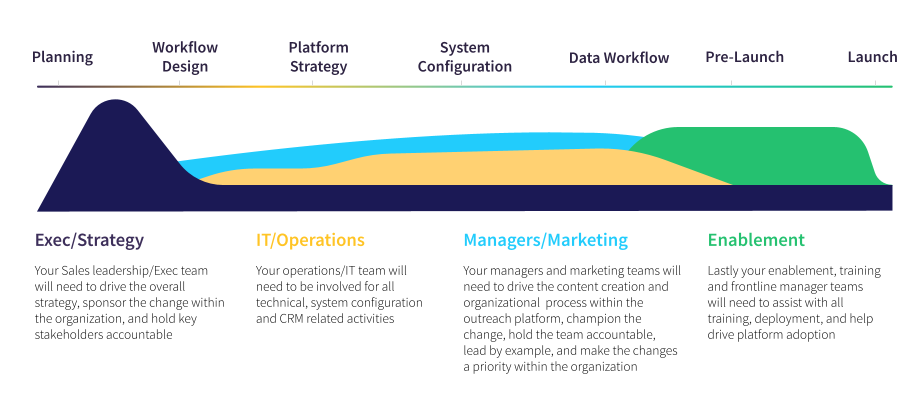 [7:04] Outreach has also identified five personas that should be included in building an adoption strategy. Of course, it's possible a single person could fulfill more than one of these roles. Nevertheless, there should be an owner of each of the following personas:
Executive sponsor

: Responsible for the overall health and success of engagement initiatives.

Outreach admin

: Responsible for data cleanliness and syncing user access and permissions, and automation.

Engagement strategy

: Responsible for the overall health and success of engagement initiatives.

Content curator

: Responsible for messaging.

Power user: Embodies the rep experience and knows how to use Outreach.
Change management best practices
[8:55] Change management cannot be addressed with one simple fix. Outreach takes a holistic approach by focusing on preparation, enablement, and support while teaching the skills needed for adopting and driving an optimized Outreach experience.
While each organization has personalized markers for success, the following best practices are applicable to most, and will give you a great head start:
Engage advocates early on in the process

Enable the champions

so they can help others see the value in the change

Evaluate against expectations so you can make shifts where necessary
Center of excellence
[22:28] A center of excellence is the structure of people, processes, and playbooks for sustainability and scalability of the Outreach platform. It is a framework that aligns with dynamic business objectives making the platform agile for end users to meet business change. In comparing two Fortune 500 customers, one with a center of excellence and one without, the numbers speak for themselves.
Company A with a center of excellence
Company A engaged with Outreach's professional services team to transform their sales organization through change management best practices. Professional services tailored their approach to Company A's business, operationalized a new workflow, and iterated and improved existing adoption approaches. In return, Company A saw an adoption rate of 90% after six weeks.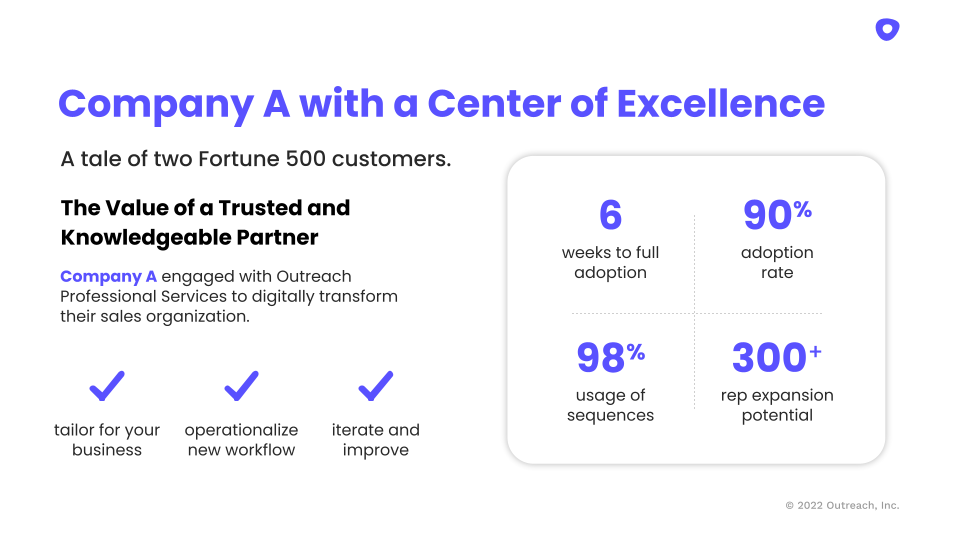 Company B without a center of excellence
In comparison, Company B used their own processes to transform their sales organization. They rolled out the programs through internal processes with no clear content or workflow strategy. Efforts were met with less than 10% adoption rate after 16 weeks to launch. There was no stakeholder alignment and no transformation success.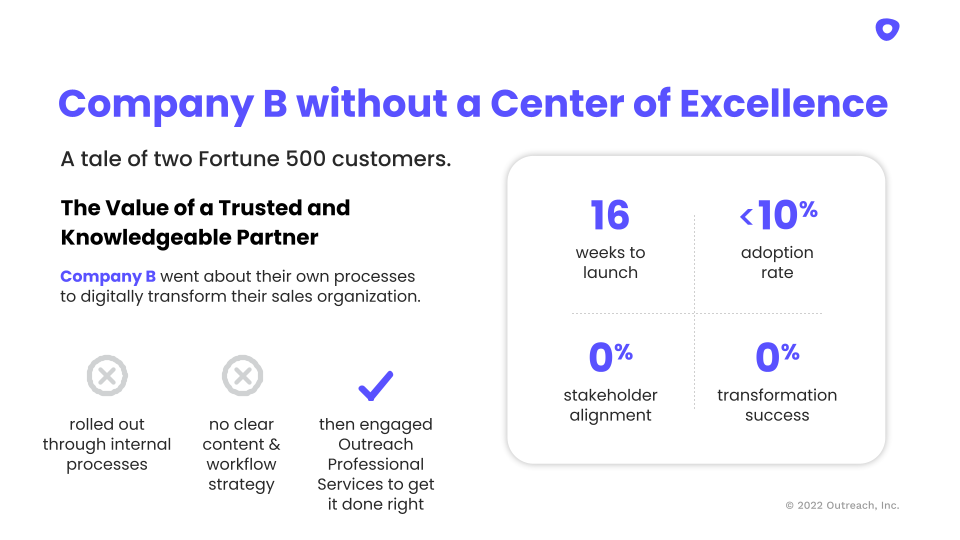 Core functions and areas of responsibility
[24:16] Due to the uniqueness of each organization, Outreach divides the center of excellence into functions rather than people and roles. The following functions serve their respective purposes:
Executive function

: senior-level alignment with business objectives

Program function

: informant between executives and operations, determining if tasks and decisions are aligned with business objectives

Operations function

: technical and tactical support of Outreach, focusing on enablement
Overall, the unified goal of the functions is to enable sellers and sales leaders to be successful while aligning with organization-wide business objectives.
Enablement and communication
[26:56] Within the operations function, enablement and communication is key to supporting change management strategies. The following enablement best practices can serve as a checklist for effective communication:
Internal communication pathways

Enablement and continuing education processes

Feedback loops

Leadership actions

Reinforcement channels

Office hours and launch support
Implementing change
[36:50] Outreach is a Sales Execution Platform that allows sales teams to do more at each level within the funnel. Over time, if you can increase your average deal size, you'll have more visibility into what your revenue generation looks like. Ultimately, you want to be able to tell a story with numbers. You can do this by connecting rep actions with business outcomes.
In a standard sales funnel, you can see the levers of change that can be impacted to bring in more revenue:
Activity

: multi-channel activity

Interactions

: positive engagement

Meetings

: meetings booked and held

Opportunities

: opportunities created

Sales

: opportunities won
Looking at the funnel from a project perspective, you can see what steps need to be taken to act on each lever of change.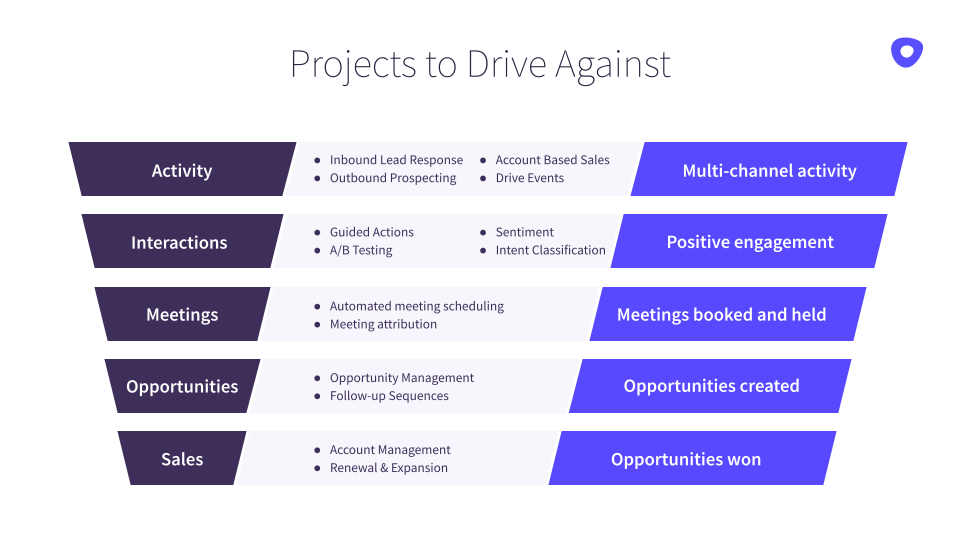 Outreach's approach to change management can be utilized at all levels of an organization to increase program adoption and revenue and can be implemented at any time. Our goal is to bring you more structure than you have today and to meet you where you're at.
You can contact your AE to set up a personalized approach to change management with Outreach's professional services team.

Contributors: Michaela McMenamin, Tali Dunn, & Tonille Miller
Additional Resources:
Outside Sources:
Ewenstein, Boris, Wesley Smith, and Ashvin Sologar. "Changing change management."

McKinsey & Company

, July 2015. August 2022.

https://www.mckinsey.com/featured-insights/leadership/changing-change-management

"What is Change Management and How Does it Work?" Prosci, 2020. August 2022.

https://www.prosci.com/resources/articles/what-is-change-management-and-how-does-it-work