Branded URLs allow you to personalize your public calendar link, unsubscribe link, open, and click tracking links and can improve your spam score by putting these services under a domain that matches your brand.  Setting this up will require access to your DNS provider.  If you're not sure who this is, you can check with the company that you purchased your domain name from.
Setting up Branded URLs
Decide on the domain you want Outreach to use for your unsubscribe, open and click tracking links.  For example, if your main website is at http://mycompany.com, you might choose hello.mycompany.com.  Note: We do not recommend using "Outreach" as a part of the domain name.
Add the CNAME record mapping this domain to Outreach.

To find the record you need to add, navigate to Settings > Branded URLs.  This is an Admin setting and you will not see it if you don't have admin privileges.
If you haven't set up a branded URL yet, you'll see the default Outreach domain already in use. Click on the Add button in the top right.
You'll see the New Branded URL dialog appear.  Make note of the value in the blue box; you'll need this to complete this step.
You'll then need to add a CNAME record to your DNS entries for this domain.  The process for doing this will vary depending on your DNS provider.  Here are the details of the records you need to add:
| | | | |
| --- | --- | --- | --- |
| Subdomain | Record Type | Value |   |
|   |   |   |   |
You can see instructions for adding a CNAME record at various DNS providers here:
Depending on your DNS provider, the record may take up to 20 minutes to be created on their servers.
| | | | |
| --- | --- | --- | --- |
| Subdomain | Record Type | Value | TTL |
| Subdomain chosen in step 1 [eg. sales.mycompany.com] | CNAME | [value obtained from Outreach] | Default/Automatic |
3. Add the domain to the "New Branded URL" dialog and click Save.  Make sure to enter just the domain (sales.mycompany.com) and not the full address (http://sales.mycompany.com).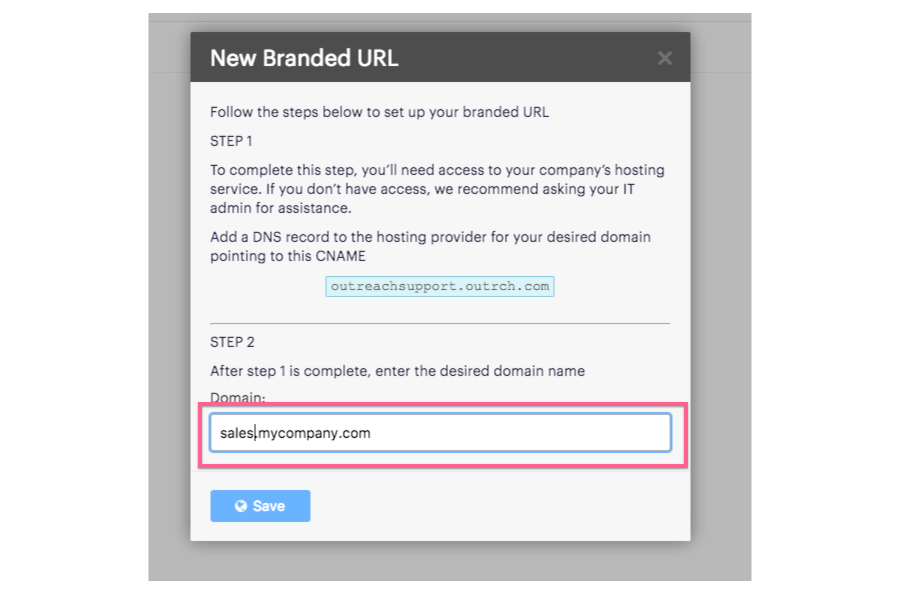 The new domain will appear in the list in "Pending" status.  Please wait a few minutes and refresh the page.  It can take anywhere from an additional few minutes to 24 hours for the DNS change to fully propagate, depending on your DNS provider.
When the "Pending" status changes to "Active", the Branded URL is live!  
If your Branded URL is "queued", it suggests that it is waiting for a certificate creation. If the Branded URL is in this state for over 24 hours, please reach out to support@outreach.io.

All unsubscribe, email open, and click tracking links delivered from Outreach will now contain your branded URLs.