Overview
Due to recent regulatory and industry updates to improve trust around the use of application-to-person (A2P) SMS messaging, Outreach users leveraging SMS messaging are required to register for A2P 10DLC to be able to send text messages. This is required by all major U.S. telecommunications carriers and is not specific to Outreach or our voice and messaging provider, Twilio. 
Beginning July 5, 2023, all SMS messages sent to U.S. phone numbers using 10DLC phone numbers—i.e., 10 digit US phone numbers such as (555) 555-5555—must be sent via a registered application-to-person (A2P) campaign. 
If you send messages without registering after July 5, 2023, they will be subject to a gradual increase of message blocking, ultimately leading to a full block of all U.S.-bound messages sent after August 31, 2023. 
Before you begin
Some requirements to consider before beginning this process:
Your organization must be a registered business with a Tax ID/EIN.
You must be able to show through a publicly verifiable source that your authorized representative is an employee of your organization. (E.g., Business social media account, government website, company website, etc.)
Your organization must have some type of opt-in consent that SMS recipients register with prior to receiving messages. See here for guidance.
Procedure 
Registration
There are 3 required steps you will need to take. These steps are to be completed in the Outreach application via an online form under Administration > Communication tools > Phone Numbers > Compliance and Trust.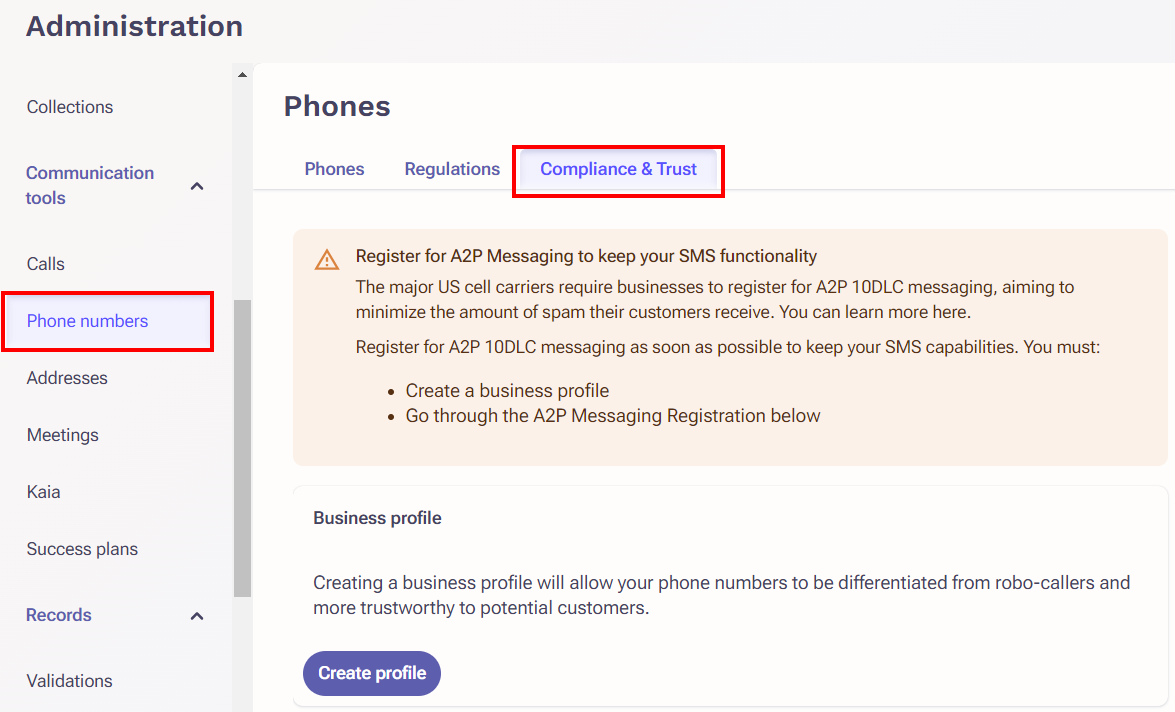 IMPORTANT: The Compliance and Trust page in Outreach became available on Monday, May 22, 2023, for the submission of Step 1, with Steps 2 and 3 following later the same month. It is critically important to gather the info required complete these steps in the meantime so materials can be submitted as soon as the options become available.
Each step requires approval by our voice and messaging provider, Twilio. For updates on approval status, please check the Outreach Compliance and Trust page periodically.
Required Information
The required information below can be gathered and documented in any way that will make it convenient for you to reference and input (e.g., copy-paste) into a web form. You do not have to compose formal documents for submission, but ALL information is required. Please review the examples provided.
Business Profile
Business Name
Physical Address (Street, City, State/Province/Region, Postal Code, Country)
Business Type (Sole Proprietorship/Partnership/Corporation /Co-Operative/LLC/Non-Profit)
Company Type (Private/Public)
Stock Ticker & Exchange (if Public)
Business Registration Number and Type

For A2P 10DLC registration, you must provide your Tax ID / EIN

Industry
Website
Regions of Operations
Authorized Representative (Note: Authorized representatives must be

publicly verifiable employees

of your company)

Last name
First name
Email
Title
Job position
Phone number
Brand
Company type (Private, Public, US Non-Profit, US Government)
Stock Ticker & Exchange (if Public)


Campaign
1. Campaign Description 
Provide an explanation of campaign objective or purpose.
If where and how the customer provides opt-in is unclear, the campaign will be rejected.
Examples
GOOD: This campaign sends messages to customers who have signed up using our website [link to website] requesting to receive additional information about our new product line. We use these messages to help determine customer availability to have a phone call.
POOR: This campaign sends messages to customers to help schedule phone calls to discuss our new product line.
2. Sample Messages 
Two (2) sample messages are required.
Sample messages should reflect actual messages to be sent under the campaign.
Guidelines for composing sample messages:
Do not use placeholder text for your sample messages.
Use brackets to indicate templated fields in the sample message.
Be consistent in sample message, use case, and campaign description.
Provide Opt-out when applicable.
3. Message content
Will messages contain the following information? (YES/NO)
Embedded links
Phone numbers
4. How do end-users consent to receive messages?
Describe how and when consumers opt-in to the campaign, therefore giving consent to the sender to receive their messages.
The call-to-action must be explicitly clear and inform consumers of the nature of the program.
If multiple opt-in methods can be used for the same, list them all.
Be sure to:
Provide a website where opt-in occurs.
List all opt-in methods.
Ensure any provided website is be accessible, with a privacy policy and terms.
If where and how the customer provides opt-in is unclear, the campaign will be rejected.
Examples
GOOD: Customers provide opt-in specifically when enrolling into our website or in person by requesting SMS capabilities within the store. Opt-in during website registration is a self-service process and occurs at acme.com/signup. By submitting, you authorize ACME to send text messages with offers and other information. Message/data rates apply. Consent is not a condition of purchase. [Link to terms and conditions]
POOR: Customers sign up.
SMS Opt-in Guidance
An example of an opt-in system could be a website where prospective customers sign up to receive messages. A comprehensive opt-in solution should contain the following:
 Program name and/or a description of the messages that will be sent
 Organization or individual being represented in the initial message
 Fee disclosure (e.g. "Message and data rates may apply")
 Service delivery frequency or recurring messages disclosure (e.g. "Message frequency varies")
 Customer care information contact information.
 Opt-out instructions (typically "Text STOP to cancel")
 Link to Privacy Policy describing how end-user opt-in information will be used
 Link to Terms and Conditions describing terms of service
 A checkbox option that end-users must select in order to receive SMS messaging. The checkbox can not be pre-selected. The checkbox provides the end-user the ability to agree, or not agree, to receive SMS messaging.
Please refer to the CTIA guidelines for detailed instructions and best practices on handling consumer consent. Please consult with your legal advisors as required on fulfilling the requirements as they apply to your use case and organization.
Additional Campaign Guidance
Additional guidance and best practices can be found in Twilio's A2P Campaign Approval Best Practices.
Frequently Asked Questions
Is it possible to get an exemption or extension of the timeline?
Unfortunately, no providers are able to extend the time frame any further, or grant exemptions; all registrations must be fully completed by July 5, 2023, to avoid the block on unregistered traffic.
Why is Outreach enforcing registration when another service is not?
These requirements are coming from wireless carriers (AT&T, T-Mobile, Verizon, etc) in order to reduce spam. Registration is required for all messages sent via A2P (application to person) system. Any other SMS application will also require A2P 10DLC registration 
Am I required to obtain consent (opt-in) from a prospect before sending text messages?
Yes. Not only should you obtain consent, but you should also have a system in place that records their consent. An example of what a good opt-in system looks like can be found here.
There are other types of business registration numbers to choose from in the form. Can I use one of them instead of the EIN number?
EIN numbers are required for the A2P 10DLC registration process. Any other registration number will not be approved for this specific use case
Is there a way to automatically include opt-out language in texts sent through Outreach?
There is not. This will need to be included manually in any templates or texts sent. Please note that opt-out information should always be in every message.
What keywords are detected for opt-outs?
STOP, UNSUBSCRIBE, END, QUIT, HALT
Does this opt the prospect out in Outreach?
It does not. However, it does prevent texts from sending number to the prospect's number. You will need to manually opt the prospect to prevent messages sent from other numbers. 
What do I do if any step of my registration is rejected?
Please create a ticket here in the Outreach Support Portal referencing "A2P registration" in the subject line. We will be able to assist you.