Overview
Google and Yahoo are aiming to reduce spam emails and improve email security for their users by enforcing strict new requirements on bulk senders of email beginning in early 2024. Other providers are expected to follow suit thereafter.
Organizations (including Outreach customers) must take action to ensure compliance with these new requirements. Starting February 1, 2024, if a bulk-sending organization has an abuse complaint rate of 0.3% or higher, Google and Yahoo will automatically block all messages coming from that organization.
Learn how to make sure your emails are not impacted by these restrictions below.
Applies To
All senders of commercial email

Email deliverability

Email provider requirements
Ensuring Compliance With Bulk Email Sender Requirements
There are 3 key areas to focus on in order to be seen as a legitimate sender: Authentication, Unsubscribe Links, and Spam Rate Threshold.
Authentication
Bulk senders must strongly authenticate their emails, ensuring that the sender's identity is verified, thereby closing security loopholes exploited by attackers. All email must be authenticated using SPF, DKIM, and DMARC. For many organizations, these changes will need to be made or verified by your IT or Engineering department. 
Check whether or not an SPF/DKIM/DMARC are set up correctly: If you have a user's email, you can easily do this using the header information.
If DKIM does not pass: Please reference the below to fix depending on your email provider.
(Learn more about managing SPF, DKIM, and DMARC here.)
Unsubscribe Links
Bulk senders are required to offer Gmail and Yahoo recipients the ability to unsubscribe from commercial emails with a single click and must process unsubscribe requests within two days. Currently there are 2 different areas within the Outreach application that control unsubscribe links being added to emails. (For complete guidance, click here.)
Org Settings
The first area you'll want to check is within your Org info under the Email tab. These settings control unsubscribe links being added to both one-off and bulk emails.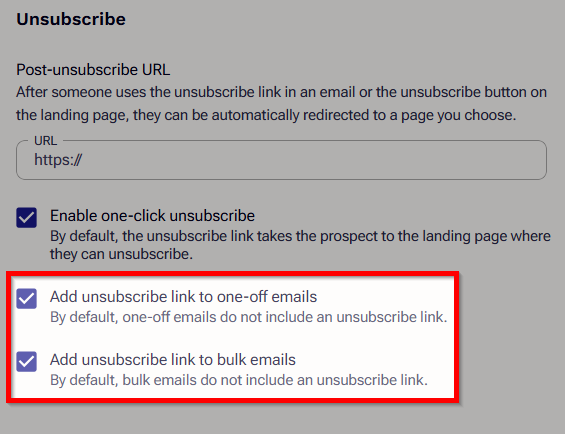 Sequence Rulesets
Unsubscribe links can also be controlled at the sequence level via Rulesets. You can check to see if your Rulesets have this setting enabled by clicking the gear icon in the bottom left corner of Outreach, then Workflow automations > Rulesets. Click to open a ruleset and review this setting.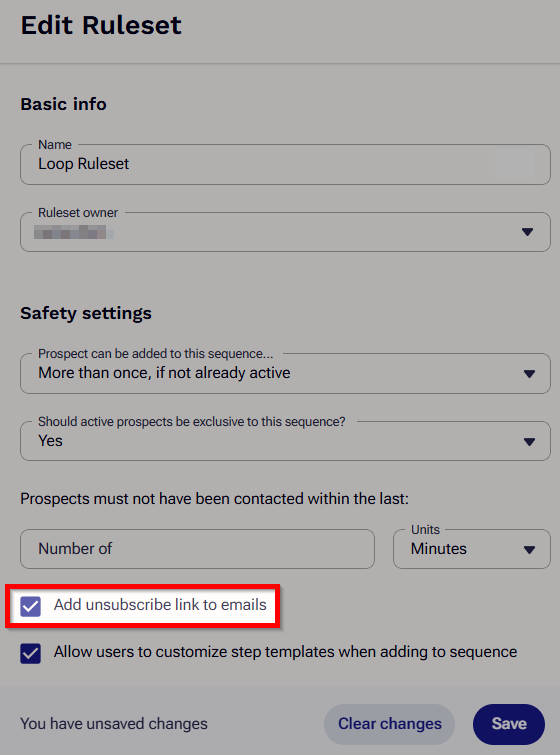 Spam Rate Threshold
A clear spam rate threshold that senders must stay under to prevent users from receiving excessive unwanted messages will be enforced, setting an industry-first standard for spam control. View and manage your organization's sending reputation and abuse complaints for the Google network with Google Postmaster.
Additional Information
The Outreach Email Deliverability Playbook
SPF, DKIM, and DMARC Overview for Outreach Email Users
How To Manage Outreach Email Unsubscribe Links
Google email sender guidelines