Purpose:
The purpose of this article is to provide information to Outreach Admins regarding CRM Plugins and the various settings therein.
Intended Audience:
Note:
For the purpose of illustrating and introducing Outreach users and admins to the Plugin section, the images displayed in this article are of a configured Salesforce plugin. Microsoft Dynamics 365 Sales will appear the same.
Some options and features illustrated in this overview are not available to all Users. For more information, contact your AE.
After the CRM plugin has been connected to Outreach, the Plugin will appear on the Plugins landing page. Click the plugin to access the following tabs: Types, Limits, Settings, Activity, and Logs.
Types
The Types tab displays the different objects within a CRM and the different options available to connect to those objects.
The options that are chosen control the flow of data between Outreach and the CRM for those objects.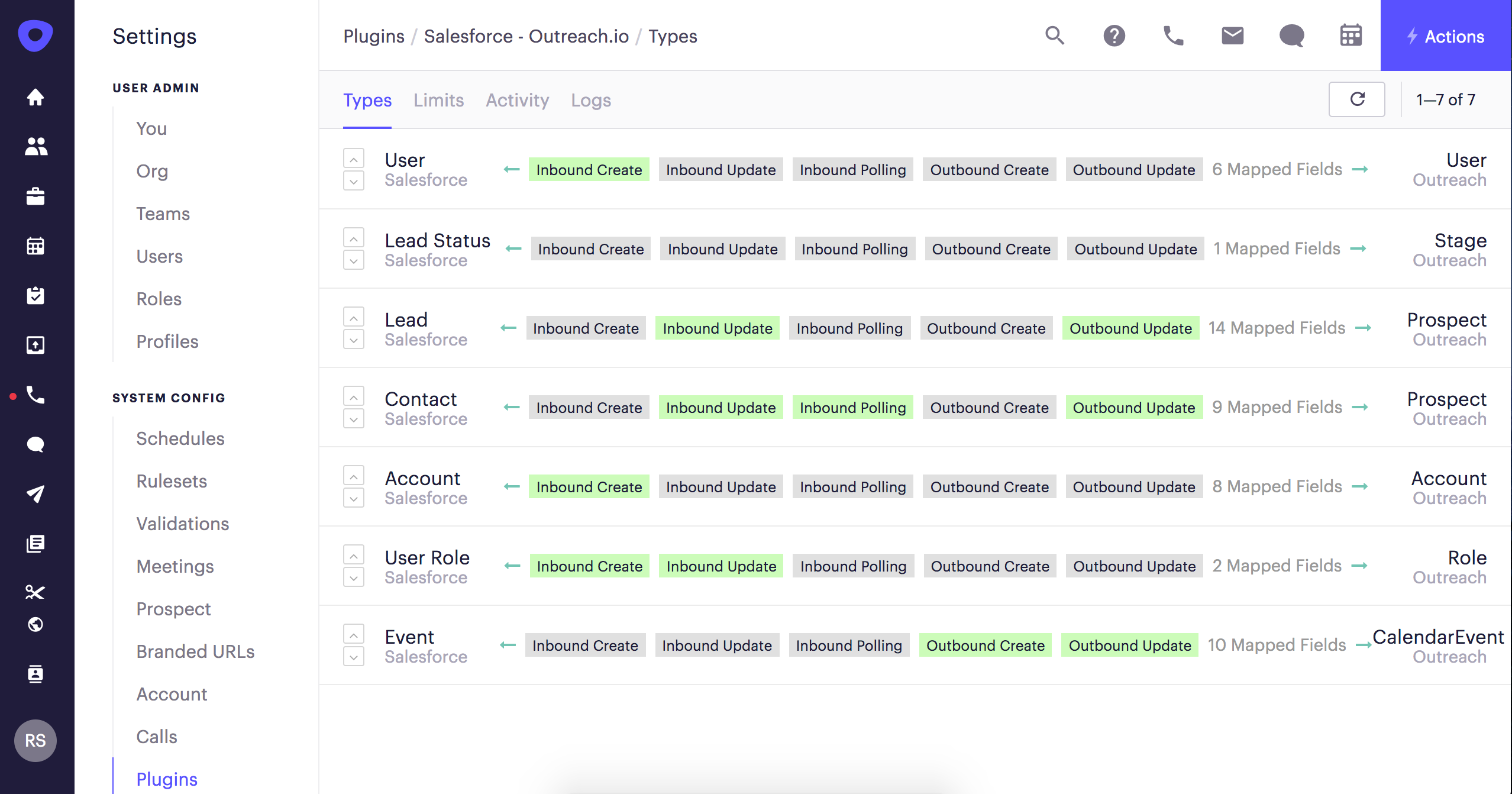 Limits
The Limits tab allows an Administrator to set limits on how many API calls Outreach is allowed to make on a given day. The API calls available are designated by the CRM and if you need additional API calls, we recommend reaching out to your CRM representative.
Global API call usage is the number of API calls used by all applications connected to the CRM that require API calls.
Outreach-Specific API Call Usage breaks down the Global API call usage to illustrate how many API calls Outreach is using.
In the above example, of the 2973 total API Calls used by all platforms connected to the CRM, 164 of those API Calls originated with Outreach.
Settings
The Settings tab shows a toggle for the setting labeled "Refresh users on reconnect." When enabled, this setting causes all users (active or not) to sync upon reconnecting the plugin in Outreach. This means locked, inactive user seats will be created in Outreach in order to sync to any unmapped users. This setting is enabled by default.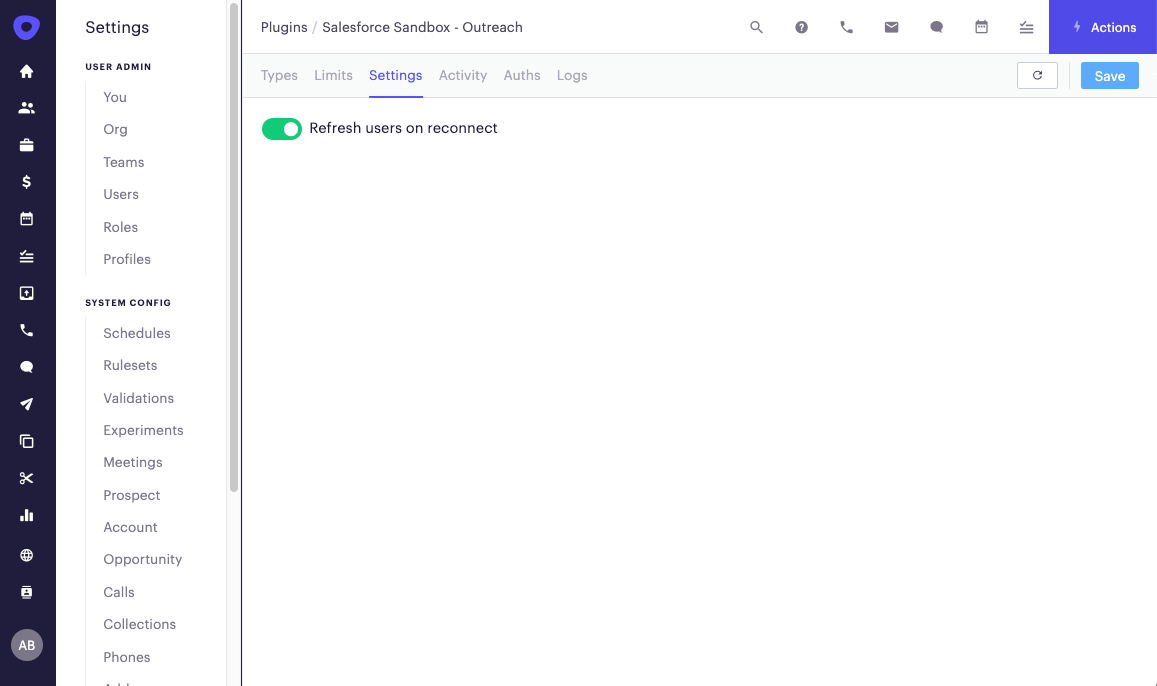 Activity
The Activity tab provides a user friendly, historical, snapshot of when and what Outreach has synced with the CRM.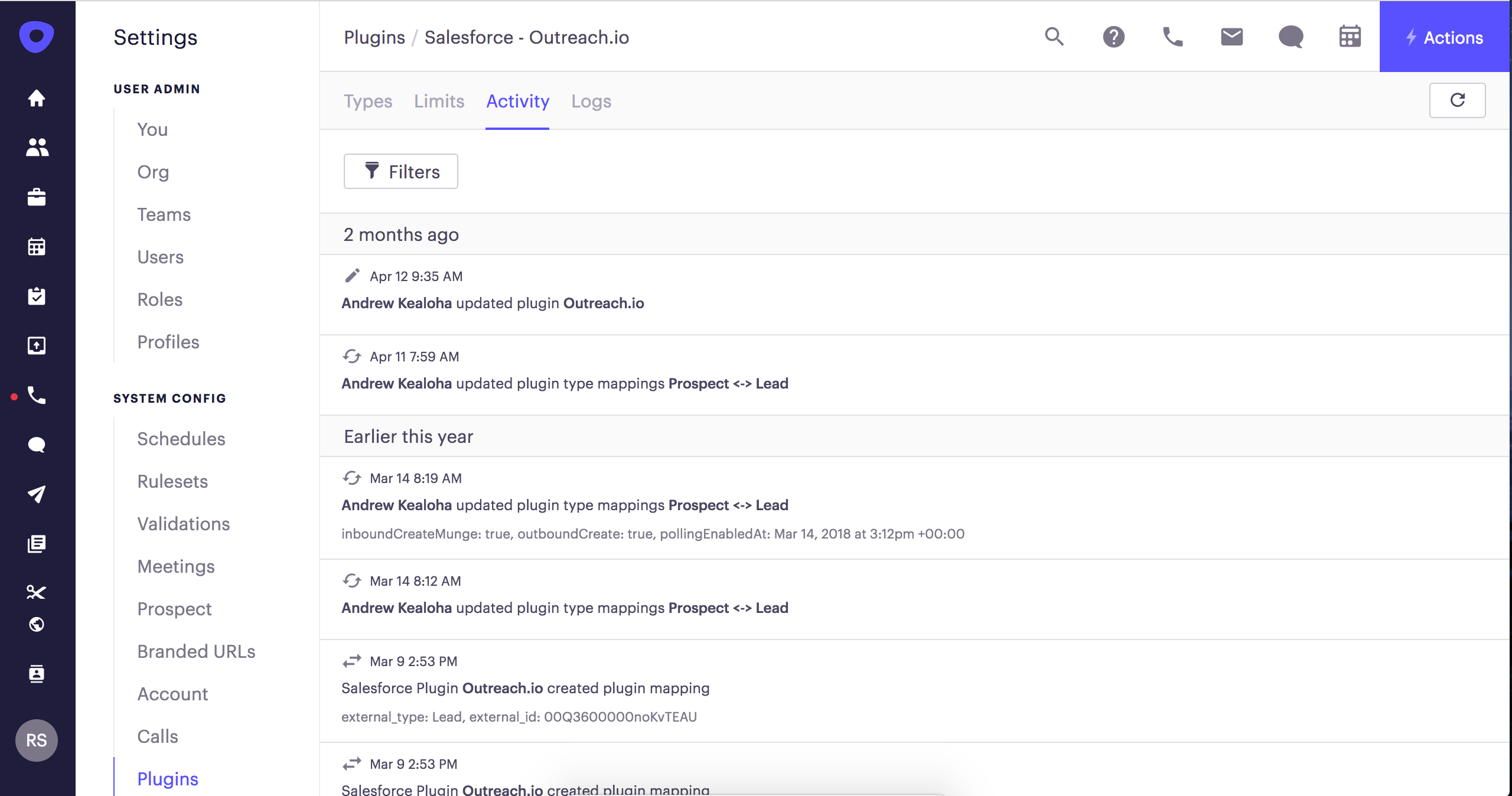 Logs
The Logs tab provides a more in-depth, technical overview at user and sync activity. The Logs will show which actions are happening, when they are happening, and if Outreach is able to sync.