Personas are a way to classify your prospects based on similar attributes, so you can more effectively communicate with them. Marketing teams have been using personas for decades to effectively track customer cohorts for optimizing marketing efforts. And now, sales teams can harness the same power to track what language, communication channels, and timing is most effective by persona.
Personas will play a big part in your sales process in addition to all the fields you use to get the demo and close that deal.
Communicating With Different Personas
It's important to understand the preferred personas for each audience segmentation for tailoring sequences to the ways prospects prefer to be communicated with. These personas are a result of connecting the dots by understanding their industry, vertical, title, and where they are geographically. Weaving those all together will then allow you to craft the persona.
For example, a VP of Sales in a SaaS company may not play the same role as a VP of Sales in a manufacturing company. Understanding how your product can be the solution with your audience is important in crafting your personas. It's
As a SaaS company you may want to set up personas as follows:
C-Level | Tech and security | USA

C-Level | Tech and security | Europe

Tier 3's | SDR | Tech and security | USA

Tier 3's | SDR | Tech and security | Europe

Tier 3's | BDR | Tech and security | USA

Tier 3's | BDR | Tech and security | Europe

Tier 3's | AE | Tech and security | USA

Tier 3's | AE | Tech and security | Europe
Personas are an incredible way to segment the prospects in your accounts for account-based sales. As a general rule of thumb, when determining what your personas should be, you should start simple. Think about four to five persona segments that you commonly target in your sales efforts.Then, think about the titles and roles that would segment them, and set your triggers up to reflect this.
Creating Outreach Personas
Personas can be created and modified by Outreach within prospect customization settings on your left-hand navigation.
Click on the initials on the bottom left hand corner of Outreach
On the settings panel, find the section labeled "System Config" and select "Prospects"
On the top of the page, click on "Personas"

To add a new persona, click "Add" on the top right hand corner of the page.
Add the title of the persona and include a description of what that persona entails
 
Apply Personas to Prospects
Once you've created Persona labels, you can apply them to prospect in bulk.
On the prospect listview page, sort/filter your prospects until you have a list of prospects that meet the conditions of one of your personas.
Select the prospects and on the top of the page, click on the paper and pencil button.
On the dropdown menu, select "Persona" and select the correct persona from the dropdown menu.
Apply your changes. The prospects will have an orange tag next to their name/title that contains the persona name.

Search for Prospects with a Specific Persona
Once personas have been applied to prospects, you can use the sort & filter drawer on the prospect listview page to find prospects with a specific persona label and add them to a corresponding sequence.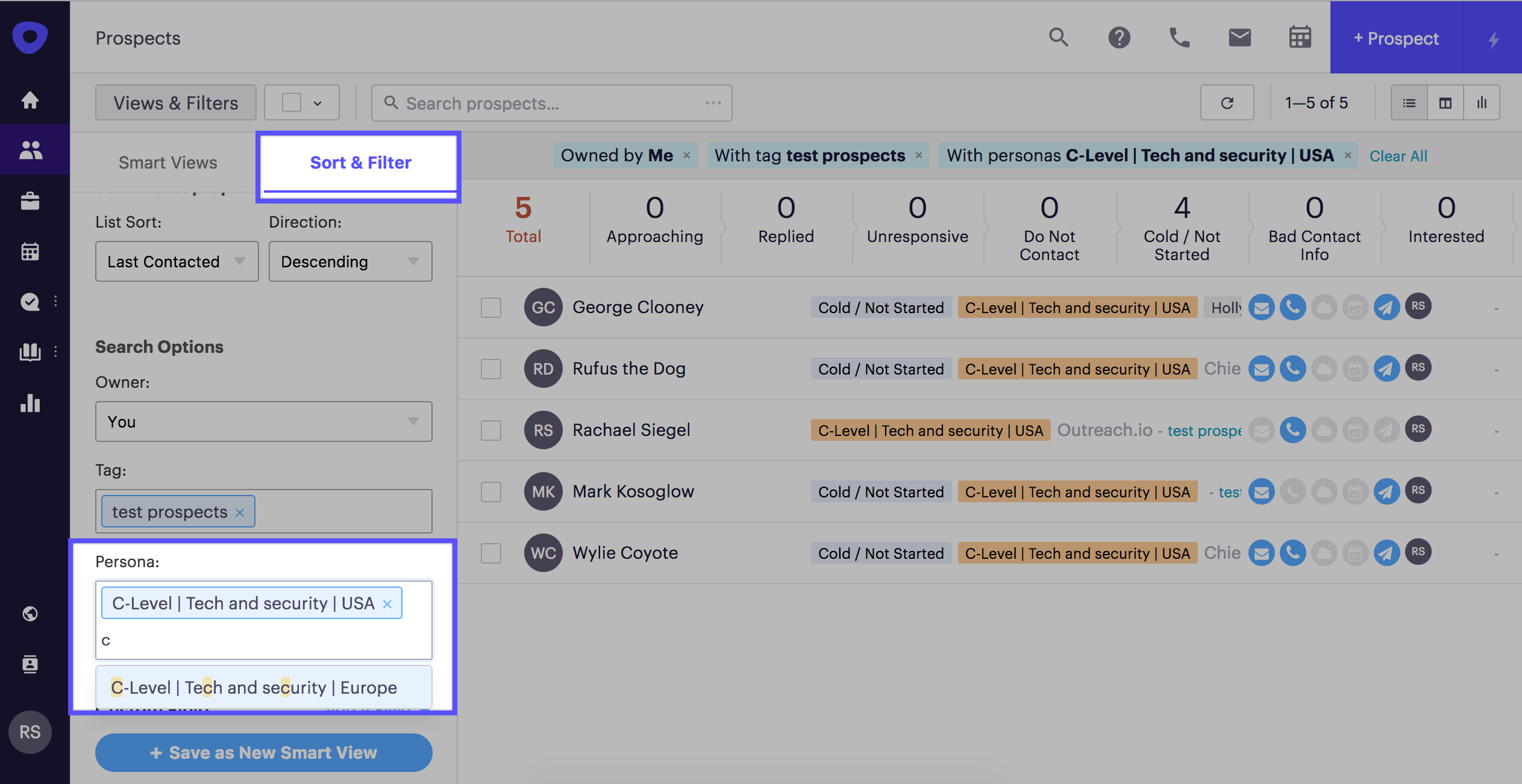 Creating Persona-Specific Triggers
By combining the title and persona fields, you can create a trigger to auto-assign personas. Below is an example of how you'd set up a trigger to automatically assign a persona to a prospect that is created or updated and does not yet have a persona assigned.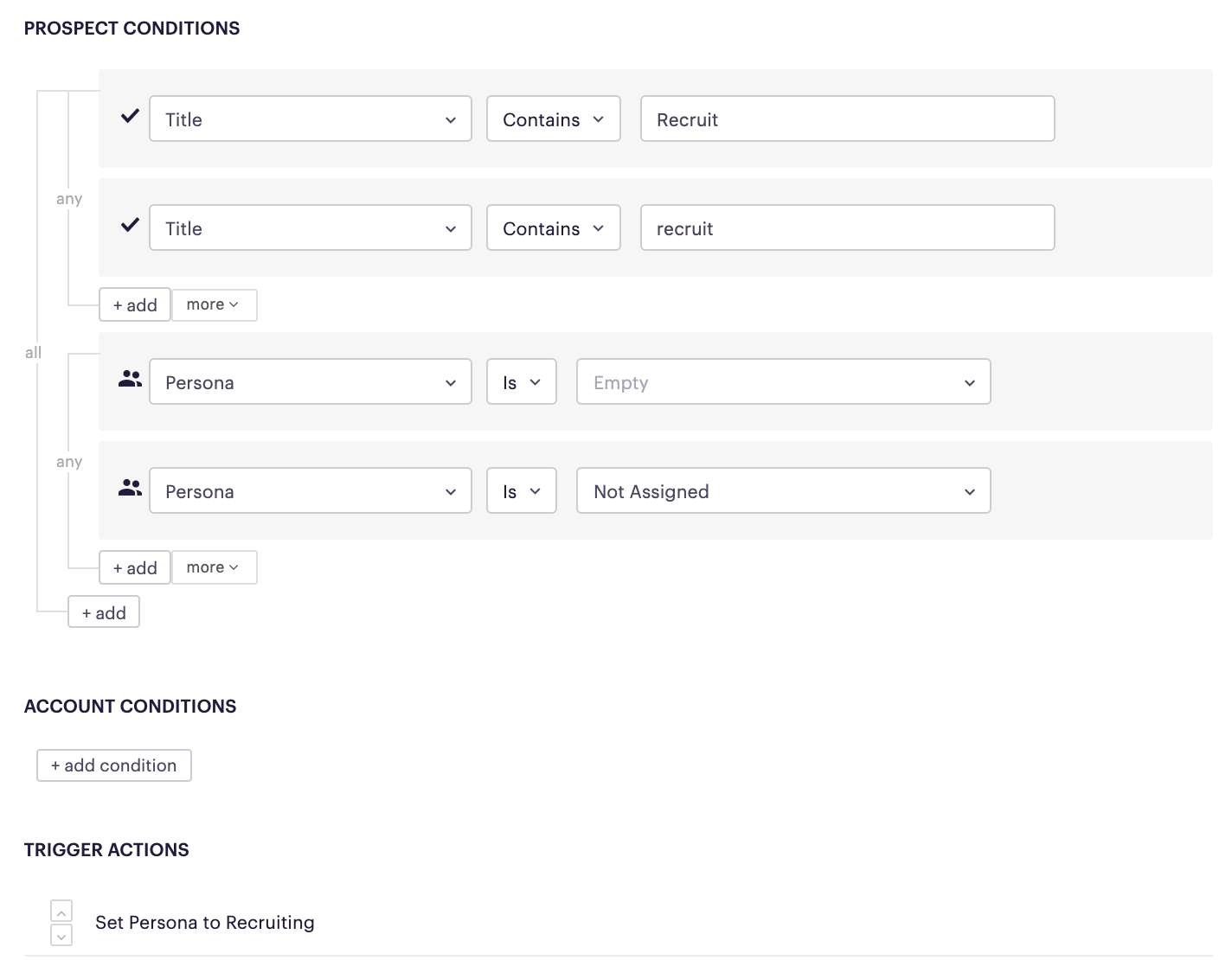 Important Note
When communicating with prospects it's good to remember that we want to get as close as we can to the right persona in order to convey the right messaging. That involves knowing the titles of who you need to target and how craft that message.