Purpose:
The purpose of this article is to provide information to Outreach Users regarding exporting information from Outreach.
Intended Audience:
Outreach Users
Notes:
Each export

download link

will expire after seven days. If an export expires, the user will need to recreate the query and export again.
Users with an Admin profile in Outreach are able to view export requests regardless of the user requesting the export. All other users can only view their own export requests.
At this time, users are not able to cancel or delete exports.
Outreach provides users with the opportunity to export the following information:
Prospects

Accounts

Opportunities

Tasks

Calls

Sequence Stats
Sequence States
Exporting Methods
Outreach provides users with the opportunity to export and receive information using one of the following methods:
Download Now
The Download Now export method is great for exporting bulk records in the amount of 200 or less. This report is downloaded as a CSV file to your Chrome browser.
Email .CSV
The Email .CSV option works best for bulk records exceeding 200. For example, exporting all Prospects, Accounts, Tasks, Sequence Stats, and Opportunities.
Note: The limit for exporting filtered lists is 100k; therefore, when exporting a filtered list of Prospects, Accounts, etc.., divide the sections to 100k a piece to support file transfer limitations.
Note: The email notification is sent to the email address of the user requesting the export.
After the file is compiled, the system sends an email to the requester with a clickable link to download the file.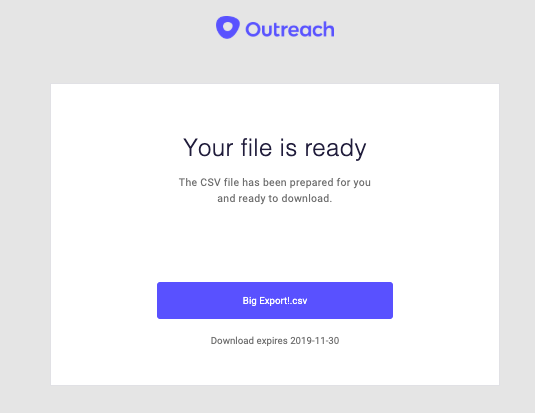 Note: The notification email contains an expiration date indicating the length of time the exported file will be available for download before being removed from the platform.
Exports Landing Page
The Exports landing page provides users with a list view of historical downloads. In this view, users can see the types information the exports captured, the number of records per export, the date created and the file's status: Download or Expired.
Active downloads, those not expired, contain a hyperlink to the file. Click the link to complete the downloading process.
Expired downloads disable and remove the hyperlink to the file. If you cannot access a file, review the Expiration Date column to determine if the file has expired.