Purpose:
The purpose of this article is to provide information to Outreach users regarding the Prospects page in Outreach.
For more information on sorting and filtering the Prospect view, refer to the How To Create a Custom View for Prospects in Outreach article.
Intended Audience:
Notes:
This article provides information regarding the Prospect's landing page. For more information regarding the Prospect's Profile page, refer to the the Prospects Profile Overview article.
Prospects View
Access the Outreach Platform.
Click the Prospects icon (double silhouette) in navigation sidebar.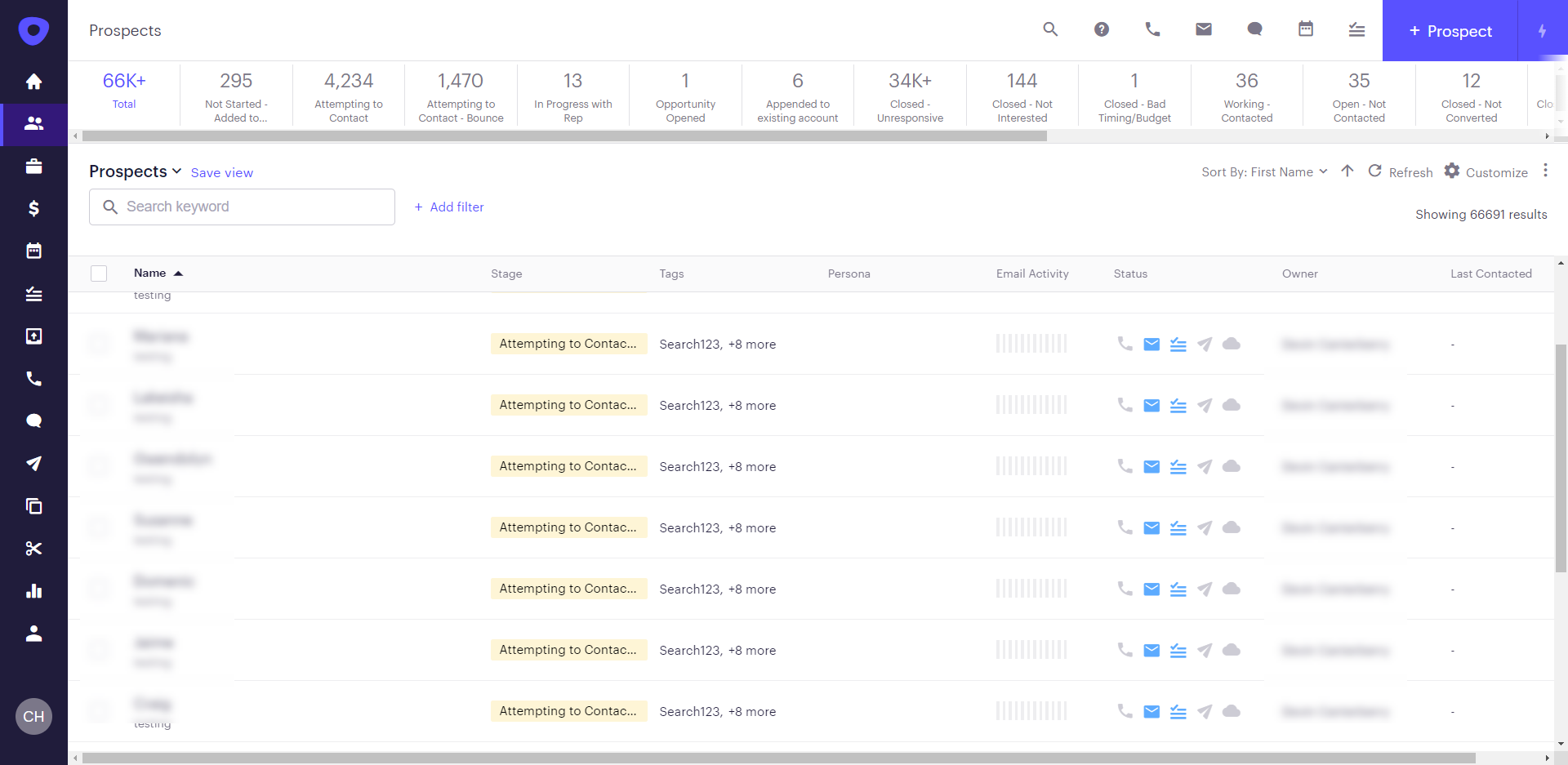 Filters and Searching
The enhanced Prospects landing page allows users to quickly add filters and search Prospects based on specified criteria.
For more information regarding sorting and filtering options for Prospects, refer to the List View Filter Options article.
Save Views
Users who have a specific requirement in how they view prospects can apply their specified criteria and save the view for an even quicker navigation experience.
For more information regarding creating custom views in Outreach, refer to the How To Create a Custom List View article.
Sort By Columns
Users also have the option to sort Prospects by column. Either click the column header or the dropdown arrow and select the applicable sorting options.
Infinite Scroll
Users can preview all of their Prospect records with Infinite Scroll.
Quick Actions
Quick actions allow you to make modifications and engage with prospects more efficiently, reducing the amount of time you spend in a prospect record so you can focus your efforts on selling.
Prospect Quick Actions are located in the prospect list view. The quick actions are located in a dropdown menu, which appears when you hover your mouse over the right side of the prospect list.
The dropdown options include editing a prospect field, logging a call, sending an email, adding the prospect to a sequence, or creating a new task. When an option is selected, a pop-up window will appear with the prospect information and fields associated with the action you've selected.
Additional Resources:
How To Create a Custom List View