Purpose:
The purpose of this article is to provide information to Outreach Users regarding Outreach Success Plans.
Intended Audience:
Outreach Success Plans FAQs:
Q: How do I adjust my name, headshot, team logo, etc. within Success Plans? 
A: Outreach Success Plans contains a Settings option specific all to itself to Outreach Success Plans. 
Q: Can a Plan be tied to multiple Opportunities or vice versa? What about an Account?
A: Today, Opportunities and Plans have a one-to-one relationship. 
Q: Can Prospects edit and collaborate within the plan as well, or just the selling team
A: Prospects that are added as a collaborator on the Success Plan can take nearly every action that a seller can (mark events as complete, comment, change dates, add resources, etc.) We'll then let the Plan owner know which actions have been taken to ensure no changes are missed.
Q: Do all people included on the plan need an Outreach seat?
A: No, only people creating the plans need a license at this time. (Note in the future we could require anyone collaborating on the plan to need a license currently anyone can collaborate on the plan)
Q: Why do I need to assign owners and participants to Timeline events?
A: Owners and participants drive all notifications within the plan. If you don't assign folks, they will not be kept in the loop on plan activity that is relevant to them.
Q: Will my Prospects be receiving unwanted notifications?
A: No, our Prospects email notifications are intentionally conservative and the Prospects can adjust their own notification preferences at any time. By default, we only notify Prospects when:
Collaborator: Invited to collaborate on the Success Plan, no additional notifications unless added to an event.
Owners: notified of comments, overdue tasks, or if assigned as the owner of an event
Participants: notified if comments occur on an event
Q: Why are my Plan Statuses not showing up on the Opportunities page?
A: In order to push status updates to the Opportunities page, the user must have Opportunity Edit "Enabled" within their profile settings.
Q: Can I adjust more than one date at a time within a plan?
A: Yes, our bulk date shifter allows you to quickly update multiple dates at a time within the plan.

Q: Can I transfer ownership of a Success Plan from one person to another?
A: Yes. Within the plan, navigate to Settings > Admin > Transfer Plan Ownership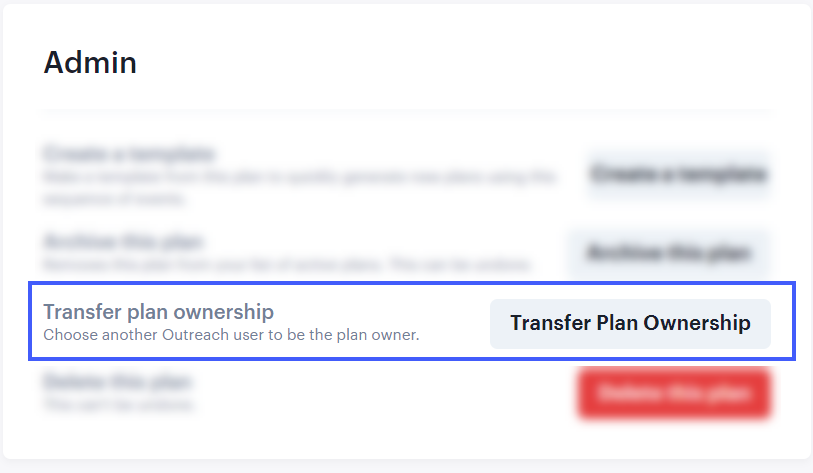 Q: Can I copy a plan and use it for a new deal?
A: Yes, you can create a template out of any plan so that you can replicate it for future deals.
Settings > Admin > Create a Template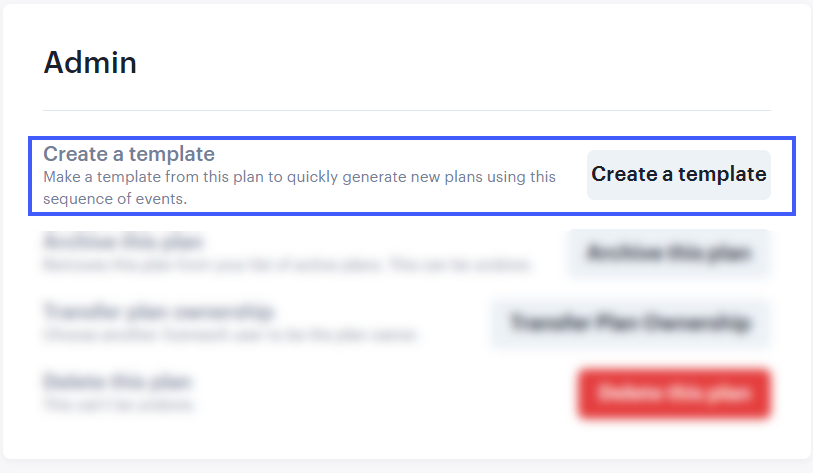 Q: Why isn't the link I shared working?
A: Copying the URL will not direct your Prospects to the correct place. You must copy a link via the Link Sharing icon within the plan, which will route your Prospects correctly.
Q: Do Success Plans acknowledge governance profiles?
A: Success Plans do not yet acknowledge the Admin governance profile as having unique authority, however this may be a feature that we will be able to implement in the future. The Settings tab will show up if the user viewing the plan is: Plan Owner, on the Seller team, Owner of the associated Account record, or Owner of the associated Opportunity record.
Additional Resources:
Outreach University - Outreach Success Plans
Outreach Success Plans Overview
Outreach Success Plans Best Practices