Purpose
The purpose of this article is to provide direction to Outreach Admins regarding assigning licenses for User access to Kaia via the Outreach Licensing Service. 
Intended Audience
Notes:
Depending on your meeting platform, a Zoom or Microsoft Teams admin account is required to connect to Kaia. For more information regarding meeting platform admin accounts and Kaia, refer to the Outreach Kaia Admin Setup Steps.
If using Zoom, ensure Outreach Kaia for Zoom Admins is first installed in order to complete this process. Connecting Zoom after the fact will require admins to connect each user's Zoom account to Kaia one by one.
Kaia is now part of the Outreach Orchestrate package. While this will be reflected in the product licensing screen (see below), there is no functional impact for existing Kaia users. For further questions, please reach out to your Account Executive.
How To Assign Licenses for Outreach Kaia
Access the Outreach Platform. 
Click the user's initials (avatar) in the bottom left corner of the navigation sidebar, then Settings.
Under User Admin, click Subscriptions.
Click View Licenses.

Click Assign User. 

Note: Admins can reconnect or remove licenses by clicking the vertical ellipses to the right of a Kaia User.
Search and select the applicable User in the Search User(s) dropdown menu and click Assign.

The license has been assigned to the applicable User as configured. 
Confirm Connection
The Connection icon (camcorder) to the right of an Orchestrate User indicates if the User is connected to a video conferencing account or not for Outreach Kaia.
If the Connection icon is gray, the User's account is not connected. However, the user can still use Kaia for Outreach Voice.
Click the More Options icon (vertical ellipses) to the right of the applicable User, then select Connect to meeting provider from the dropdown menu to connect them.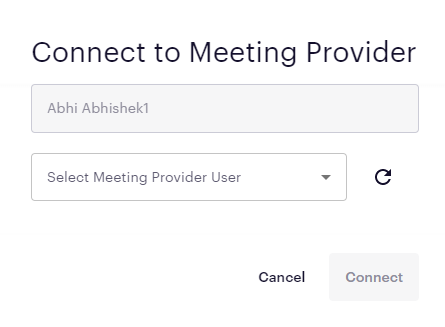 For more information regarding auto-connecting to Kaia, refer to How To Configure Outreach Kaia User Settings.
Additional Resources: 
Outreach Kaia Meetings Overview