Users who have connected the Salesforce plugin can choose to import records off of a Salesforce report. This is common for new users to begin bringing records into Outreach, as the sync is not retroactive.
Please note: Salesforce report imports will only import 2000 records at a time to conserve your daily API calls.
To complete a Salesforce report import, you must first create a report of Leads or Contacts (not a combination of both or any other type of report). 
Create a Report in Salesforce
In Salesforce, click on the Reports tab
Click the New Report... button
Select the report type and click the Create button

For a Contact report choose "Contacts & Accounts"
For a Lead report choose "Leads"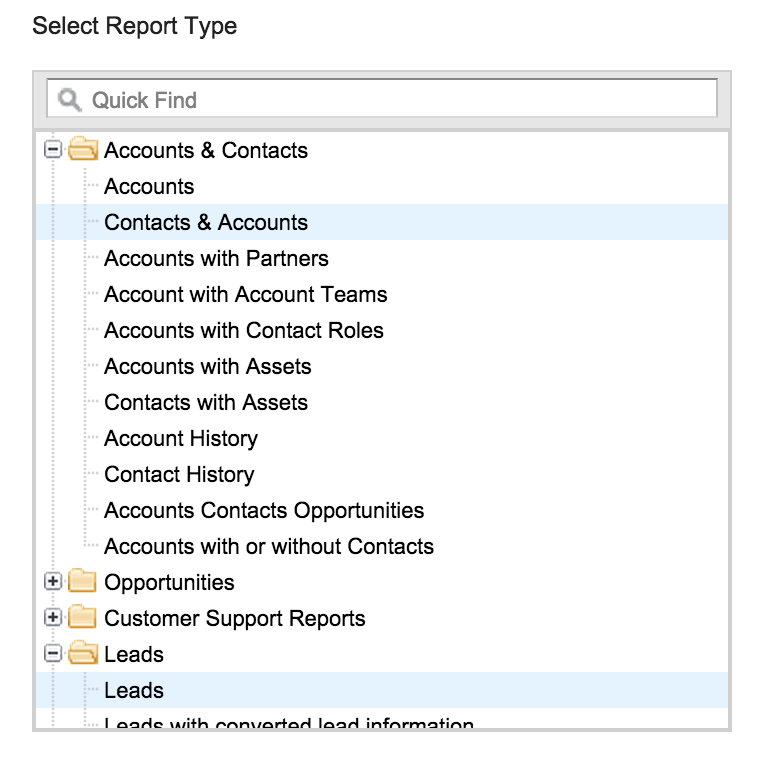 Choose "All Leads" in the report, then use the search on the left to find the "Owner" field and drag it over to filter.
Drag any additional fields over into the body of the report to add more data columns to the report (such as "Title" or "Source").

Click the Run Report button, then Save As
Save the report in the "Unfiled Public Reports" folder

Import the Salesforce Report
Click the [Actions] button located in the top right hand corner
Select [Bulk Create]
Select "Salesforce Report" from the drop-down
Find your report by typing in the name
Choose the frequency of import

No further options should be changed at this point. Users may click Next through the rest of the import process until finally clicking the Start Import button.
All Salesforce data should be associated with the imported prospects once the import is complete.