Purpose:
The purpose of this article is to provide information to Outreach Users regarding the various sequence states.
Intended Audience:
Notes:
Sequence states are different from the Sequence Stages a Prospect is associated with. While Sequence Stages can be updated manually, a Sequence State represents where a Prospect is in the Sequence.
Sequence States:
In Outreach, Prospects are considered active in a sequence unless in a Finished (Replied), Finished (No Reply), or Opted-Out state.
| Sequence State | Description |
| --- | --- |
| Pending | The sequence has not been enabled from the master toggle. It could also mean that the daily throttle limit has been reached or there is not an available delivery time in the assigned schedule. |
| Active | The sequence is enabled and the prospect is on a step ready to receive the email or task assigned to the particular step. |
| Paused | The user has manually paused the prospect within the sequence. Paused prospects remain paused in the sequence until the user resumes the prospect. |
| Paused OOTO | The mailing was sent to a prospect and an Out of Office (OOO/OOTO) response was received. By default, prospects automatically resume unless otherwise configured, in which case prospects remain paused until manually resumed. |
| Disabled | The sequence as a whole has been disabled, a sequence step has been disabled, or a sequence setup does not have an assigned template. |
| Failed | The mailing failed to send. Hover over the failed label for more information. |
| Bounced | The email bounced. Access the applicable prospect's profile and click the bounced message in the activity feed for more information. |
| Finished (Replied) | The prospect replied to a mailing and will no longer proceed through the sequence. |
| Finished (No Reply) | The prospect received all the steps in the sequence as configured, did not respond, and will no longer proceed. |
| Opted-Out | The prospect has selected the unsubscribe link to opt-out of communications in the future. |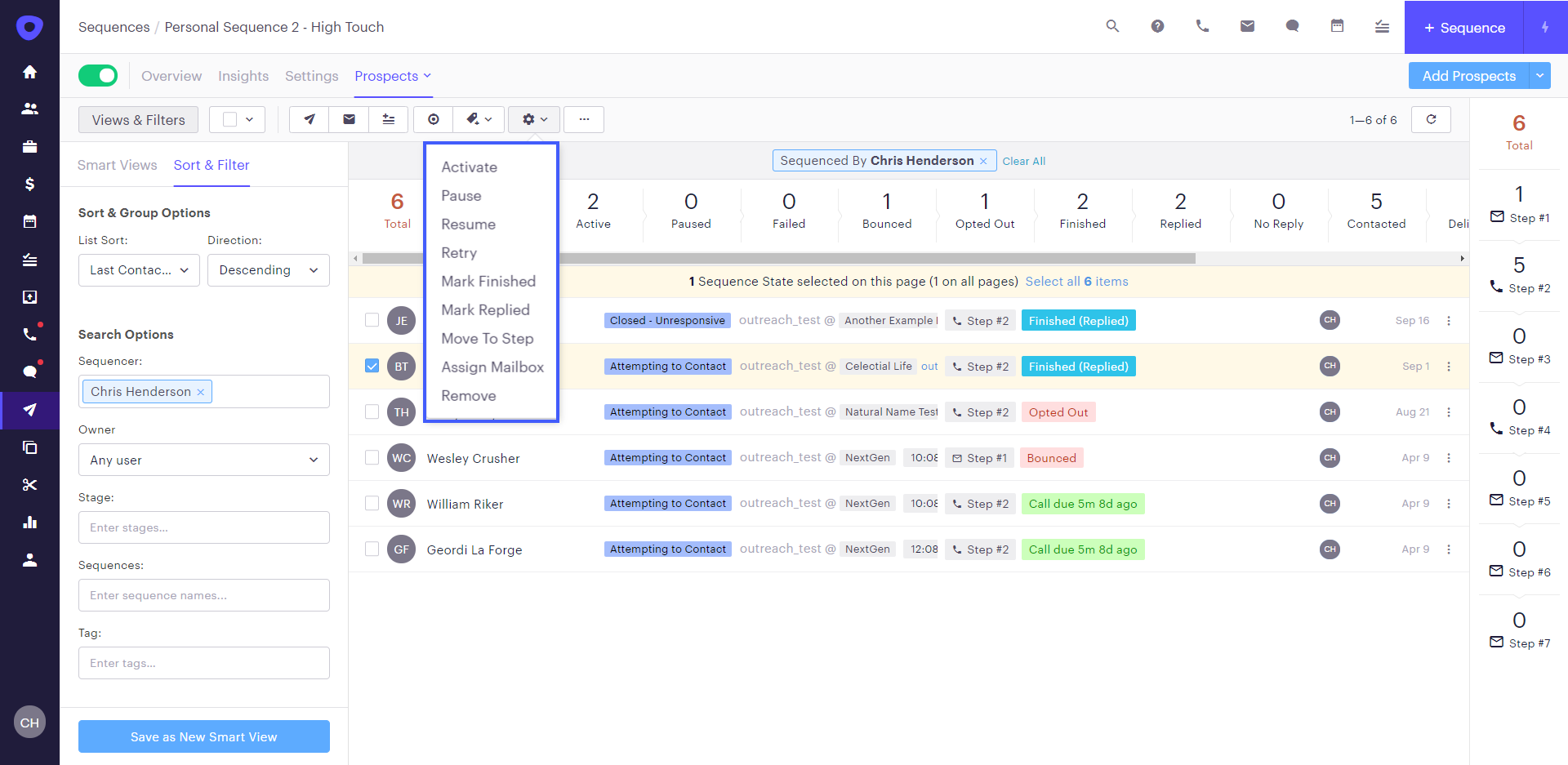 Pending Prospects:
When Prospects are added to a sequence, they may show as pending. The following table describes why a prospect is in a pending state:
| Pending State | Description |
| --- | --- |
| Outside of Sequence Schedule | The Prospect is waiting for the next available time according to the sequence schedule. The Prospect will activate on the next delivery window. |
| Sequence Throttle Met - Daily Limit | The daily limit of Prospects allowed has been reached. The Prospect will activate on the next delivery window. For more information, refer to the Sequence Throttle article. |
| Sequence Throttle Met - Max Active Prospects | The total number of active Prospects allowed for this sequence has been reached. The Prospect will automatically activate once it is no longer at capacity. For more information, refer to the Sequence Throttle article. |
| Sequence Disabled | The sequence master toggle has been disabled. For more information, refer to the How To Create a Sequence article. |
| Pending Reason Unknown | The Prospect is pending for an unregistered reason. Contact your Outreach Admin for direction. |
| Auto Activate Disabled | Prospects must be manually activated through the sequence. |
Additional Resources:
How To Enable Out of the Office Sequence Behavior