Spam is considered irrelevant or inappropriate messages sent to a large number of recipients. . Every country has a different definition of what spam in their country means, but the US has the CAN-SPAM Act of 2003, which requires that each individual does the following:
Never use deceptive headers, From names, reply-to addresses, or subject lines.
Always provide an unsubscribe link.
The unsubscribe link must work for at least 30 days after sending.
You must include your physical mailing address.
What is a SPAM filter and who manages?
Spam filters are set up by IT administrators, and each considers a long list of variable criteria when judging an email. They'll weigh each variable and assign a spam score, which determines whether an email will pass through the filter and land in the inbox. If the score exceeds a certain threshold, your email will get flagged as spam and go straight to the junk folder.
Every spam filter functions a bit differently,  and "passing" scores aredetermined by individual server administrators. This means that an email could pass through Spam Filter A without issue, but get flagged by Spam Filter B.
What factors contribute to SPAM score?
Relationship with subscriber
Reputation of IP address and sender domain
Quality of email subject line, teaser, and content
Quality and safety of links in email
Presence or absence of images
Ratio of images to text and links to text
Inclusion of text version of email
AND THE LIST KEEPS GROWING
Content - Do's and Don'ts
DON'T USE ALL CAPS IN YOUR SUBJECT LINE
Don't use exclamation points!!!!!!!
Don't use video, Flash, or JavaScript within your email
Avoid large attachments and certain attachment types suchas .exe, .zip, .swf, etc.
Don't embed forms in your emails
Don't use spam trigger words and phishing phrases (WIN, Free!, etc.)
Maintain a good text to image ratio - don't use an overwhelming number of images, or huge images
Avoid Click Tracking unless you know you're whitelisted
Clean your list using tools like Kickbox.io
Blacklist Checkers
Blacklist checks tell you if your mail server IP is listed on any popular Spam Blacklists. You can check your domain at the following resources:
Check the Content of your Emails
How do my emails look to standard spam filters?
Outreach Safety Settings
Admin settings found under your Org's settings that can help avoid being marked as spam (screenshots below)
Domain Level Throttling
Ability to Disable Link Tracking
Domain Level Safety Settings
Hard Bounce Limits - lockout rogue users for 24 hours
Require unsubscribe links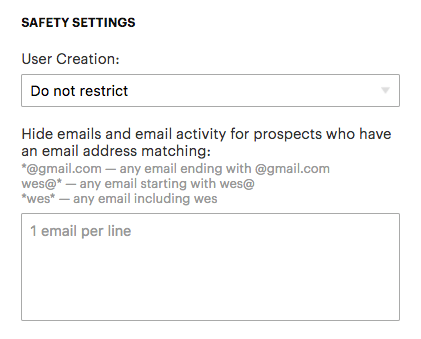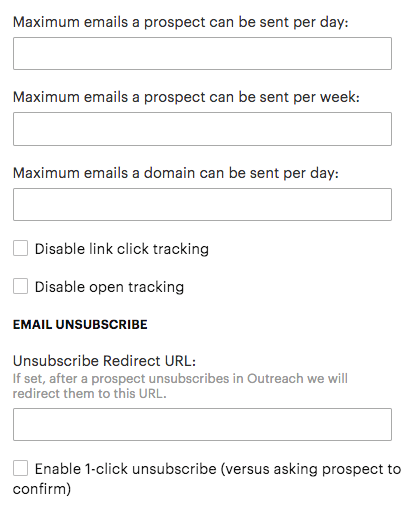 Control the Message
Governance Profiles
 are an Admin setting to help limit your user permissions and control messaging that is delivered to your prospects.