Purpose:
The purpose of this article is to provide direction to Outreach users on adding an Outreach phone numbers to Outreach Voice.
For more information regarding Outreach number types and use, refer to the Managing Outreach Phone Numbers article.
Add an Outreach Voice Number
Access the Outreach Platform.
Click on the user's initials in the bottom left-corner of the navigation sidebar.
On the Settings landing page, click Voice in the menu bar.

On the Voice Settings landing page, click Add Number.
Select either Purchase Phone Number or Import Phone Number.
Note: Imported numbers cannot be a number that you don't already own.
Your phone numbers appear under the My Outreach Phone Numbers section.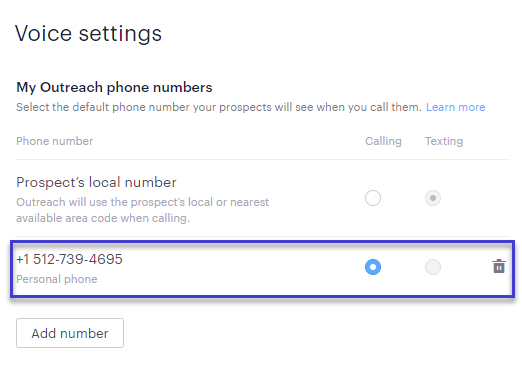 This indicates Outreach Voice has been set up and can be used to call your Prospects.
For more information on Custom Caller ID, Local Dial, and other Voice features, refer to the applicable articles.