Purpose
The purpose of this article is to provide information to Outreach Users about the new Outlook Add-in. The Outlook Add-in provides a seamless Outreach experience to Outreach Users who use Outlook inbox.
Intended Audience
Notes
What is the Outreach Outlook add-in?
The Outreach Outlook add-in is an addition to your Outlook inbox. It can be used with the native desktop Outlook app and with web Outlook experience (OWA). See minimum requirements in the Outreach Outlook Add-in installation instructions.
Outreach Outlook add-in brings the Outreach sales features directly to your Outlook inbox. Features like templates, snippets, meetings, sequences, reminders and more are available directly in your inbox so you don't need to switch between multiple platforms. Emails to prospects sync to Outreach so you can track opens, clicks to better anticipate recipient's interest.
Side Panel and Outlook Ribbon
Outreach add-in features are accessible from the Outlook ribbon or from the side panel. We recommend pinning the side panel (pin icon) to keep the panel accessible when working in Outlook.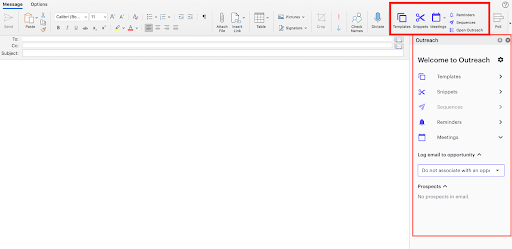 Templates and Snippets
Once a Template or Snippet has been created in Outreach, it is available for use in Outlook. You can use Outreach Templates and Snippets when composing the message or replying in the thread. You can access these features from the side panel or from the Outlook ribbon.
Meetings
To add meetings in Outlook:
Compose a new email or access an existing email.
Click the Meetings icon (calendar) in the sidebar or ribbon.
Select the applicable option as described in the table below.

Option
Description

Insert proposed times

Provides the user with the option to select and configure meeting details and settings.

For more detailed information regarding meeting configuration, refer to the How To Schedule a Meeting in Outreach article.

Link to your calendar

Provides a public calendar link.

For more information regarding a public calendar link, refer to the Creating a Public Calendar Link article.
Prospect Experience
For more information, see How to Schedule a Meeting in Outreach.
Reminders
You can apply reminders to emails you send to prospects. Reminders can bump a particular email on the top of the inbox, create a task in Outreach, or both.
To set up automatic reminders for all emails to prospects:
Compose a new email, reply to an email, or open existing an email draft.
Click the Settings icon in the add-in side panel.
Toggle on the Automatic Reminders option.
Click Edit to configure the conditions for the automatic reminder to process.
Click Save, then Exit.
To set up one-off reminders:
Compose a new email, reply to an email, or open existing an email draft.
Click the Reminders icon (bell) in the add-in side panel or Outlook ribbon.
Configure the reminder as outlined in the table below:


Option
Description
Bump email to top of inbox
Moves the email to the top of the inbox based on the user-defined parameters.
Create a task in Outreach
Creates a follow up task in Outreach.
Bump and create a task
Combine the actions of promoting an email in the User's inbox and creating a follow up task.
Process action

If no reply
No matter what

Timeframe

In 1 hour
In 1 day
In 2 days
In 3 days
In 1 week
In 2 weeks
Custom

Date & Time
Provides users with a calendar picker and time options.
Optional Note
Input pertinent information regarding the reminder.
Note: Bump is a message sent to your inbox as a reply to the message it is linked to. Bumps are not visible to the prospect.

Click Set Reminder.
Sequences
When sending emails to a prospect, you can also add them to the sequence that is triggered according to the time preferences you set up.
To add Prospects to Outreach Sequences in Outlook:
Compose a new email or access an existing email.
Click the Sequences icon in the email composition window.
Note: A Prospect must be present in the To: field in order for the Sequence button to become active.
Select a prospect you want to put into Sequence.
Search or scroll for the applicable Sequence.
Note: Sequences that are part of a Collection can be accessed via the dropdown. For more information, see How to Create Collections in Outreach.
Hover over the sequence and click the expansion arrow to display a list of steps within it.
Click to select the applicable Sequence.
Note: If you select a Sequence by accident, click the X icon above the Sequence name to remove the Sequence, then click select a Sequence to continue adding a Sequence.
Click Edit to reschedule a delivery date as applicable.
Click Set Follow-up.
Opportunity Association
Link emails to Opportunities right from your inbox. These emails will be associated with the particular opportunity.
To link emails to opportunities:
Compose a new email or access an existing email.
Select either:

the Opportunity in the dropdown in the side panel
or
Do not associate with an opportunity if you don't wish any opportunity to be associated.

Send email.
For more information, see How to Associate Email Activities with Opportunities.
Add and edit prospect
You can create new prospects directly from your inbox. You can do so when reading the emails (Read view) and when composing the message (Compose view).
If Outreach add-in detects a contact that is not yet in Outreach, it will offer you the option to add this prospect to Outreach in the side panel.
If the prospect already exists in Outreach, you can edit prospect details directly from your inbox:
Click the 3 dots next to the prospect name.
Select Edit prospect.
You can also navigate to the prospect records in Outreach, CRM, LinkedIn profile, or account website directly from the inbox. The link will open in the browser.

Amplify - Intelligent Email Data Extraction
Intelligent Email Data Extraction works in a user's inbox. When a user clicks into an email thread, Outreach scans the email signature for new or updated information.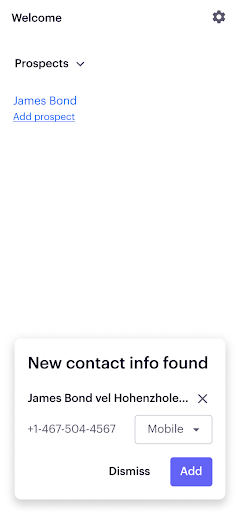 If the email address is associated with a Prospect in Outreach, Outreach will compare the phone number in the Prospect's profile to that of the phone number listed in the Prospect's email signature.
If you confirm the update of the record and the phone number detected is different, Outreach will add the additional phone number to the Prospect record.
Users can select the phone number type (work, mobile, home, VoIP, other) by clicking on the dropdown menu next to the phone number.
In case an Out of Office message is received and the prospect is active in a sequence, Amplify detects it and offers you to pause the sequence directly from your Outlook inbox.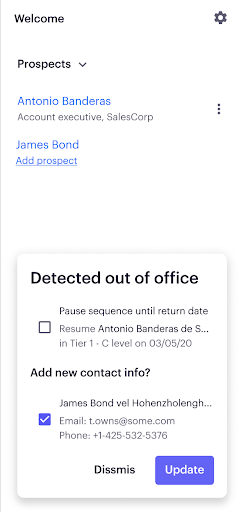 For more information, see the Amplify Phone Number Extraction Overview.
Add-in Settings
You can access add-in settings from the side panel by clicking on the settings icon.
Email Open and Link Tracking
To track whether a prospect opened an email or clicked on a link:
Navigate to the side panel.
Click Settings.
In the Tracking section, toggle on/off the Emails opened and Links clicked controls.
You can also ignore the links in the signature when Ignore links in signature is toggled on.
Potential reasons Tracking section may appear disabled for you:
Outreach is disabled.
Recipient is a non-prospect and prospect auto-creation is off.
Email open and Link clicked tracking are disabled on the organization level. Your Outreach admin can review and change that in Settings > Org > General tab.
Recipient you are emailing is a blocked contact in Outreach or an opted-out prospect—in these cases, tracking options are disabled by default.

Enable/Disable Outreach Add-in
You can enable or disable the Outlook add-in through Outreach enabled toggle. When enabled, prospect emails sync to Outreach and certain Outreach features can be used.
Automatic Reminders
You can set up automatic reminders for prospect emails. Refer to the section on setting up automatic reminder for all emails to prospects above to learn how to set up automatic reminders.