By Meghan Donovan & Lauren Sawyer
Purpose
Customizing emails is a powerful way to connect with prospects, but to be effective, it requires consistency and scalability. At Outreach, we use standardized guidelines to compose, edit and review content. This allows reps to creatively catch a prospect's attention while saving time and aligning messaging. This article shares Outreach's recommendations regarding:
Intended Audience
Outreach admins
Outreach users
Overview
When writing emails, it's easy to copy and paste, click send, and realize later that you forgot to update the recipient's name. We've all been there, but with Outreach's blueprint feature, it's preventable.
A blueprint acts like an email template that uses built-in best practices and variables to prevent an email from being sent before it's customized.
The first email in a sequence is the best for personalization because it is usually the start of your relationship with a prospect. The research and messaging used in this email can open the door for further communication, such as connecting on LinkedIn or a phone call.
Before sending an email
A personalized subject line or introduction can go a long way with a customer. Plus, it's proven to increase open and reply rates. By crafting a message that you believe resonates with the customer, you're building connection capital and increasing the likelihood of booking a meeting. This small touch is an invaluable tool for your team to see a return on their time investment.
We recommend this format for personalizing manual emails:
Subject line

: Capture interest, build curiosity or promise useful information

Sentence 1

: A piece of account research that is current and relevant to the prospect

Sentence 2

: Elaborate on risk and potential pains

Sentence 3

: How your organization solves that specific risk and pain

Sentence 4

: A proof point that addresses their risk or what is common in the industry

Sentence 5

: Call to action (CTA)
After composing an email using the above structure, it's time to edit. Here are our recommended guidelines:
Creative subject line

Include the prospect's name when possible
Include a simple call to action
Make sure it ties into the body of your email and, preferably, the personalization
Use a maximum of 4-5 words

Don't use emojis

, however, this may vary by industry

Value proposition: Tailor the value statement to the prospect's specific risk and pain.
Be clear: Use conversational language instead of technical terms or abbreviations.
Be brief: Limit the total word count to fewer than 150 words.
Proofread: Read emails out loud, or use typing assistant software like Grammarly.
Save successful emails:

When a cold email gets a positive response, it can be saved to use as a template for future emails. It can be helpful to share these results in training sessions or simply to celebrate great work.
These guidelines can not only be used in prospecting emails but also can be used in follow-up emails with marketing qualified leads (MQLs). This will help keep prospects' top priorities at the heart of the conversation.
Sequence settings for personalization
Customized content encourages customers to open emails. Making a few adjustments to sequence settings will further improve communication.
Change the Hour and Minute within the times sent, not just the day, to avoid the prospect of receiving emails at the same time every day.

Adjust the sequence schedule when targeting different regions, territories, and countries.
Example of a personalized email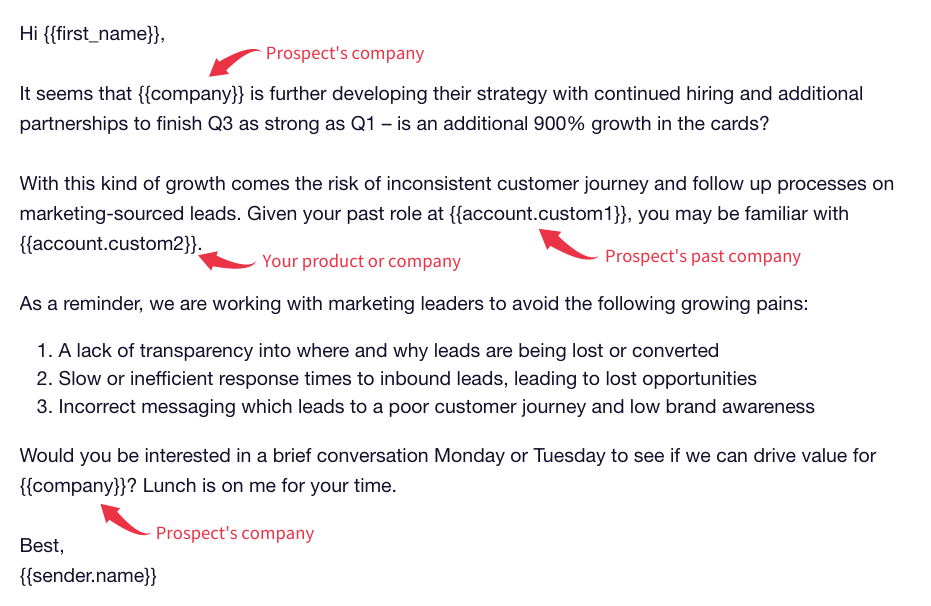 Note: This email isn't perfect! We used Sales Hacker's cold email grader and it received a score of 91%. That's a high mark, but there's room for improvement. This example can be used as an exercise to identify ways to strengthen the content further.
Reviewing content
Before sending your email, review it one final time to ensure you've used each best practice. You can evaluate your work using Outreach's rubric below.
Strong subject line
Creative and relevant, 4-5 words
Focus is on the prospect
Do not use "I" or "we" language
Grammatically correct 
Remember to proofread out loud
Concise
Avoid filler words like, "I was doing some digging"
Tasteful formatting
Use bold and italics sparingly, avoid underlining
Personalization
Ensure personalized info flows into rest of email
Follow sentence structure

Research
Risk
Solution
Proof
CTA

Word count fewer than 150 words
This helps with clarity and mobile optimization

 
Scoring email personalization
Number Score
Letter Score
Note
8
Great!
This email can be shared as a model example
7
Good
Provide any feedback as needed
6
Passing (75%)
Provide feedback and invite to group coaching
5 and below
Below average

Provide feedback and 1:1 coaching

Schedule sequence reviews
BCC supervisor on emails
This rubric can also be used to provide actionable feedback to content creators. Note: Outreach strongly recommends A/B testing subject lines as well as changing the first sentence of emails in a sequence to further evaluate the success of content.
Check out more writing examples on Sales Hacker, "10 Sales Email Templates to Escape the Spam Folder."
After sending an email
While the above guidelines will strengthen your email quality initially, ongoing content management ensures that best practices are maintained. With Outreach's sequence settings and sequence reporting, you'll continue to improve communication and determine what's working to optimize performance.
Never forget a prospect at the end of a sequence
Sequences use emails to move the prospect through the sales funnel. If they reach the final sequence step without responding, it's time to consider what action to take next. Add a generic task as the last sequence step as a reminder to revisit the prospect when they are unresponsive.

Content management
Auditing content ensures that your resources are well organized and up-to-date, which saves reps time. They will no longer have to go through the hassle of searching for an invite to a conference that's already over. Instead, keep content fresh by archiving anything out of date. Every member of the team has a part to play when it comes to content management.
Individual content creators
Recognize when you can

clone a sequence

for another use case to save time.

Review

sequence states

for any changes in fails, bounces or pauses.

Use a naming convention with the last modified date.

Review privacy settings are appropriate for the intended use. For example, if one person is using a sequence, the sequence should be set to "Private to Owner." If a whole team will use the sequence, set to "Others can see and use it."

Admins
Monitor usage rates of content on a regular basis to identify individual/team gaps.

Review

sequence states

for any changes in fails, bounces, or pauses.

Archive or

lock

content no longer in use – do NOT delete it, as that also removes the associated data.

Standardize best practices to drive operational excellence.

Use data to identify your best-performing content.

Adjust user permissions to limit content creation, if necessary.
Content committee
Review content older than 3 months.

Draft content and oversee the adoption of new or edited emails and sequences.

Drive content and sales strategy alignment.

Help users understand what content they should use.
Learn how to create and maintain a content committee on Sales Hacker, "Build a Content Committee for Ultimate ROI on Content Companywide."

Using Outreach reporting to measure success
Speaking to a prospect's specific problem takes analysis that only a rep can provide. However, Outreach's Sales Execution Intelligence and reporting provide insights on gauging the success of that personalization. 
A/B testing
While customized content is proven to increase open and reply rates, it's crucial to understand what personalization is resonating with prospects. A/B testing helps identify the specific details that are driving the pipeline. 
Outreach recommends these best practices:
Test one variable within a template/sequence at a time. There should be as few variables as possible for accurate reporting.

Create or clone new templates before starting an A/B test. At the start of an experiment, the sequence should not have been sent to a customer before. (So deliveries will read "0.")

Always A/B test what you want to change before implementing it across your sequences.

Deliveries on each template should be at least 2,000 for the experiment to be statistically significant.

Test on multiple sequences at the same time.

Add an A/B test to the first half of the sequence to increase your chances of a reply.
Measuring email performance
Start your assessment by evaluating the previous two quarters. This helps account for seasonality, and it ensures there is enough data to draw statistically significant conclusions. Report and measure sequences on benchmarks on a month-over-month basis.
Industry Standards
| | | |
| --- | --- | --- |
| Metric | Description | Benchmark |
| Prospect reply rate | The number of individuals who reply via phone or email at some point in the sequence. | For cold prospecting sequences, this should be at least 12%. |
| Email open rate | How many emails were opened in a sequence. | The average sequence email open rate across all Outreach customers is 27.2%. |
| Email reply rate | How many emails were replied to in a sequence. | The average sequence email reply rate across all Outreach customers is 2.9% |
| Email bounce rate | How many emails bounced in a sequence. | The average sequence email bounce rate across all Outreach customers is 2.8%. |
| Email opt-out rate | How many emails elicited an unsubscribe. | The average sequence email opt-out rate across all Outreach customers is 1.1%. |
| Positive sentiment | Outreach buyer sentiment classifies email replies as they are received as: positive, objection, referral, unsubscribe, or other. | There is limited data for an industry standard. Outreach holds SDRs accountable for a positive sentiment of 23% for cold outbound sequences. |
Note: These are general guidelines and best practices vary by industry.
Outside of reporting, customers will also point you toward improvement. Review sequence steps for positive responses and clone high-performing personalizations accordingly. You can also address concerns from objections by updating customizations.
The Power of Internal Insight

While Outreach teams use all of these best practices and metrics, it's important to add your own personal touch. As a rep, use your experience and listen to your gut on what might work. As a manager, ask reps what is or is not resonating and use their feedback to support others on your team. As an admin, use rep feedback and email performance to guide your content committee. By combining structure and insights (both technological and human!), your emails will resonate with customers and increase rep efficiency. 
As personalization is all about the person behind it, join the conversation on Sales Hacker to share the unique ways you customize emails.

Additional Resources: