Purpose
The purpose of this article is to provide information to Outreach users leveraging reporting. We are in the process of rebuilding our reporting to better support team performance management. This will streamline and improve the way metrics are accessed in order to find insights and drive improved outcomes. We are targeting these changes for Q2 of 2023.
Intended Audience
Summary of Changes
We will be consolidating a portion of our existing reports, Activities, and More Reports, to be nested under Team Performance. The current Team Performance report will expand to include more metrics around core user activity in Outreach such as outbound calls, emails delivered, current overdue tasks, etc. As part of this effort, three additional dropdowns will be added to the Team performance report in order to support more in-depth metrics for the call, email, and task-related outcomes.
A few areas of reporting will be consolidated into these new areas. This will include:
Activity>Team

Activity>Call

Activity>Email

Activity>Task

More Reports



The sections highlighted above will be removed and metrics will be migrated into the new Team Performance report.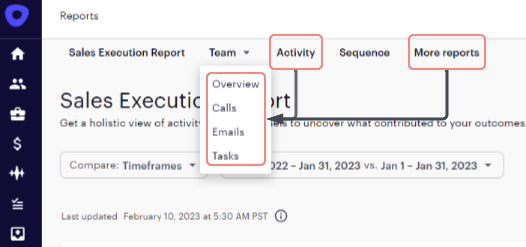 Benefits
We have focused on three main areas as part of this effort:
Consistency - Team performance metrics all flow up through the same suite of reporting to ensure metrics are uniform and aligned to best practices. The look and feel of reporting remain the same as you navigate through the data.

Availability - Enhanced performance with an improved set of infrastructure that scales more effectively for larger data sets.

Accuracy - Improved metric documentation to ensure users understand how each measurement system functions and drives decision-making.
In addition to improvements in these three spaces, we have made a number of updates based on customer feedback and questions.
| | | |
| --- | --- | --- |
| Improvement | From | To |
| User attribution alignment | Activity reporting aligns performance metrics to prospect ownership. | Metric output aligned to the user that completed the activity. |
| Historical Trending | Historical trending is only available on select metrics | Historical trending available across all team performance metrics |
| Filter retention | Filters reset when navigating Activity reports | Ability to set a default filter view that is retained across Team Performance reports |
| Locked Users | All users active in activity/more reports views. | Ability to hide locked users. |
| Exports | Exports being limited to select tables | All table views export to CSV for offline analysis. |
| Expanded time frames | Activity>Team reports being limited to the last 31 days | All Team Performance reports having 12+ months of data |
| Team roll-up table view | Team Performance tables rolling up all results by individual | Ability to pivot Team Performance to provide output by Team or Users. |
| Expanded user/team tables | More Reports>Leaderboards and select Activity tables limited to 100 or 20 users respectively. | Table views to provide all users based on current filter selections. |
| Task State Filtering | Metric focused on completed tasks | Filtering for incomplete, complete or skipped task status |
| LinkedIn Tasks | Task reporting focused on email, call or other tasks | Adding in LinkedIn task category for more granular tracking around LinkedIn activities |
In addition to the items above we will be adding a few new metrics and filtering capabilities to this suite of Team Performance reports. More details around those updates will be provided as we launch those experiences. Supporting content will be made available as needed.