Purpose:
The purpose of this article is to provide information to Outreach Users regarding updates to the Outreach Public Calendar experience.
The redesigned public calendar experience enables Prospects to choose a date and time more efficiently, while providing the ability for Users to remain more flexible and optimize their schedule for a better Prospect experience.
Intended Audience:
Outreach Public Calendar FAQ:
Q: What is the Outreach Public Calendar?
A: The public calendar provides Users the ability to optimize their Prospect's scheduling experience by providing a more flexible, robust, and intuitive module.
Q: Does the redesign require any changes to our Org?
A: No.
Q: Does the redesign impact the daily workflow of a User?
A: No. The Public Calendar redesign changes only impact the Prospect's experience as illustrated below.
Q: What is included in the redesign? What is the Prospect Experience?
A: The Public Calendar redesign now provides:
Organized calendar visibility grouping available time slots in five calendar day increments.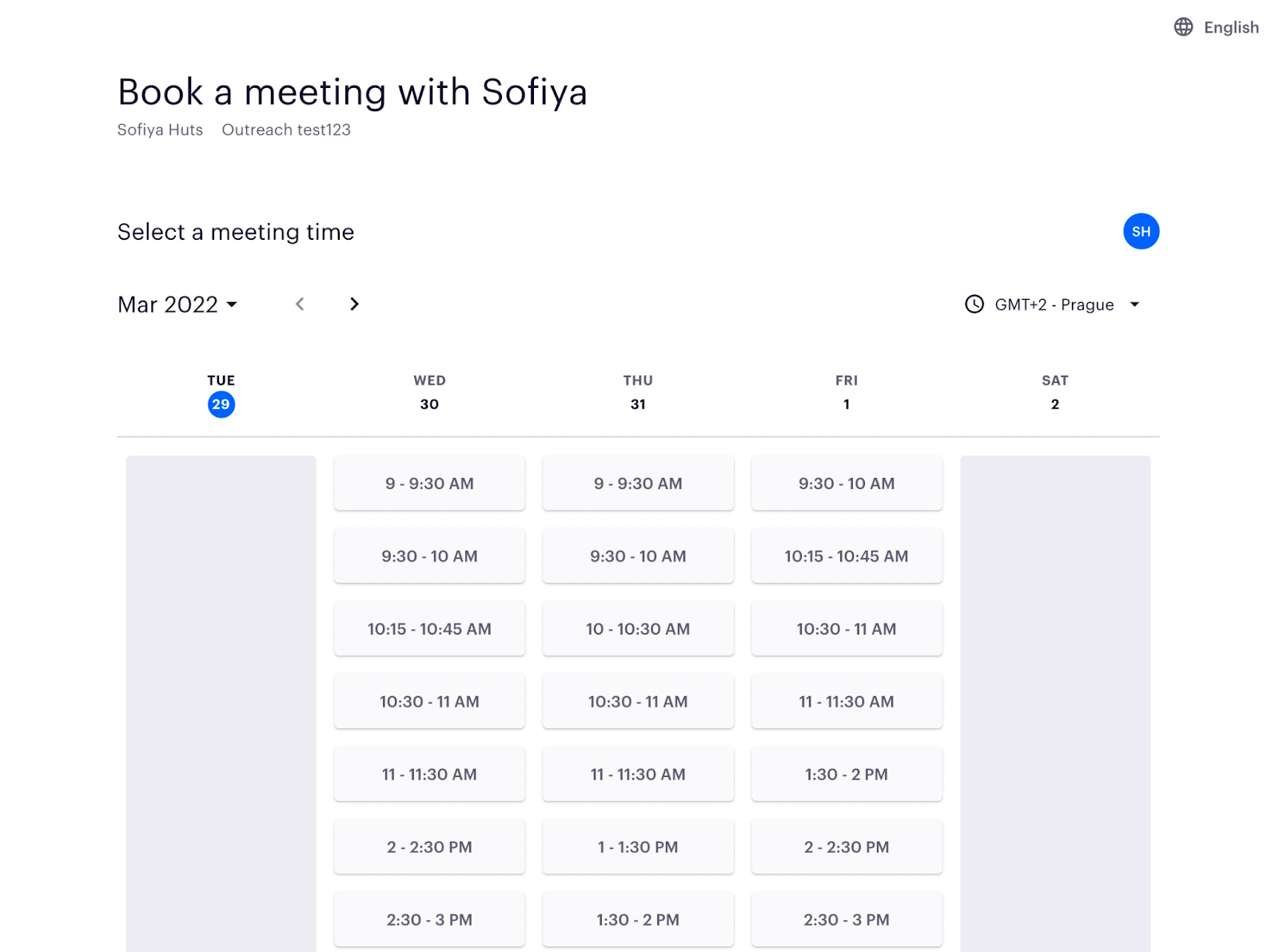 Improved navigation - prospects can scroll through available weeks, or select specific dates through calendar picker.
Prospects select a suitable time and populate their information as required, then click Book Meeting.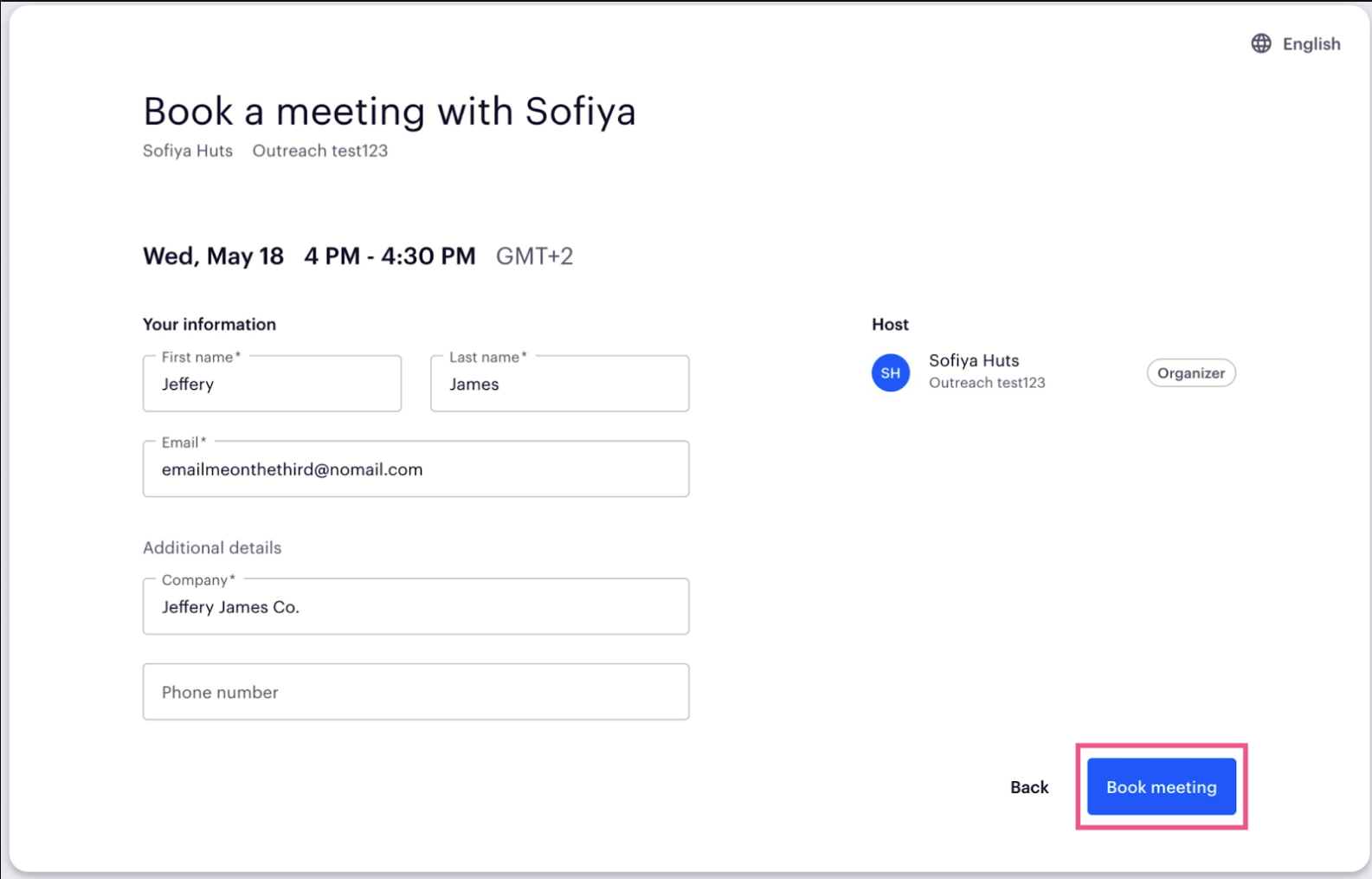 Note: Fields with asterisk are required.
Prospects are presented with a confirmation of their booked meeting.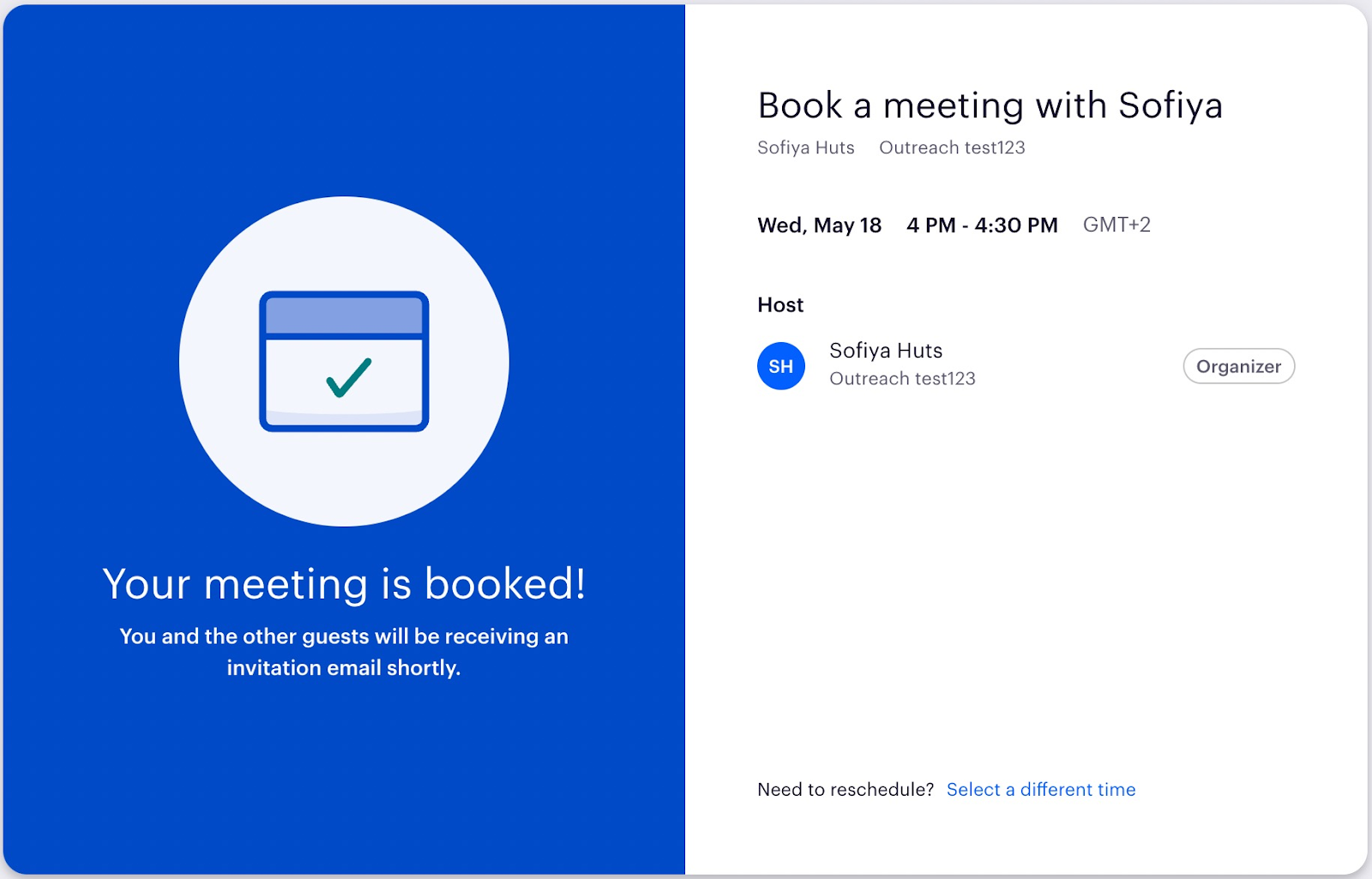 If a Prospect needs to reschedule, they can click the Select a different time link and choose a more convenient time.
Q: What languages are supported in the Public Calendar experience?
A: The Public calendar experience supports 4 languages - English (default), German, French and Spanish.
If a prospect has a browser locale set to any of the 4 supported languages, the Public Calendar (PC) will use that language as default.
The Prospect is able to change the language using the language selector at the top right corner of the page:
The selected language will be respected for that prospect for a specific public calendar link (URL) for subsequent visits. The prospect can select another language at any time or reset the selected language by clearing the local storage of the browser.
Q: How should I send Prospects these invites?
A: Outreach provides Users a variety of convenient ways to schedule meetings with Prospects, such as inserting availability in Gmail or Outlook, booking directly from the Outreach platform, or inserting your public calendar link. For more information on these processes; refer to the applicable articles in the Additional Resources section of this article.
Q: Do I have to sync a Calendar with Outreach?
A: Yes.
Q: What calendars are compatible with the Outreach Platform?
A: Google, Office365, Outlook Exchange
Q: How do I connect a calendar to Outreach?
A: To connect a calendar to Outreach, refer to the How To Connect a Calendar to Outreach article.
Q: How do I create a public calendar link?
A: To create a public calendar link, refer to the How To Create a Public Calendar Link article.
Q: Does Outreach's Public Calendar work with Google Meet video conferencing?
A: Yes! Outreach provides Organizations the ability to utilize Google Meet. For Organizations with the feature available, Outreach Admins can enable Google Meet as follows:
Access the Outreach Platform.
Click the User's initials in the navigation sidebar.
Click Org in the User Admin section of the Settings Panel and click to enable (toggle-on) the Google Meet option.
For more information regarding Google Meet availability, contact your AE.
Q: My Org has enabled Google Meet; will a Google Meet link be added automatically to a meeting scheduled through the Public Calendar?
A: Yes, a Google Meet link will be added to meetings scheduled through the Public Calendar once enabled. Meetings created before the feature was enabled will not have Google Meet links updated.
Q: Will all Uses have access to Google Meet?
A: Yes, if enabled, Google Meet will be available for all Outreach Users in your Org.
Customers Migrating From Other Calendar Point Solutions:
Q: How long does it take to migrate all of my existing meetings to Outreach?
A: Outreach automatically syncs events in your calendar a year in the past and a year into the future once your calendar is connected. We recommend that you start using Outreach Meetings and maintain your existing meetings.
Q: If I migrate from another solution to Outreach, will my recurring meetings be duplicated or deleted in my calendar? In Salesforce?
A: Outreach will not delete any events on your calendar or Salesforce. Events are de-duped from your calendar and in Salesforce by matching the title of the event, the people on the event, and the duration of the event.
Q: If I migrate from another solution, will my meeting performance data migrate over to Outreach or Salesforce?
A: Data that you're syncing into Salesforce from your current solution will still be available to you. In Outreach, we'll capture the number of meetings booked with Prospect, but we cannot port data from your current solution into Outreach. We'd be happy to help you create new custom Salesforce reports for similar reporting with Outreach Meetings. Outreach reports, including sequence attribution, number of no shows, and leaderboards, are coming!
Q: If I migrate over, will I need to change out all of my calendar links to Outreach Meeting links?
A: Yes. You'll want to replace your current links with your Outreach public calendar link and conference links. These are most often found in signatures, templates, and snippets. You may have also created sender custom fields that includes this link, so make sure you check your settings!
Q: How do I update my current triggers into Outreach Meetings?
A: Outreach has robust triggers for many different scenarios. Reach out to your CSM or submit a ticket through the Support Portal so we can understand your specific workflow and find a custom solution
Additional Resources:
How To Connect a Calendar to Outreach
How To Insert Availability in Outlook