Outreach performs a bi-directional sync on Lead and Contact statuses. Your Outreach account comes with the following set of sample stages, which map to Lead or Contact Statuses:
New
Approaching
Replied
Unresponsive
Do Not Contact
Bad Data
The stages above are included as best practice examples. For instance, if the user wants to set a Lead status as "New", other users would know that the Lead has not been touched. If the status was set to "Approaching", other users would know that someone is in communication with the Lead. 
If after purchasing Outreach, you realize you want to track records at a more detailed level than what your organization has already set up, make sure to have those decisions made before connecting Outreach with Salesforce.
After deciding what level of detail to track, the stage adjustments are made within Outreach.
Once the stages have been added, removed or modified within Outreach, the stages can be mapped 1:1 to the lead or contact statuses. The steps are outlined below.
Mapping Prospect Stages in Outreach
Before we can configure your Lead and Contact statuses in the plugin, you need to add the lead and contact statuses that exist in Salesforce to the stage options in Outreach.
An Outreach admin should navigate to settings > prospects. Select Stages on the top of the page and remove any stages that are not needed.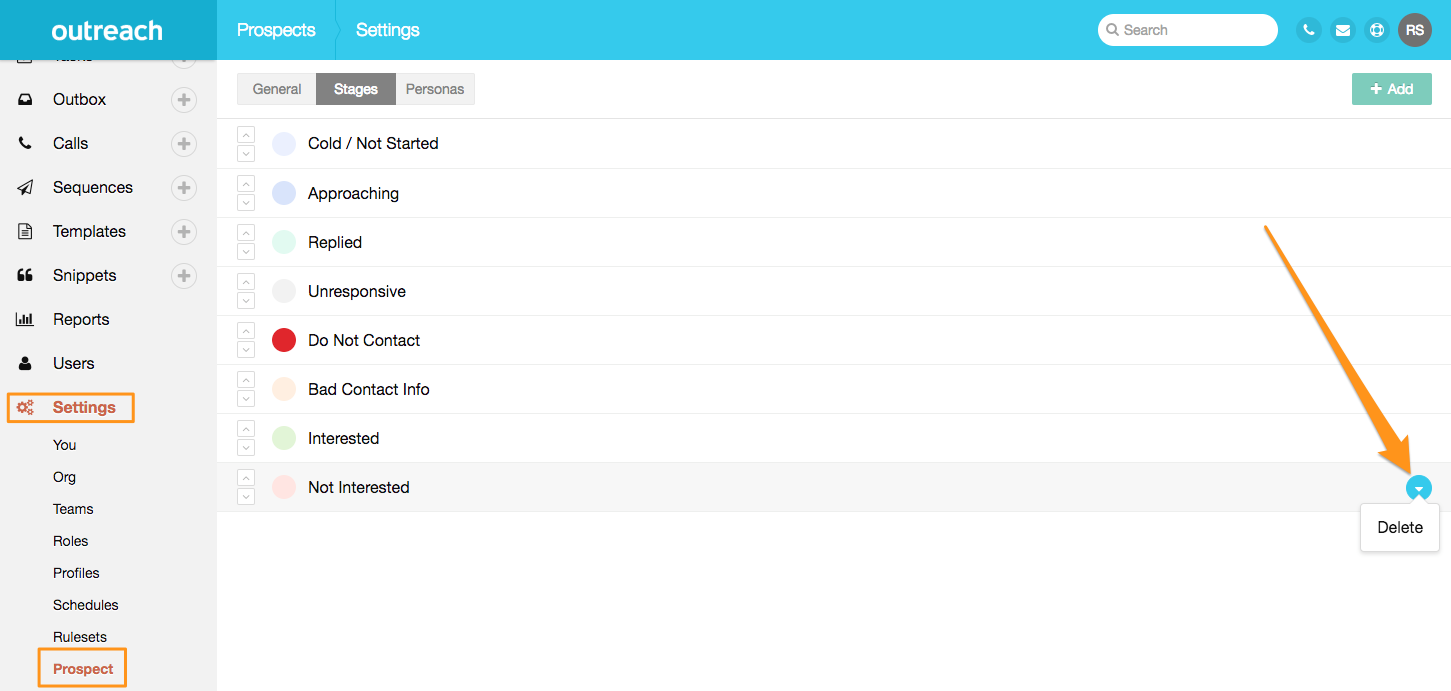 *Add stages as they appear in Salesforce. These need to be mapped 1:1, including spacing and capitalization to ensure proper sync between Outreach and Salesforce. For example, if you have the status 'OPEN' in Outreach, you need to have the same status 'OPEN' in Salesforce.*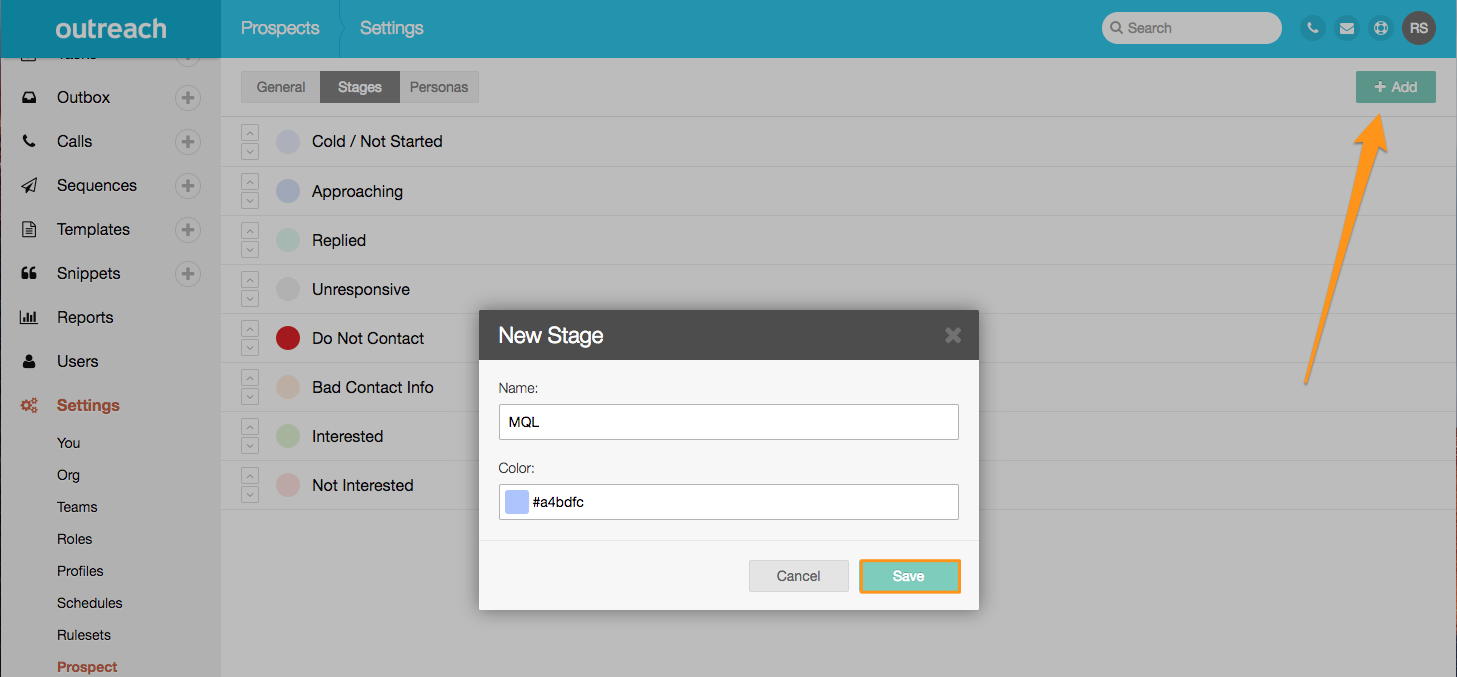 Once you have configured your Outreach Stages, the next step is  to map them 1:1 in the Salesforce plugin.
Mapping Lead Statuses
Your Outreach admin will need to go to settings > plugins  and click into the Salesforce plugin. On the top of the page, select Types and then click into Lead Status. Click in the Mappings tab and on the top right corner, Add new lead status mappings.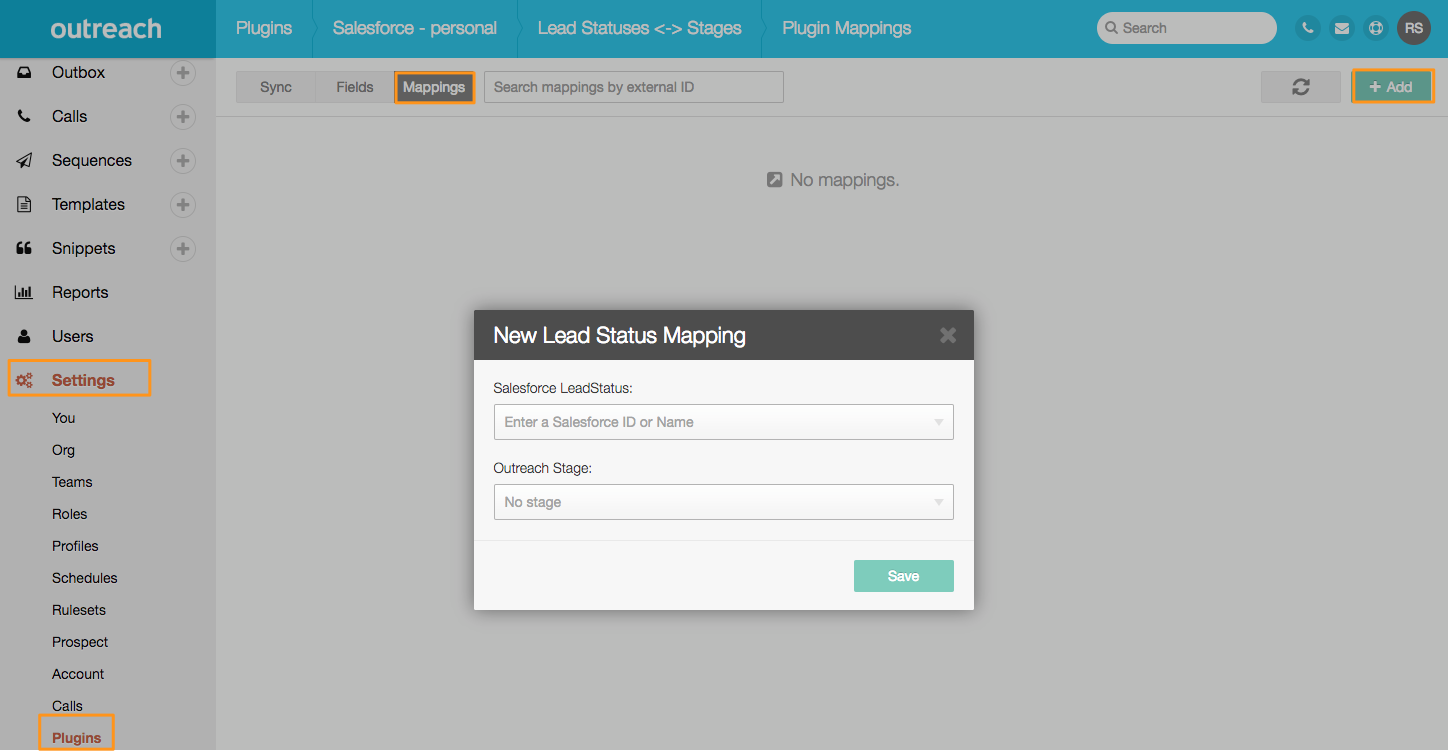 Continue to add the mappings until all Salesforce statuses exist in the plugin.
Mapping Contact Status'
 Unlike lead status, the only action needed on the contact object is mapping the correct fields.
In the fields section of your contact object, map 'Stage Name' to your Contact Status field in Salesforce.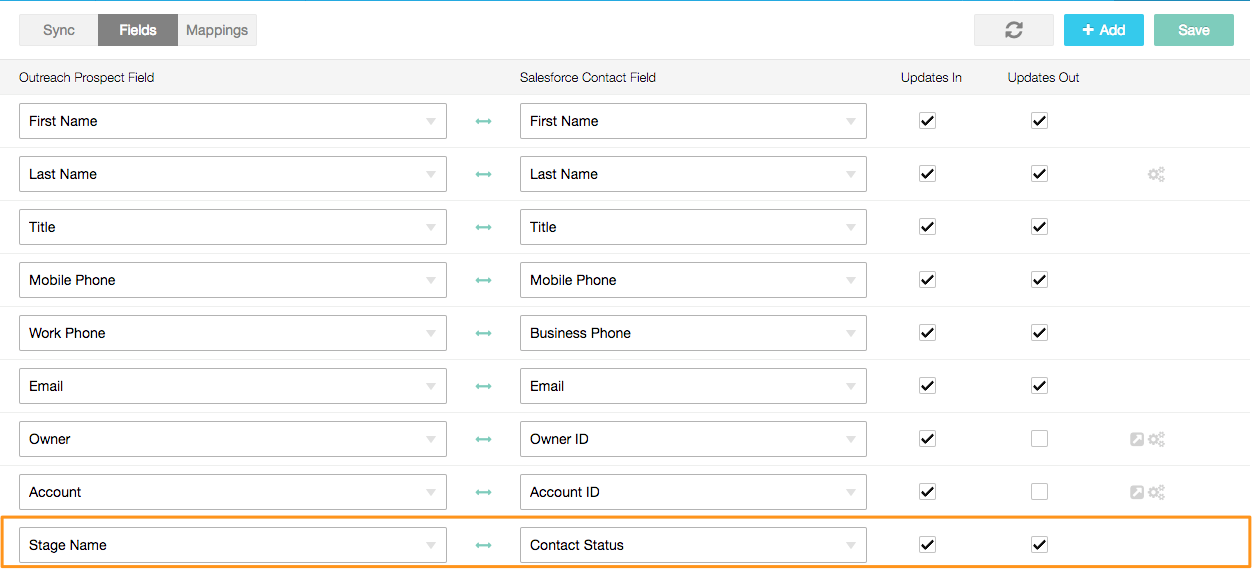 As updates are made to the lead and contact status, the changes will be reflected both in the Outreach platform and on the lead/contact profiles in Salesforce.