Releases
Gain unparalleled visibility into all interactions related to a deal in a single pane of glass with Deal Overview
Summary
A summarized view of a deal incorporating elements from Kaia, Success Plans, and Opportunities to provide faster deal insight for managers and reps.
Release Date
Available for beta in July 2023, Generally Available August 2023
Updates
The Deal Overview is the first page you land on when selecting an individual opportunity from the Deal Grid. It is the first tab before the previous experience (Activity Feed). Deal Overview helps managers:
Understand key deal details - including deal value, close date, and changes to that information
Gain at-a-glance clarity into buyer engagement throughout a deal with a visual representation of activities
View previous Kaia meeting insights, Deal Health score, and Success Plans progress all in one place
Learn more about Deal Management.
Drive predictability with Forecasting & Pipeline Management capabilities embedded within Outreach
Summary
Forecasting and pipeline management capabilities that were formerly contained within a separate application will now be embedded into Outreach.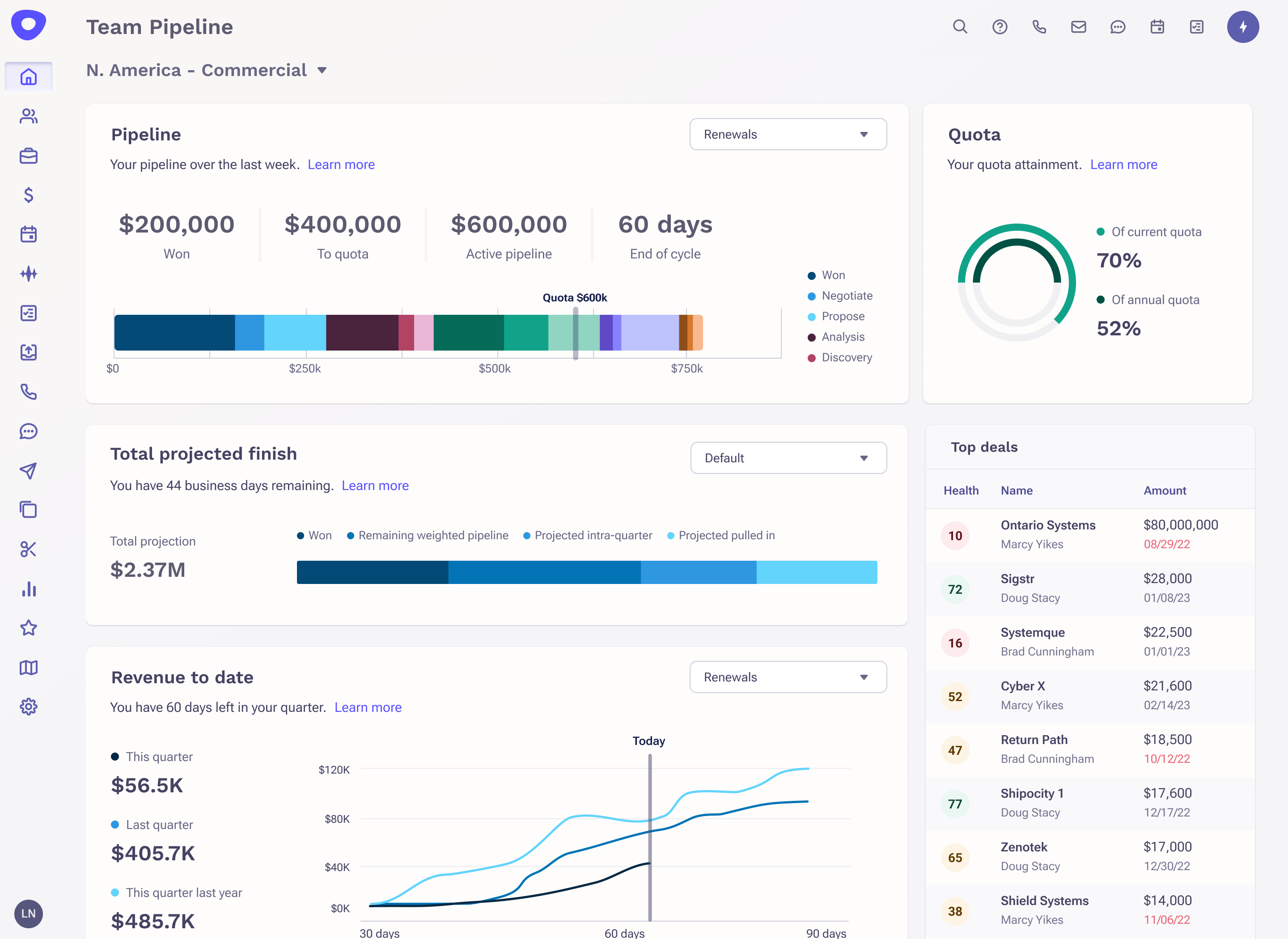 Release Date
Currently in private beta for select customers. Public Beta starts in September for customers currently on Elevate (previous packaging) or Standard, Professional, Enterprise, and Unlimited editions.
Updates
The features being released into Outreach include:
Deal Grid: Edit all deals in the pipeline from a single view, with updates automatically written back to CRM. Real-time validation ensures field changes are compliant with validation rules.
Rep Forecasting: Reps can submit forecasts from the opportunities page to their manager.
Pipeline Dashboard: View your teams' pipeline performance metrics from a single view, with the ability to create custom filters. Each metric in the dashboard leverages AI modeling that creates bespoke win models for every team and seller in your organization.
Pipeline Movement:

Understand how your pipeline has moved and changed across any previous period, including which deals contributed to the change.

Forecasting: View all of the forecasts for your organization and the associated roll-up down to each individual rep and deal.

Scenario Planner: Use AI to test and model a distribution of different possible forecast outcomes based on applying your judgment to win rates and pipeline volumes.
Learn more about Pipeline Management and Forecasting.
Leverage AI to boost sales productivity with Smart Email Assist
Summary
Smart Email Assist leverages the power of generative AI to create email copy based on the prior context of conversations between buyer and seller. The reps can gain efficiency by focusing their time on editing and personalizing the AI-generated content instead of starting from scratch.
Release Date
Limited Public Beta availability in August 2023
Updates
Smart Email Assist feature is available in the email compose for a seller while replying to a buyer. The seller can simply click "Assist" button and the response is auto-generated. The seller should review the generated content, make any needed changes, and just hit send.
Users will be able to provide more context via prompt, set the length of the response, and set the tone of the voice. Smart Email Assist is available in email compose in Outreach web app and Gmail extension. Outlook add-in will follow soon.
Please reach out to your CSM if you would like to be enrolled in the Beta.
Learn more about Smart Email Assist.
Expanding support for unsubscribe links
Summary
Outreach is delivering a new org setting that enables admins to mandate the addition of unsubscribe links to individual or one-off emails sent outside of sequences and bulk emails in Outreach.
Unsubscribe links can help organizations meet rigorous regulatory, legal, or compliance requirements related to rules for commercial email (e.g. CAN-SPAM).
Release Date
Updates
Outreach already provides administrators with the ability to require the inclusion of unsubscribe links in 'sequence emails' and 'bulk emails.' With this update, administrators will now also have the option to mandate the inclusion of unsubscribe links in individual or 'one-off emails' sent from Outreach.
By default, this setting is disabled and can be activated by administrators in
Org Settings >> Email tab >> Unsubscribe.
Boost efficiency and ensure accuracy by effortlessly finding the right Prospect, Account and Opportunity record with Advanced Record Lookup
Summary
Advanced Record Lookup helps users differentiate between accounts, prospects and opportunities when different prospects have the same name or when targeting multiple divisions of the same large parent organization.
Users can now make sure that they are always selecting the right record which saves time and ensures accuracy in their sales workflow.
Release Date
August 7, 2023
Updates
Advanced Record Lookup feature solves the challenge of differentiating between people and companies with similar or same names. With this new enhancement, users can easily find and target the correct account, prospect or opportunity.
When selecting a Prospect, Account or Opportunity from a drop-down menu, users can now choose to use the Advanced Lookup option
Clicking on Advanced Lookup option opens up the entire list view table for that record type including all the functionalities that list view has (filters, smart views, column customization, ..)
When selecting Account or Opportunity, users can choose one account using radio buttons
When selecting Prospect, users can choose one or more prospects using checkboxes
If the user types a keyword in the selection dropdown, the search term will automatically be filled into the list view search, and relevant results will be displayed
Gain conversation intelligence with Kaia Webex and BlueJeans Interoperability: Post Meeting
Summary
Import call recordings from Webex and BlueJeans into Kaia to gain conversation insights.
Release Date
August 18, 2023
Updates
Kaia can now import Webex and BlueJeans recording and provide the full range of Kaia post-meeting features for these call recordings. Gain all the conversational intelligence benefits of Kaia and understand how sales reps are pitching, overcoming objections, and driving deals forward.
Learn more about Kaia.
Enable multiple meeting providers with Kaia Multi-Platform Support for MS teams, Zoom, Webex and BlueJeans
Summary
Organizations that use multiple conferencing providers can now enable Kaia for any user on any supported conferencing provider.
Release Date
Public Beta in August, General Availability in September
Updates
Kaia multi-platform support enables users at your organization to utilize Kaia in a heterogeneous conferencing environment where different conferencing platforms are used across the organization. As of August 15, Kaia can now be configured with Zoom, Teams, Webex, and BlueJeans within an organization and for users simultaneously.
Learn more about Kaia.
Book meeting and auto-link Kaia recordings with Success Plans Meeting Integration
Summary
Book a meeting by launching the Outreach calendar directly from a Success Plan.
Release Date
Beta in August, General Availability in September.
Updates
While collaborating with your buying team, you can now launch the Outreach calendar and book a meeting directly from a Success Plan, making it easy to progress the plan to the next step with ease. If for any reason the meeting is rescheduled, the new date will automatically be reflected in the Success Plan. Kaia recordings will auto-link to the Success Plan and the meeting task will be marked as complete.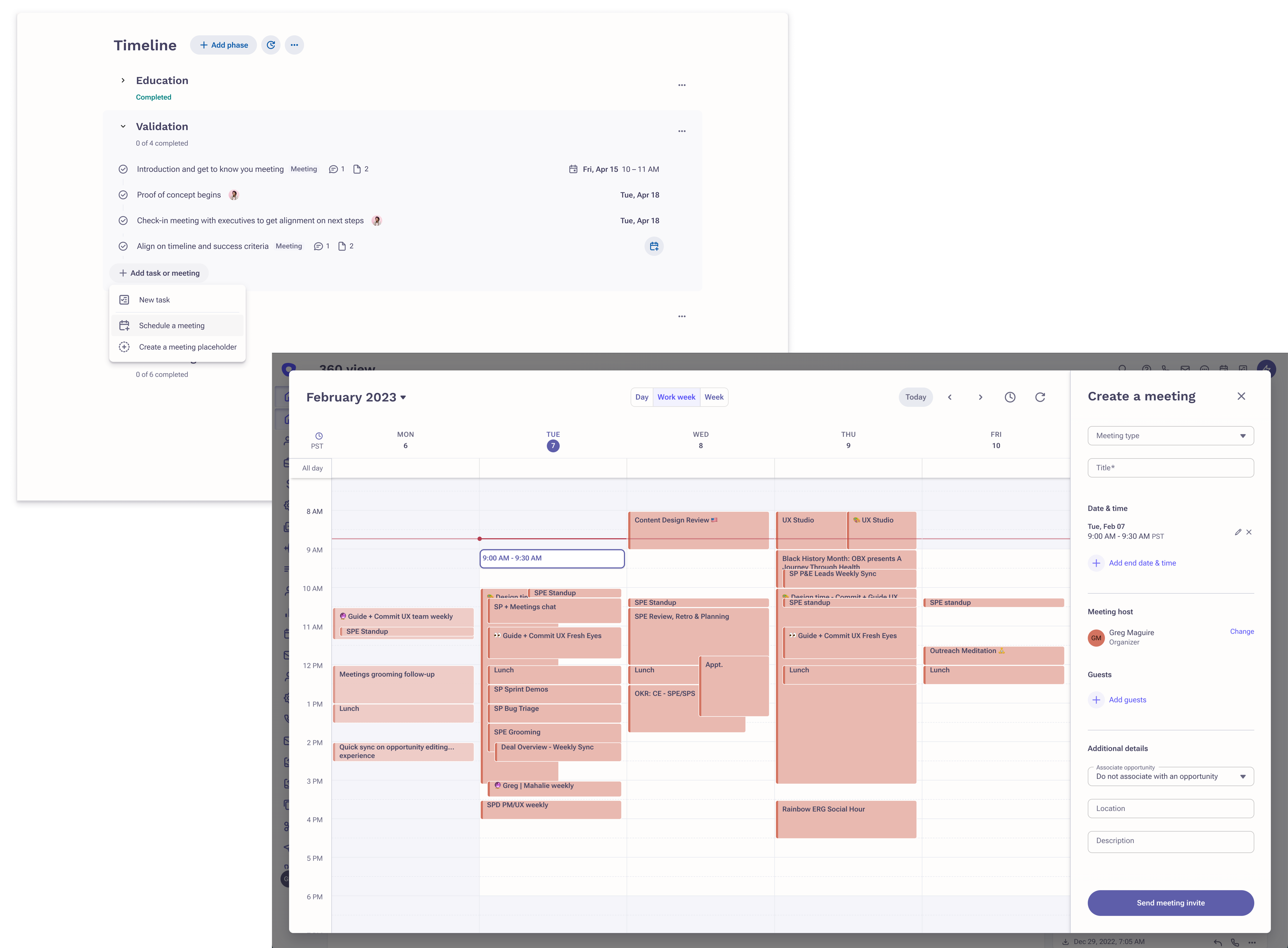 Learn more about Success Plans.
Delegate content management with new Content Governance enhancements (BETA)
Summary
For organizations with a high volume of content (e.g. sequences, triggers, snippets) that require Content Managers to manage content created and used to help accelerate sales workflows, we are continuing to build on top of Content Governance to provide more granular permissions that support Content Manager roles.
Release Date
Beta starting August 4, 2023
Updates
Outreach is splitting teams and collections management. That means technical admins can delegate day-to-day content management responsibilities to Content Manager roles that are closest to the sales workflows.
Once enabled, users with Profiles that have only enabled 'manage collections' will be able create, edit, and view all content within collections, however, will not have permissions to create, edit, and view users within the teams.
Additionally, for new customers, we are introducing a brand new default profile for Content Managers. This profile provides a default set of permissions that you can provide to content creators and managers inside your organization.

[Graphic: Teams and collections management has been split. Now users can be assigned more granular permissions to manage teams (users) and/or collections (content).]
Improved Save and Cancel functionality
Summary
We have made updates to the behavior of the Save and Cancel buttons on select pages including Prospects, Accounts, and Opportunities pages, as well as several pages in the Administration settings.
The 'Cancel' action has been renamed to 'Discard Changes,' providing users with a clear indication of its function. Additionally, the entire bar now appears on the page only when changes have been made, reducing clutter and improving the overall user experience.
Release Date
Generally Available August 7, 2023